Author: Marketing Desk
Posted On Dec 30, 2013 | 1 Mins Read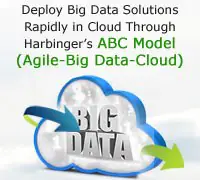 Business Insights give power!
Is your organization really getting the Insights which will give it the competitive edge?
Today, businesses are grappling with huge volumes of data. Building capabilities to process/analyze data and generate insights, through Big Data solutions, is becoming a key differentiator for them. And developing such a competitive advantage using traditional models takes time and defeats its purpose.
Leveraging Cloud infrastructure and Agile development methodologies, businesses can develop and deploy their Big Data solutions rapidly and cost efficiently.
Harbinger Systems hosted a Webinar on "Deploy Big Data solutions Rapidly in Cloud through Harbinger's ABC model (Agile-Big Data-Cloud)" on 15th January 2014. This webinar covered Harbinger's ABC model that can help organizations in overcoming some of the challenges they face in building Big Data solutions.
Key Takeaways:
The rising business need for Big Data solutions
Key considerations in designing Big Data solutions (V3: Volume-Variety-Velocity)
Harbinger's ABC model and its relevance in the current context
Real world business scenarios and solutions through ABC model
Thank you for the great response to this special webinar!