Cloud, Mobility, Analytics and Social to Drive Innovations in ISV ecosystem
Author: Marketing Desk
Posted On May 05, 2014 | 1 Mins Read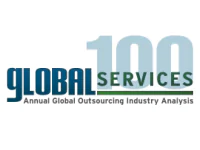 Recently on April 16th Shrikant Pattathil, Executive Vice President, Harbinger Systems was featured in the Global Services Top 100 Showcase. In his interview, Shrikant talked about the top three industry trends and mentioned that we will soon witness how Internet of Things, connected intelligence, people, M2M will empower our lives and influence our lifestyle, our way of thinking, decision making and overall experiences.
Shrikant highlighted his insights on how the four forces "Cloud-Mobile-Bigdata-Social" will drive innovations in ISV ecosystem and are redefining sourcing of services. Also discussed was the rise of Healthcare focused ISVs that offer unique, innovative solutions for healthcare organizations dealing with compliance requirements (Meaningful use stages, ICD10), imposed security regulations (such as HITECH act) and growing data challenges.
Shrikant also shared about the company's key initiatives for 2014, the differentiators and how Harbinger is leveraging its deep technology expertise in Agile, Big data, Cloud (ABC solutions) to deliver innovative, smart solutions to clients globally.