Building Next-Gen HR Solutions with People Analytics
Author: Marketing Desk
Posted On Aug 02, 2016 | 1 min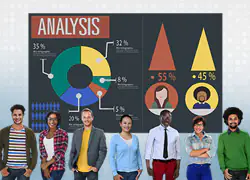 HR functions in today's competitive business dynamics are transforming themselves to play an active strategic role in the success of an organization. With this shift, we witness many human resource departments in dire need of integrated data-driven solutions to make effective fact-based human capital decisions. Now here is where People Analytics comes to the picture to aid in HR transformation.
People Analytics provides meaningful insights to organizations into their workforce and help accelerate and innovate their recruitment, talent development and management capabilities.
Harbinger Systems hosted an insightful webinar "Building Next-Gen HR Solutions with People Analytics" on August 24, 2016, to know how People Analytics enables organizations to make effective data-driven HCM decisions along with the tools and technologies needed. In this webinar, we also showcased some interesting real world use cases.
Key Takeaways
Understanding Modern day HR solutions
Role of People Analytics in empowering organizations and HR professionals with data-driven decision-making
Implementing People Analytics:

Overview of data science algorithms and tools
Walk-through of real-world use cases
You can view the presentation and the webinar video here.