Building end to end continuous performance management system
Author: Pushkar Kulkarni
Posted On Apr 02, 2018 | 5 min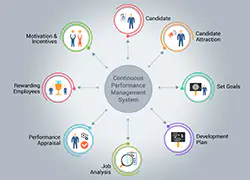 Performance management is becoming agile. One of the deloitte studies have found that only 8% of the companies believe that annual performance management process drives the business values, 95% of managers are not satisfied with their organization's annual performance process and 75% of employees see it as unfair. A survey, also suggests that employees prefer more frequent feedback rather than a singular discussion at the end of the performance period. According to the survey, millenials prefer having monthly sessions and non-millenials prefer monthly or quarterly.
Continuous Performance Management is now being adapted within many industries, be it small scale businesses; medium scale or enterprise level industries. Various performance management systems have been modified to adapt to Continuous Performance Management. Goal management, scheduling frequent one on one review meetings with manager, etc. are common features with most of the products.
In this blog, we will look at a few must haves for your CPM system and also some challenges that you may need to overcome for a smooth functioning system. For factors to be considered before building a CPM system, view our previous blog titled (Considerations for building a continuous performance management system)
Let's look at some of the challenges that you will need to overcome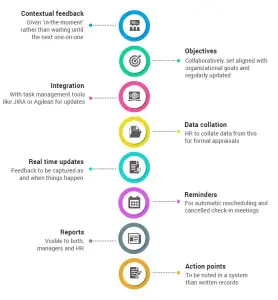 A variety of the existing CPM tools that organizations use lack most of the above features. An end to end solution that encompasses these features is the first step in moving towards the goal of CPM. Not only will this increase the adoption rate of the systems, but also improve the appraisal process, address any grievances effectively, and foster a more transparent environment.
An ideal system CPM system should factor in aspects such as compatibility, integration, and analytics among others. With different organizations and industries, aspects such as employee strength, budget, technical infrastructure, and technical expertise change. Below are some points that will definitely come in handy in preparing a robust CPM system.
Integration with task tracking tools
While current CPM tools are great to identify, track and review monthly, quarterly or yearly goals, they do not offer a platform to document and track daily tasks to be done by the employee. Because of these, companies usually use one tool to track the daily tasks (JIRA, Basecamp etc.) and a different tool (Betterworks, SF etc.) to track the performance. CPM Software can also be integrated with task tracking tools like JIRA, instead of creating a whole new platform for the same, from where managers can get more comprehensive reports on the tasks during the required period.
No quantification of goals and weightage to milestones
Many softwares allow division of goals into multiple milestones but no custom weightage is allowed to be assigned to them. Furthermore the software do not auto calculate the goal achievement based on the milestones defined. Progress is updated in percentage either by the manager or the employee manually. Proper and customized quantification of goals and milestones and auto calculations based on tasks/goals completion is needed to be incorporated in the software to provide more automation to the users.
 Sharing rights
CPM softwares like Successfactors and Betterworks only provide Personal and Public sharing when it comes to goals with Public goals being shared with everyone throughout the organization. These platforms do not provide customized sharing rights where the user can define if the goals are needed to be shared with only a specific department or individual. More refinement in sharing rights of goals will definitely be a value addition to CPM software.
Comprehensive reports for one-on-ones
While many software provide completion and progress reports on one-on-one's, ability to view one complete report containing all the one-on-one's throughout the performance period is not yet available. This comprehensive report can provide much needed documentation of all one-on-one's with an employee in one single screen or spreadsheet. Here the managers can track the progress of each KRA & KPIs and compare the goal progress of the entire performance period. These kind of reports are highly beneficial for sales and managerial staff where the KRA's are well objectively defined (e.g. 10% increase in a month etc.) and can be compared efficiently. Having Analytics that track performance related metrics vis-a-vis peers and
provide insights on why some peers excel and accordingly feed to LMS / training systems for coaching will be one of the competitive feature in your CPM tool.
Hybrid Approach
While regular and continuous coaching and development is taking place throughout the year, there will be compensation which happens half yearly or yearly. Continuous performance management tool should allow to collate the data from continuous reviews or integration with traditional performance system so as to provide the automated way to create the annual performance report for salary appraisal.
Along with above features, the CPM tool should also be able to provide tips and notification based on discussions in meetings. Also having mobile app for continuous engagement is very critical to products success. Leading organizations have already adapted the continuous performance management model. Grading and ranking is replaced with coaching and development to achieve continuous growth. With employee engagement being one of top list item on HR goal, continuous performance management plays a vital role in positive employee engagement. To summarize. your product should have web solution and a mobile app with additional features as integration with other organization platforms, auto calculation for goal measurement and it completion status, comprehensive reports and hybrid approach to generate automated performance reports for traditional compensation cycles.