Building Analytics-ready HCM Platforms? What Data Analysts have to say
Author: Gautam Mainkar
Posted On Mar 29, 2017 | 4 min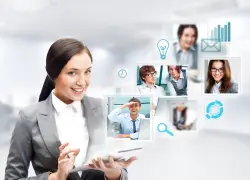 Human Capital Management (HCM) approach is becoming more pervasive in the organization and plays a key strategic role in the overall business success.  The reason being the evolution of HR systems from just a bunch of few spreadsheets or tools with a limited focus, to advanced HCM systems. The modern HCM systems are cloud-based, integrable with a large array of third-party tools and social media platforms. These systems provide HR personnel with an integrated platform to oversee and drive the processes more efficiently. The latest focus of HR departments is 'Data-Driven HR.' 'HR Analytics' has become modern day HR leader's top priority to understand the workforce better and bring strategic benefits to the organization.
Strategic data management and architecture is the foundation of a successful future-proof HCM strategy. It will not only render HR processes more efficient but will also provide a competitive advantage to organizations which adopt them. However, when the organizations are transitioning away from their existing data architecture and management processes, it poses some significant challenges which need to be addressed. Organizations need to account for the differences in architecture required for modern, cloud-based, fully integrated HR Tech solutions.
As the core part of an analytics driven approach revolves around data, , here is our data analyst's take on some of the key points organizations need to keep in mind while evolving their HCM system:
Data migration
A sound data migration approach is especially necessary if enterprises are currently on legacy solutions. Modern HR Tech solutions with integration capabilities remove the risk of disconnected data silos across multiple HCM systems. Migrating to future-ready data management solutions has become even more imperative with the advent of new data sources like social media, specialized third party apps, IoT, and wearable technology, which provide vast amounts of data for all stages of the employee lifecycle. During any migration project, stakeholders need to ensure that well-defined processes are put in place to validate data being migrated. Migration should usually begin with current incoming data for which standards have been set up. Moreover, historical data should only be included after it undergoes a thorough audit to ensure data quality and veracity.
Data consolidation
At a time when specialized third-party SaaS applications often handle functions like payroll management, learning and development, and benefits administration, maintaining a centralized data warehouse is essential to ensure smooth functioning across all modules.
Consolidating a master data source into the HCM system ensures that all data consumers have access to uniform, up-to-date data, and makes it possible to implement cross-module analytics. A unified data model is important to be able to carry out cross-domain and cross-solution analytics.
ETL processes across diverse tools to consolidate data into a unified model must be designed at the outset. These ETL processes must also account for differences in data definitions across various tools, ranging from simple differences in time format to the more complex ones in modeling team structures or project workflows. Processes must also be robust enough to account for internationalization of data, especially in multinational organizations.
Data utilization
Insights derived from data can empower stakeholders to make better decisions, improve the quality of HR functions, and increase employee engagement. HCM systems will increasingly have an analytics-first approach in the future, and enterprises will have to approach systems integration keeping in mind the key role analytics is going to play.
The enterprise must have a clearly defined data strategy and carry out an analytics audit to identify data-points, which can be used to execute their strategy. The analytics potential of HCM system data must be pursued aggressively to ensure that data warehouses become value generators rather than simple storage systems.
Modern enterprises are exposed to a vast amount of data generated by business contexts that can change rapidly. Good data management is not just a matter of housekeeping but can create a competitive advantage for enterprises by improving talent acquisition, employee satisfaction, and even improving business performance. Investing the time and resources to consider these aspects of data before initiating an HR Tech project will impact overall project success. With analytics become a core functionality of any HCM platform, organizations will at the very least need to integrate analytics tools into their HR Tech solution ecosystem. These tools must be able to provide cross-solution data integration, powerful yet easy to use analytics capabilities and highly customizable visualization engines, so as to empower HR professionals to get accurate, meaningful and timely insights about their organizations, and move the HR function up the value chain of the organization.
Harbinger Systems, recently developed an Analytics Driven Talent Acquisition Support System for a US based client recruitment agency. The application helped our client in providing an improved candidate pool quality to organizations while lowering the cost of service delivery. Review this case study here…