AI for Recruiting – Applications and benefits
Author: Hemant Nimbekar
Posted On Jan 02, 2018 | 5 min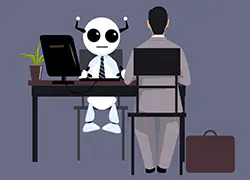 What is AI for recruiting?
AI enabled recruitment is the hottest topic in recruiting these days. AI for recruiting is applying artificially intelligent abilities such as learning from data or problem-solving designed to automate some functions of the entire recruiting process. Industry experts say that the future of AI will be AI augmented intelligence.
In today's competitive world, pressure of volume of candidate for a job position is increasing but at the same there is no significant increase in recruiting teams. Recruiting team also face many challenges like finding the right candidate who fits in the culture, collecting the information scattered across multiple sources, remote hiring – Video interviews, engaging passive candidates and this is why AI recruitment is exploding because talent acquisition leaders are looking for ways to streamline or automate their recruiting teams' workflow. It will also help recruiting team in:
Drawing data from more sources
Providing more subjectivity and data-driven decisions in recruitment process.
Improving mapping of candidates to organization requirements
Providing data for on-boarding, training, work allocation processes
AI and machine learning can play a major role in quickly analyzing huge amounts of data and make decisions and predictions based on that. Industry experts believe recruitment automation will augment and enhance human recruiters' abilities, rather than completely replace them.
The three processes where automation is majorly helping recruiting in are screening, pre-qualification and interview.
Automated resume screening:
It is still most time-consuming and painful job to manually screen hundreds of resumes for a position. About 75% of the resumes received for a role/position do not even qualify. On an average, it takes about 23 hours of a recruiter's time in scanning resumes and short listing candidates for a single hire (https://www.recruiter.com/i/3-major-ways-ai-is-augmenting-the-recruiters-role/). Automated resume screening can significantly reduce the hours spent on manually reading resumes and thus reduce the overall time-to-hire.
Automating Pre-qualification:
There is always a same set of questions recruitment team asks for pre-qualification of a candidate. Some of the questions might be
Are you willing to relocate?
What is your current and expected CTC?
What is your notice period?
Automating this process through chat bots can enhances the candidate experience by providing continuous, real-time feedback.
Candidate Engagement
Also, automating repetitive tasks such as answering the same questions about a job which are asked by candidate chatbots enhance the pre-qualification capabilities of a human recruiter without additional strain on their time. It also helps in engaging passive candidates.
Automated interviews:
Digitized interview technology records candidate interviews and assesses factors such as their word choices, speech patterns, and facial expressions to predict how well a candidate fits the role. Recruitment automation applied to interviewing promises to improve quality of hire by providing additional data points on how well the candidate fits the job requirements or company culture.
These are some of the HR functions where AI is emerging and will pave the way for future applications in various other functions. While there are many more where it can be used, organizations must also take in to consideration some of the challenges that need to be overcome for effective implementation. In our next blog, we shall look at some of these challenges and how these can be overcome.