5 Ways HR can help companies swing back into actio
Author: Manasi Mehendale
Posted On May 18, 2020 | 4 min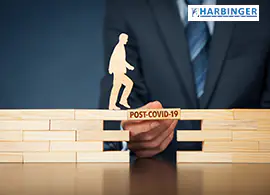 The COVID-19 pandemic has created major disruptions in the world economy. As per a recent report published by International Monetary Fund (IMF), the global economy is projected to contract sharply by a staggering -3% in 2020. In such a scenario, the Human Resources (HR) departments, world over, have their tasks cut out. They must align the company's vision with existing needs, and accordingly support its business decisions.
Identifying the way forward
So is there a possible plan of action which can be followed? What can an HR department specifically do to support a company and its leadership amidst the storm? We recommend five strategic ways to deal with the economic slowdown.
1. Provide clear communication channels
HR departments are the primary custodian of a company's culture. They become even more critical during difficult times. Decisions such as layoffs, travel restrictions, and budget cuts can be frustrating for employees. HR needs to maintain the morale of the workforce through these difficult decisions. A clear communication plan can help the leadership in communicating tough announcements in the most humane manner. HR teams should work closely with senior managers to reinforce focus on the company's core values.
2. Be prepared for new hires
Yes, you read it right. The COVID-19 situation has stifled the job market, especially for industries such as retail, travel and tourism, and hospitality. But what could be worse than the slowdown itself? It is being caught unprepared when a turnaround is round the corner! Eventually the dust will settle down. And HR recruitment teams should take this opportunity to build their pipeline of possible vendors and candidates. It is also worth considering that quality candidates with specialized skills might be much more easily available at a lower CTC during a downturn.
3. Focus on upskilling
Successful HR departments use the slowdown period to upskill employees to align with emerging business needs. In the current times, a lot of work has shifted online. And so has the learning industry. Employees can benefit from retraining, upskilling, gaining certifications – and HR needs to facilitate that. Truth is, helpful skill-development during difficult periods also improves employee morale and loyalty. The HR department can thus work towards spreading positivity when things seem low.
4. Renegotiate vendor contracts; add digital tools
When did you last look at your software portfolio to modernize and update it? A slowdown is one of the best times to re-internalize tools and solutions. HR and IT departments should proactively review their existing contracts and renegotiate newer ones. Better solutions might be available for a steal. Digital tools that improve communication and ease administration are here to stay. The current period is the best time to test and deploy such options.
On that note, you can visit our resources section to see a few examples of new-age digital tools that can be used in recruitment, benefits, employee engagement, and talent management.
5. Revisit employee benefits to take better care of them
Slowdowns are also a good time to revisit not just the tools but also employee benefits. HR teams can renegotiate deals with insurance providers and third-party administrators to increase coverage and features. Improved benefits can make employees feel valuable and promote retention once the situation stabilizes. It will also complement the recruitment initiatives as they kick in towards the end of a slowdown.
Being the backbone they truly are
HR departments undoubtedly need to step up the game during difficult times of a company. They play a key role in keeping the company tightly knit during an economic slowdown such as the one we are facing currently. The strategic initiatives listed above need to be critically considered as a company navigates the difficult terrain of a recession. The onus lies on the HR department to bring a balance to the company's upheavals as the world slowly limps back to normalcy