Modernization of eLearning Courses for a Catalog Learning Solutions Provider
About The Client
The client offers comprehensive, state-specific, legal compliance tools and training for HR managers, employers, safety professionals, environmental compliance officers, and training development managers.
Business Requirement
The client had developed over 500 courses in Articulate Presenter in phases over the years. It was becoming critical for the client to keep up with changing technologies, advancement of devices and the need for a modern learning experience for learners. In addition to the demand on the delivery to be in synch with the trends, the intrinsic need of compliance content to be updated quickly and with minimal effort was a pressing requirement.
Specialists in the fields of environment, health, and safety maintained and updated the compliance material regularly. This training material needed to be updated for:
The latest trends using an authoring tool that their Learning and Development could easily adapt to
Uniform branding across the courses
Accessibility compliance
How Harbinger Helped?
Harbinger helped the customer evaluate three different technologies to modernize the courses. The pros and cons for each were discussed in-depth before deciding on using Articulate 360 as the tool. Listed below are few areas which ensured optimal development and delivery of the modernized courses:
Prototype
A prototype of a few courses was developed first to ensure that there was a rigorous test of the product and processes. The standards and the expectations were finalized to create the foundation for volume turnaround.
Process
The client had limited bandwidth, so it was desired to follow a process with comprehensive standards and documented guidelines. A simple process was defined to ensure that there was a balanced approach of updating the courses by making minimal changes to the content and at the same time content gaps, if any, were identified and filled-in.
Templates
A wide range of templates were defined to accommodate all the types of screen in the legacy courses. Three sets of the templates with various designs helped in managing the variety in the courses. These templates were a common language across both the teams for defining the look-and-feel of the screens.
Customization of Articulate 360
The client expressed the need to retain features like timer for the course progress and customized size of the transcript window, even though these features were not available in Articulate 360. It was also required to customize the success criteria in the assessments across courses as they would be deployed in different companies with different policies. Harbinger found a solution to these challenges in using JavaScript. It enabled achieving the mentioned features through back-end programming.
Delivery
The client was not burdened with volume deliveries; instead, Harbinger was flexible enough to ensure that the courses were delivered as per their business requirements. The launch of courses that were in high demand was selected as a priority. Robust training was arranged for the client's staff for implementation of the customized features.
Harbinger adapted to all bandwidth constraints at the client's end. We took up the role of reviewers' team on their behalf end and also filled-in when the client needed specialized skills like need of a project manager.
Project Screenshots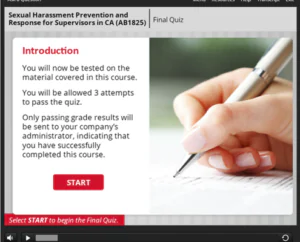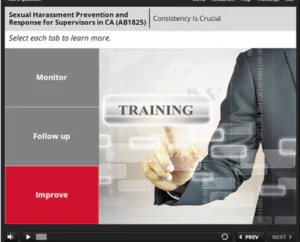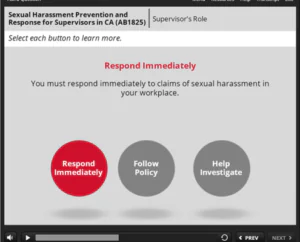 Business Benefits
Through its innovative and rapid course development approach, Harbinger was able to create tangible benefits for its client. Some of the immediate notable business benefits were:
The new design enabled the client to meet its strategic objective of modernizing their course library to provide better look and feel and greater engagement to the learners
Availability of a ready-to-use template library of 50+ templates, which can be used for future in-house course development by the client
Unified experience across the courses in the catalog, and hence consistent and solid branding