Key Takeaways
Pros and cons of Generative AI for personalized employee development

How Generative AI advances continuous employee performance management

How Generative AI contributes to upskilling, performance analysis, and feedback

How Generative AI supports learning content creation and employee training

How to plan for and implement Generative AI as well as manage the risks
According to McKinsey, lack of career development and advancement was the number one reason for employees quitting their jobs between April 2021 and April 2022. In today's fast-paced corporate world, employee development is crucial to fostering excellence within teams as well as the organization.
By leveraging the power of AI-driven data analysis, pattern recognition, and predictive modeling, businesses can amplify their capacity to identify talent, tailor development strategies, and optimize performance outcomes. A recent poll by Bain & Company revealed that 80% of chief human resource officers say Generative AI has the potential to revolutionize talent management practices.
No matter your role within the organization—be it HR specialist, team manager, or C-suite executive—ensuring employee development and improving performance management are common goals. And what could be more effective in achieving these goals than harnessing the power of Generative AI?
Join us for an enlightening Power Hour session on the 'Role of Generative AI in Employee Development' on September 28, 2023 at 11 am ET. This is the third episode of our successful webinar series on Generative AI for HR. Our panel of distinguished HR and technology experts will unravel the intricacies of Generative AI and its strategic integration in employee development and performance management.
You will explore case studies and real-world examples that illustrate how Generative AI enables data-driven decision-making for employee development and performance management. You will learn how Generative AI helps revolutionize the way talent is nurtured. You will also explore in depth how Generative AI is reshaping the landscape of employee growth, performance management, and organizational success.
Prepare to be inspired, informed, and equipped with a fresh perspective on the future of employee development and performance management with Generative AI.
Key Takeaways
How Generative AI helps personalize employee development.
How Generative AI contributes to upskilling, employee training, performance analysis and feedback.
How Generative AI supports learning content creation.
How Generative AI promotes and advances continuous employee performance management.
Pros and cons of Generative AI for employee development.
How to plan for and implement Generative AI.
How to address the risks of using Generative AI.
Book your seat today!
"Speakers will be announced soon"
Meet Your Host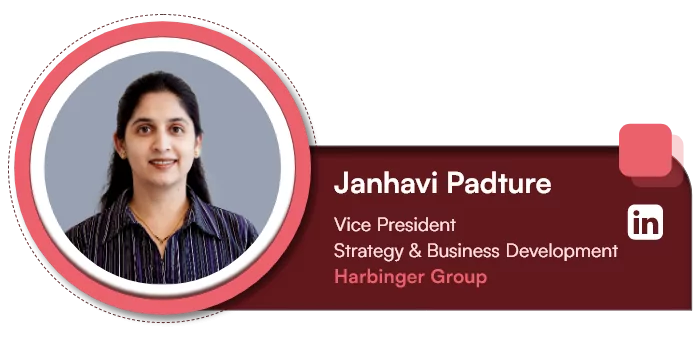 Janhavi plays a critical role in the HRTech and HRTech Partner lines of business at Harbinger Group. She brings over 20 years of experience in software development, product strategy, and management. She is passionate about HRTech and Learning domains and has spoken at several leading industry events. With exceptional knowledge and domain expertise in these areas, she has helped several companies develop innovative software products and turnkey solutions to solve workplace, people, and learning challenges.
About Harbinger Group
Harbinger is a global technology company that builds products and solutions that transform the way people work and learn. For 30 years, we have been innovating alongside organizations that are in the people business - serving the Human Resources, eLearning, Digital Publishing, Education, and High-Tech sectors. At Harbinger we understand that building a great solution requires in-depth knowledge of the user, the nuances of the business, and expertise in technology – that is why we provide both end-to-end Product Development and Content services. Our pedigree in eLearning and building next-generation products has fostered a culture of continuous learning. We experiment with new technologies, easily embrace new ideas, and creatively apply them to our customer's products.