Interactive Onboarding Training Program for a first-time eLearning Partner
About The Client
Anthony International, based in California, is the world's largest manufacturer of specialty glass, commercial glass, refrigerator & freezer doors, case lighting, and display & merchandising systems. Their continued success stems from a combination of hard work, excellent employees, good business sense, innovative ideas, and the ability to meet the demands of the marketplace. Anthony's vision is to enhance people's lives through safe and efficient merchandising technologies.
Business Requirement
Anthony International's business expansion plans required the firm to establish a standardized onboarding training program for their key departments. Anthony sought to develop an engaging and immersive online learning experience for the new hires to get them acquainted with the firm's policies, procedures and products. This could help increase their productivity and act as a performance support tool in their day-to-day operations.
The objective of this project was to create a standardized, self-paced training program. It was essential that this training be accessible to the employees anywhere, anytime and at the moment of need – just in time (JIT). It was also necessary to ensure that learner motivation would persist throughout the training.
How Harbinger Helped?
This was a high stake, high visibility project for Anthony International and they were looking for someone to partner with them in this initiative. Harbinger was finally chosen to design and develop this digital "Onboarding Training Program" after a thorough evaluation. The project got rolling and there were three key areas which were identified to be addressed in parallel and they were:
Product training for Anthony's sales force
Onboarding program for new engineering employees
Onboarding program for customer assistance group
Harbinger's instructional design, visual design and programming team, and Anthony International's project team, worked together to meticulously address each of these areas. Since this was Anthony's first foray into eLearning, a pilot development project was initiated to acquaint their team with the typical eLearning development process, while at the same time, this enabled Harbinger to develop a better understanding of this firm and their requirements. The instructional design strategy included the application of:
– John Keller's ARCS Model of Motivational Design, so that the course design took into account the four steps of Attention, Relevance, Confidence and Satisfaction to ensure learner motivation.
– Skeuomorphic graphics that resembled the learners' real-world environment – such as visuals of office interiors. This design offered an exploratory learning environment to the learners which they could control. The learners were able to select the area (Module) they wanted to explore and find the desired information (Topics). All the information was broken down into smaller chunks to help increase retention.
Harbinger utilized Articulate Storyline as the development tool, this ensured easy maintenance and updation of the courses.
Onboarding training programs are hardly a novelty in the field of eLearning, but this kind of a digital onboarding training program was a first of its kind for Anthony International. Harbinger effectively took on the role of the partner Anthony needed in this initiative. The dedicated and collaborative efforts from both teams at every stage of the project ensured its eventual success.
Project Screenshots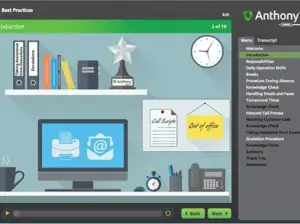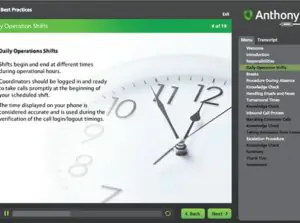 Business Benefits
The course has been successfully rolled out to employees at Anthony for multiple locations in USA. Both the employees and department heads have rated the usefulness of this program very highly. Although Harbinger cannot disclose further details on the outcome of this program as they are confidential in nature, here are some highlights that essentially resulted in better business benefits:
Development of a standardized and consistent onboarding training program
The massive outreach of program within Anthony International
Completion of this project at a highly competitive price due to Harbinger's cost-effective and rapid delivery
Client Testimonials
"I am already utilizing the training videos for engineering with 3 new employees and the feedback has been fantastic. They are well received and the topics gave a lot of clarity during the training. All students were equally involved and engaged even though their positions were at different levels – Sourcing, Design Engineer and Draftsman .This was a great idea, thank you again."
Kathleen Hols, Manager Engineering, Anthony International
"Working with Harbinger Interactive Learning has given us the opportunity to create custom eLearning to create consistency in onboarding training. We appreciate all the hard work the team has put in to making this project a success. Harbinger brings immense skill and creativity to the table"
Heather Bleau, LMS Training Administrator, Anthony International