Digitization of Classroom Training for US-Based Association for Psychologists
About The Client
The client is the largest scientific and professional organization of psychologists in the United States, with around 117,500 members including scientists, educators, clinicians, consultants, and students. Their mission is to advance psychology to benefit society and improve lives.
Business Requirement
The client had a classroom-based training program on accreditation. This program had three key components: (a) Doctoral, (b) Internship, and (c) Postdoctoral Residency. Each program consisted of four curriculums with 1-17 classroom-based courses under each curriculum. There were specific instructors on-board with the association who were entitled to conduct these training programs and there was a lot of time and money that was being spent by these instructors to continue with the classroom-based model.
The need of the business was to migrate from the classroom-based program to a more scalable digital format. Thus, to bring in scalability and cost effectiveness, the client partnered with Harbinger to digitize these training programs. Apart from these two key business drivers, the client also wanted to capitalize on some other benefits of training through a digital medium, namely anytime and anywhere accessibility, training content agility, and interactivity.
Harbinger's Solution
Harbinger team worked in a highly collaborative manner with the client stakeholders to develop an effective and engaging digital learning program. This program consisted of 30 learning modules with 5-20 minutes of seat time. The process began with the selection of an authoring tool. Harbinger held the responsibility of coming up with a detailed analysis of various tools, keeping in mind specific project requirements like implementation of Section 508 features, ease of updates, maintenance, and more. After a detailed and thorough analysis of three different tools, Harbinger recommended to use Lectora as the preferred authoring tool. Another key aspect of the development phase was to ensure that the delivery of storyboards to the SMEs was in a format which was easy to understand and review. These SMEs were scholars in their subject areas however they would be reviewing storyboards for the first time. To help the SMEs, Harbinger decided to provide doodles within the storyboard which helped them to visualize content easily and provide feedback effectively.
Project Screenshots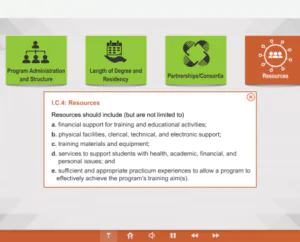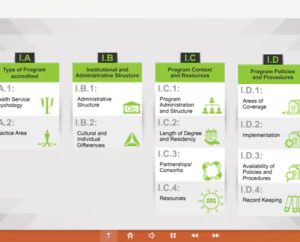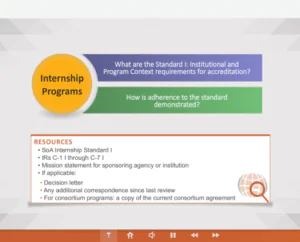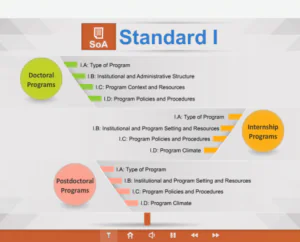 Business Benefits
The client has been able to launch these courses to a sizeable target audience at their end. The modules are helping various entities with the information that they need on making their programs accredited.
Client Testimonial
"You were instrumental in making the accreditation course development project a success. Our business stakeholders are very pleased – as am I, with the outcome. I want to say Kudos to this amazing group of colleagues."