Blended Outsourcing Model for a Heavy Engineering Services Organization
About The Client
Aggreko is the world's leading temporary power generation company and a major supplier of temperature control equipment with offices in most major cities in Western Europe, the United States and Australia, and smaller numbers of locations in Africa, Latin America, the Middle East and Asia.
Business Requirement
Aggreko was looking for a partner to work on a blended model (onshore – offshore engagement) of developing training content for their global workforce. Apart from the various attributes they sought in their prospective partner, the most important was – capability to handle variety of work. This included development of eLearning and instructor led training solutions for varied user groups and the ability to work in a collaborative mode with their subject matter experts and L&D team. At a high level, the ideal partner's profile required to include:
Strong instructional design competency
Ability to quickly scale up & scale down as per project requirements
Volume Management
Ability to handle end to end development & translation projects
How Harbinger Helped?
Through rigorous & extensive evaluation process, Aggreko selected and entrusted Harbinger as their end to end development partner. Harbinger, with its robust project management expertise, successfully managed the complex development & translation outsourcing needs for Aggreko and also helped Aggreko's learning arm to achieve its goals and business objectives. Following are some sample projects that Harbinger developed for this client:
Development of over 100 hours of web based modules for various departments like engineering, sales, talent acquisition, talent management, shop floor technicians, service crew professionals, operations, finance, health & safety, etc
Development of over 300 hours of standardized ILT material to be used globally
Development of modules in English language and localizing them in various languages for Europe and Latin American regions
Project Screenshots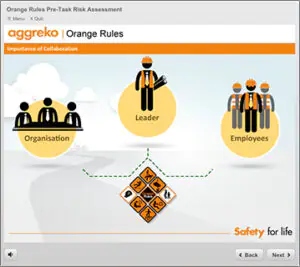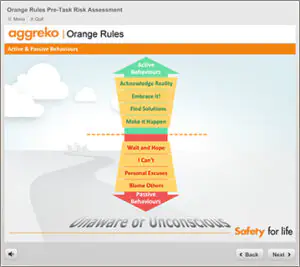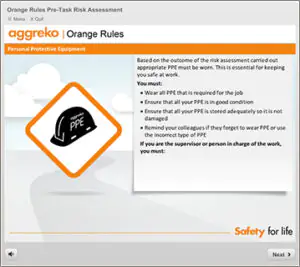 Business Benefits
Through this partnership, Harbinger was able to handle some very significant challenges which were extremely critical to meet Aggreko's business needs. The key benefits of this project included:
A standardized training program for global locations resulting in a skilled workforce ready to execute projects
Delivery of learning solutions in a rapid and cost effective way enabling faster go-to-market speed
Client Testimonial
"Harbinger played an instrumental role in helping us design and write the content for our first global VLS Training Program. I was impressed by their professionalism and willingness to go the extra mile to ensure the success of the project. Without their input we would not have able to deliver such a high quality VLS learning environment for our global sales team. Feedback from participants was positive with most rating the learning experience as very good, to excellent."
Chris Smart, Head of Sales Effectiveness for Local Business Development, Global Marketing Aggreko