25% Improved Learner Engagement and Retention with Migration of eLearning Courses to Xyleme
CUSTOMER: International Oil and Gas Training Provider
INDUSTRY: Oil & Energy
TECHNOLOGY USED: HTML5, Xyleme
About The Client
The client is a global leader in training and competency management for the oil and gas industry, headquartered in the United States. The client has been offering formal Instructional Programs, e-Learning and Knowledge Solutions, Competency Management, and Web-based knowledge and virtual learning systems products and services to many international prospects for more than 50 years. They have received many notable awards based on their innovative learning and competency development programs to domestic and international clients.
Business Need
The client had a list of eLearning libraries for imparting quality training to its multiple stakeholders. One of its e-Learning libraries, Operations & Maintenance (O&M), provided over 370 courses to operators and technicians. These courses helped technicians develop skills and competencies to operate and maintain facilities in the areas of O&M fundamentals, HSE (Health, Safety, and Environment) maintenance and operations, safely and effectively. All 370 courses were available in Flash with an outdated design.
With the impending end of Flash in 2020, the client wanted to embrace a proactive approach with a plan to modernize the existing Flash-based courses. This was done with a view to cause least disruption to business by ensuring that uninterrupted training could be imparted.
In addition to this, the non-Flash courses were a critical criterion for acquisition of new prospects. Several of them had even put a policy to eliminate Flash-based technology and demanded an upgraded version of these courses before subscribing.
The client thus decided to migrate these courses away from Flash and into a more modern design, format, and technology. Further, they wanted to utilize this opportunity to meet a more extensive business goal of creating a robust, scalable, and future proof learning ecosystem with more effective learner engagement and a seamless user experience. The need was broken down into the below-mentioned components and was addressed accordingly.
Ensure seamless integration of the new courses into the learning ecosystem.
Incorporate mobile-friendly and dynamic design while delivering a consistent course interface across the library.
Enhance the design quotient of existing courses from visual and instructional design perspectives for effective learner engagement.
Decrease operational costs by increasing ease of deployment, reducing the learner support desk tickets, and enabling the content development team to update and maintain the courses with relative ease.
Make the courses WCAG 2.0 accessibility-compliant and logically chunked into micro-learning nuggets.
Achieve an important content reusability goal to simultaneously deliver microlearning nuggets from the same O&M courses for use in the client's Microlearning product
Harbinger's Solution
Modernization comes with its fair share of challenges. A robust modernization framework would help successfully implement this initiative, was the thought process that Team Harbinger adopted.
Harbinger decided to leverage its unique framework called xSMART to cover all the custom modernization needs. Harbinger therefore proposed converting old Flash-based courses to HTML5 using the xSMART framework.
The xSMART framework is a solution accelerator that enables teams to successfully create and execute Flash to HTML5 conversions. It facilitates seamless handling of large-scale content conversion projects cost-effectively and rapidly. Details of the framework and the role it plays in content transformation are shown in the image below.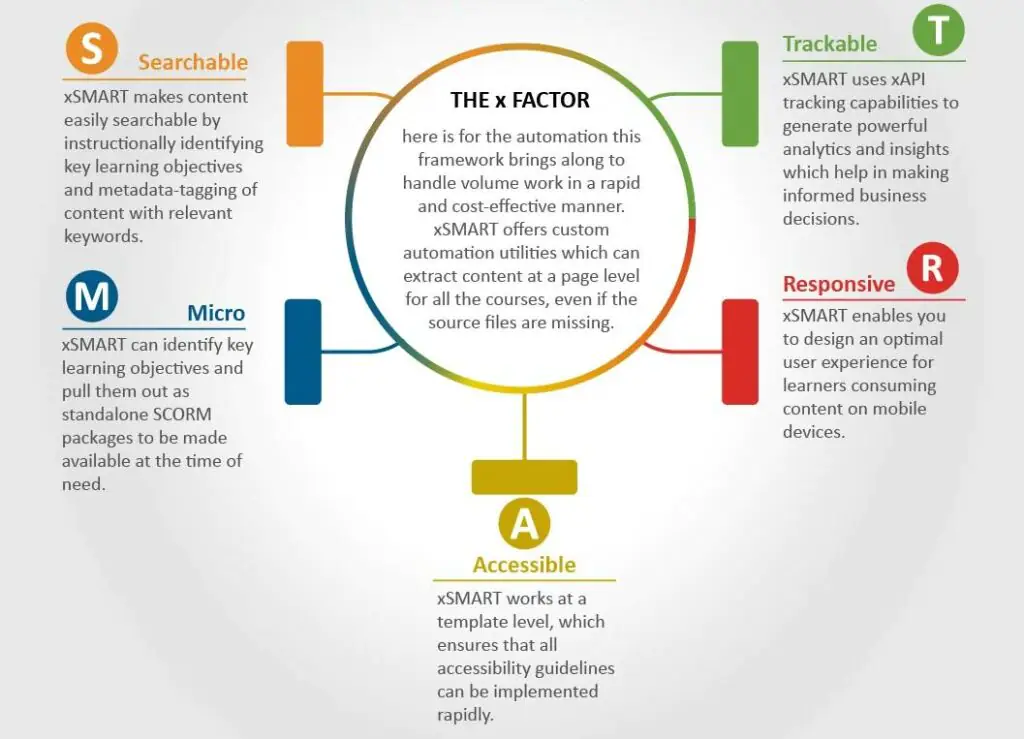 To transform courses to HTML5, Harbinger used automation and future-ready design capabilities of the xSMART framework. Following bullet points describe the various aspects of modernization and approach to achieve them:
x Factor
Automation was brought into play a role for a couple of activities listed below.
Extraction of reusable assets from the Flash courses: Text, images, video, and audio components used in Flash courses which qualified for reuse, were extracted using automation.
A template-driven approach was taken to populate the extracted content into the template library and achieve scalability, automation was used to populate the extracted content into these templates.
Micro nuggets and Searchable
The Instructional Designers (IDs) team identified specific portions from a long course that were pulled out as standalone microlearning nuggets.
Metadata tags for each nugget were applied to make them easily searchable.
Accessible
Accessibility was implemented by making courses Section 508 compliant at the template level.
The 'specially-abled' learners could select accessibility mode at the beginning of a course.
Responsiveness and Trackable
The HTML5 templates were made responsive to enable them to seamlessly play on desktops, laptops, iPads, tablets, and smartphones.
SCORM1.2 (Sharable Content Object Reference Model) features were implemented to ensure trackability.
Harbinger used the '4D Process' of Define, Design, Develop, and Deliver as the development methodology to achieve a scalable solution. During the project's term, the following tasks were performed as part of the Flash-to-HTML5 conversion process:
The Flash courses were first transformed into HTML5-XML courses using the xSMART framework.
The next step was to harvest the content of all XML files from the HTML5-XML courses and repurpose it into XML formats compatible with the client's CMS environment, Xyleme.
And the final step was to use the assets in the Xyleme environment to create microlearning nuggets and make them available through the client's Microlearning platform.
Thus, seamlessly integrated the published output into the client's 'Content Creation and Learning Ecosystem' using a single-source, custom content authoring technology.
Business Outcomes
The solution provided an immediate ROI by enabling the client's content team to develop over 1,000 O&M microlearning nuggets for their new Microlearning product.
The following are some notable business benefits achieved after successfully transforming courses from Flash-to-HTML5:
15% business growth of the eLearning library over the same period year-over-year.
81% reduction in operational costs.
25.1% increased learner engagement with a higher course completion rate.
Increased go-to-market speed and customer acquisition.
Seamless integration of new courses into the client's learning ecosystem.
Client Testimonial
"This project streamlined the delivery of containerized Flash-based courses to flexible HTML5 modern courses into our Xyleme LCMS platform using automation. Earlier to this, our courses were stuck in a legacy format. The courses now have improved interactivity and content reusability. From a technological standpoint, we can now deliver on various content strategy requirements and, most importantly, provide clients with a SCORM 1.2 stub-based course package and CDN model, allowing for content updates, reusability opportunities, and mobile-friendly formats." – Vice President, e-Learning & Knowledge Solutions