Sales Training for Field Sales Representatives at a Fraternal Benefits Society Organization
About The Client
Established in 1883, Modern Woodmen of America is one of the largest fraternal financial services organizations in the US with more than 750,000 members. Modern Woodmen of America has their presence in 70 regions of 47 states in the US.
Business Requirement
The dynamic and constantly changing insurance industry requires field agents to be well informed and trained on MWA mission, vision, compliance standards, sales processes, best practices, and customer service standards. To achieve this, Modern Woodmen initiated Modern Woodmen University which would provide standardized training to the field agents across 47 states in the US. As a part of the university's curriculum, the firm needed to develop training programs that were engaging and used real life examples.
How Harbinger Helped?
Through a rigorous evaluation process, Modern Woodmen selected and entrusted Harbinger as their training partner. Knowing that the target audiences for the training modules were on the field most of the time, Harbinger realized that the training modules had to be unique and quick in addition to being engaging and close to real life
Harbinger developed the first training module for the firm in 2008, and over the last 8 years Harbinger and Modern Woodmen of America have collaborated to develop many more. All the modules designed have been a unique blend of instructional design and graphic design approaches. Harbinger made use of mentor based design, hand drawn illustration style, edumercials, scenario based design and many more interesting techniques. Many of these modules are now part of Modern Woodmen's onboarding program.
Mutual trust, transparency, open communication, defined roles and consultative approach have been some of the key factors in making this relationship 8 years strong.
Project Screenshots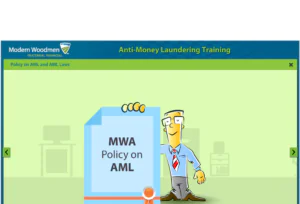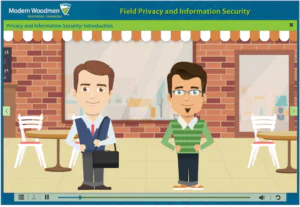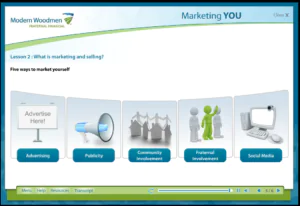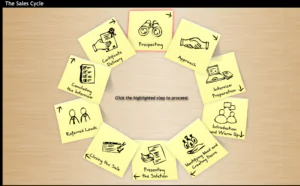 Business Benefits
Through this partnership, Harbinger was able to handle most of Modern Woodmen's training needs. Some of the key benefits resulting from this partnership were:
Standardized yet up-to-date training programs resulting in a skilled workforce
Delivery of training modules in a rapid and cost effective way enabling faster go-to-market speed
Client Testimonials
"We have worked with the team at Harbinger for several years on numerous content development projects and have been more than pleased with all aspects of their performance from pricing, quality of work and overall project management"
William F. Doy CLU, ChFC, Training Director, Modern Woodmen of America
"One of the things we've appreciated over the years is how they stay up to date with current software technology to meet the needs of their clients. We compare the work they did 6 years ago with recent modules and they have a completely different look and feel."
Scott Blackert, Field Education, Modern Woodmen of America