Author: Pankaj Ojha
Posted On Nov 24, 2020 | 4 min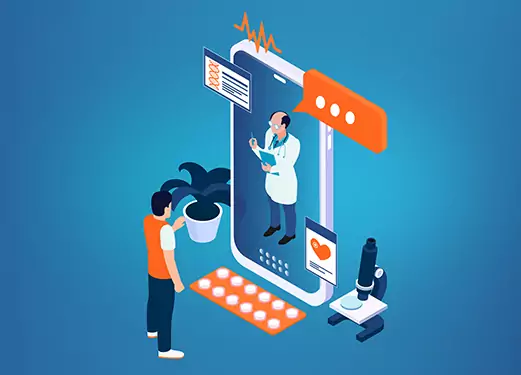 The current COVID-19 pandemic has exposed our readiness for integrated healthcare and the fact that there's still room for significant improvement in healthtech. Providing service for end-to-end patient requirements is critical now and will always remain so. It is hardly a surprise then that with the pandemic in full swing, the estimated value of the healthcare integration market is expected to reach $6 billion by 2025 at 11.4% CAGR.
Numbers apart, the one unique component which has pushed for healthcare integration this year is – the need to deliver remote care.
Integrating for a Seamless Ecosystem
If healthcare providers around the world are now speeding up their technology adoption efforts to deliver better patient care, does it mean that every healthcare system needs to have all modules inbuilt?
Thankfully, the answer is NO, as that will need a lot of investment in terms of time and other resources. Instead, what every system needs is the capability to integrate with other systems out there in the market to add value to the existing healthcare ecosystem in multiple ways – from remote patient monitoring and virtual screening to customized treatment plans and early detection of illnesses. Doing so, you do not need to build everything; you can simply borrow (integrate or plug-in) from others, and still give your customers/patients an end-to-end service from within your system.
There are several examples around us to better understand how healthcare integrations not only add more capability to our system, but also drastically reduce the healthcare cost, time, and provide the patient a smooth one-stop-shop experience.
One could be of a classic EHR system integrating with a telehealth system so that online consultation becomes possible. Or a telehealth system integrated with an external pharmacy so that the patients get medicine delivery at their doorstep. Integrations with Practice Management Systems have also proved useful as it allowed digital ways to treat patients, predict and prevent illnesses, increase efficiency, and ultimately reduce costs. For instance, a Practice Management System integrated with a laboratory or a clinic so that all patients' reports are available at a single place. Or such a system integrated with Remote Patient Monitoring (RPM) systems so that physicians can monitor and take care of discharged patients, or for home care or hospices.
A Quick Glance at the Process
The one biggest aspect to take care of when opting for healthcare integrations is data security (the patient privacy needs to be retained in accordance with the HIPAA laws).
Here's an overview of how we achieve such integrations without compromising on data security.

With this process, you can seamlessly integrate EHR data and legacy solutions to securely access healthcare data from any connected source via customized interfaces in various healthcare standards.
What the Future Holds
The combination of IoT and telemedicine has resulted in IoMT (Internet of Medical Things). IoMT helps in providing more accurate diagnoses, has fewer errors, and lower costs of care. According to Goldman Sachs, IoMT will save up to $300bn annually through remote patient monitoring and improved medication adherence. While adoption levels of IoT technology might still be picking up in the healthcare industry, there's no denying that it will play a crucial role in the months to come.
With the integration of data in healthcare, medical professionals can effortlessly search across healthcare systems to get the whole picture of an individual patient's EHR, in turn allowing an improved patient experience. Also, data analytics will make it possible to analyze data at a macro level, thus helping healthcare professionals identify trends (like the spread of diseases). The advantages from healthcare integrations are several and what I have named here can actually be followed by – reduced healthcare costs (since there is a single system to handle and co-ordinate all the requests), avoiding penalties and easily adhering to CMS compliance – enhancing the healthcare provider capabilities.
A healthcare integration is the answer for all the stakeholders involved in the healthcare ecosystem – providers, pharma companies, laboratories, billing companies.
Do write to us at info@harbingergroup.com to know more on the system connectors we can suggest to best suit your needs.
References
https://www.marketsandmarkets.com/Market-Reports/healthcare-it-integration-market-228536178.html