What's new in Apple watchOS2?
Author: Sayali Gujrathi
Posted On Sep 11, 2015 | 4 min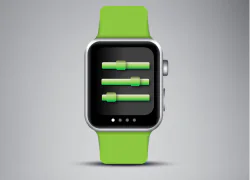 The Apple World Wide Developers Conference, 2015 (WWDC) showcased multitudes of updates from the Silicon Valley giant. Apple introduced watchOS 2 for the Apple Watch, which interestingly bagged the status of being the Apple's most personal device ever made. Let us take a look at all the new and enhanced features individually that have been introduced in Apple watchOS 2.
Watch faces
The watch face has a captivating interface, having an option to be more personalised by using a custom image as wallpaper. The user can select multiple images, when he raises his wrist to check the time or updates. Apart from that, Apple also provides a real-time playing video as a watch face feature in watchOS 2. Sensors present in the watch update the watch face as and when the user raises his wrist. This helps in saving power, as the display is turned on only when the sensor detects movements.
Time Travel
The Time Travel option in Apple Watch offers users the ability to scroll back and forth with past and future events. If you have missed any meeting or want to view upcoming weather conditions within a time period of 72 hrs, all you need to do is to rotate the crown. A simple push on the crown will get you back to the present time screen.
Complications
This is just another feature to keep you updated and on schedule in watchOS 2. Complications are important information updates from your app, which can be viewed on watch face. For example, a user can see the live score of football match along with his upcoming flight timings. Data for Complications are provided in a timeline format, to enable the operating system to show appropriate data on Watch face as per the current system time.
In watchOS 2, the user can rotate the digital crown to view past or future based Complications. This feature also enables the user to see multiple versions of the Complications in a single app window as well.
Native Apps with Watch Connectivity
With Apple Watch OS 1, apps were dependent on iPhone for their connectivity. With WatchOS 2, we can have independent app for Apple Watch OS only. An app extension module (business logic) that previously ran on iPhone, is now shifted to Apple Watch, resulting in having a complete app package on the device itself. This reduces the app loading time considerably, thereby enhancing the app performance.
The next question is how connectivity is completed when iPhone is not in the picture? Connectivity is bridged through WatchConnectivity API which is widely used for device-to-device communications. It also allows data downloading through Wi-Fi hotspots using teetherless Wi-Fi.
Greater Capabilities
With high-end performance, it has greater capabilities as well. Now, users can access healthcare related apps in Apple Watch. Leveraging HealthKit capabilities along with the access to accelerometer and a heart-rate sensor, giving real time access to health information delivers a healthy lifestyle. How about setting room temperature or control lights with digital crown? Yes, HomeKit is accessible from Watch too. Similarly, all frameworks are available on Apple Watch with watchOS 2. The user can access maps for finding directions and location pins are accessible via MapKit and CoreLocation respectively. CoreMotion has the ability to use accelerometer which can create an engaging user experience.
Haptic feedback via taptic engine is new type of interaction, which has come with Apple Watch but its programmable variant was not available for developers. However, in watchOS 2, developers have complete access to the taptic engine to create haptic feedback as per the requirements of the app. Furthermore, developers can also add custom animations to the Watch apps as well.
It also opens the gates to access speakers for playing an audio or video file and offers recording options through the inbuilt microphone. The contacts on iPhone will also be in synchronised with the Apple Watch. The developer has the facility to add animations for fluid and more dynamic user interfaces as per the needs of the app.
Though Apple WatchOS 2 is yet to be released (publicly), Apple has released the beta version for developers to get a hands-on experience on the new frameworks and APIs. This altogether can help in the release of an app which is compatible with the Apple watchOS2 as soon as it releases.