What the COO Recommends
Author: Nitin Kulkarni
Posted On Jun 26, 2020 | 4 min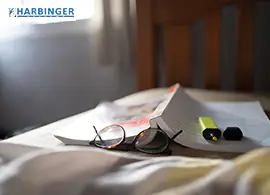 Ha, you thought this was about HR and things that baffle a COO during this lockdown? Not even remotely close ..
In these trying times,  everyone is fighting multiple battles – health, keeping our near and dear ones safe, and the economic chaos. People who have lost jobs are trying to find a new one and those who have jobs are stressed out trying to retain them.
In such a situation, it is natural for us to seek avenues to de-stress. In my view, one of the best ways to de-stress is to read good books. A good book not only takes you to a different plane but also helps you learn a bunch of things. Let me share with you some of the good reads that you could do during this period.  Yes, these I totally recommend.
Business and Leadership
Competing for the Future by C. K. Prahalad and Gary Hamel is a seminal book. The great thing is that it remains so relevant even today, and especially today. The authors talk about a leadership that is more focused on where their headlights point as against a leadership that continuously looks in the rear mirror.
Blue Oceans Strategy by Chan Kim and Renee Mauborgne is another one of those timeless books whose relevance seems to increase with the passing years. The beauty of this book is in the various case studies and frameworks that are so wonderfully laid out. A must read.
John F. Kennedy on Leadership: The Lessons and Legacy of a President by John Barnes is another wonderful book. It is an inspiring read because it talks about how a man with so many obvious flaws still managed to overcome those and become one of the most charismatic leaders the world has ever known.
The Leader Who Had No Title by Robin Sharma is a great read especially for people who want to know and realize what true leadership is all about. We associate leadership with useless things like a title, the corner office, and so on. These are mere trappings. This book will help you see beyond these trappings.
Self Help – The Road to Personal Empowerment
One of the books that deeply influenced me is The Monk Who Sold his Ferrari by Robin Sharma. It is a must read for people who are leading a life of continuous stress and are looking to breakout and recharge. The way the story of Julian Mantle unfolds is amazing. Personally, this book really helped me recalibrate my corporate journey.
Just Like That: Talks on Sufi Stories by Osho tells you that change is individual. There is no such thing called "society" to be changed! The illustration via different stories has been done in typical Osho style – witty and irreverent.
Lao Tzu writings are another fabulous source of self-help. His seminal book Tao Te Ching is a must read for its beautiful simple quotes like "Nature does not hurry, yet everything is accomplished" or "Do the difficult things while they are easy and do the great things while they are small. A journey of a thousand miles must begin with a single step." Mind blowing!
Non Fiction to help with Views on the World
Bill Bryson books are amazing as well. His ability to explain the most complicated things in the simplest fashion is awesome. The dry humour and flowing narrative enhance the reading experience. Some of his must reads are A Short History of Nearly Everything and Notes from a Small Island. I am looking forward to reading his latest book When Things Go Wrong: Diseases: from The BODY.
One more author whose books are very interesting is Yuval Noah Harari. He has this unique ability to look at things from a completely different angle and interpret things in ways which we cannot imagine. Sapiens and Homo Deus top the list.
Fiction 
My fiction reading journey has been a bit weird. I can't seem to get over authors like Alistair Maclean and Fredrick Forsyth. Pick up any book by these authors and you are guaranteed a good read. Books by authors like Jack Higgins and Lee Child are good page turners primarily because of the excellent character creation of those like Sean Dillon and Jack Reacher.
So, as you can see, there is enough worthy stuff out there which can help you unwind, learn something new, look inwards, and help you become a better person. Happy Reading!
Nitin Kulkarni is COO, Harbinger Group. He is responsible for formulating and executing operational strategy for Harbinger Group with a special emphasis on digital transformation of employee experience. Nitin is an avid reader and in his spare time enjoys music.