Author: Amit Kaveeshwar
Posted On Jun 06, 2012 | 3 Mins Read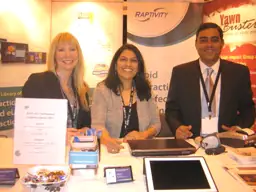 Recently, I attended ASTD 2012 – International Conference and Exposition, at Denver, CO. Along with my colleagues from USA, we hosted Raptivity booth for Harbinger Group. It was a busy booth. There were a number of interesting enquiries and visits from existing customers to lift our spirits even higher than the mile high city that we were in already.
As we all know this international conference is held each spring for workplace learning and development professionals. These professionals manage all aspects of learning in their organizations, from CEO to specialist, from dean to students; ASTD 2012 had visitors, attendees and speakers from around the world. There were close to 9,000 attendees from over 70 countries this year.
To share some of my most interesting observations during this conference, I would highlight the following:
Digital Publishing
There were a number of exhibitors who were showcasing their digital products (the publishing equivalent of "content"). I saw various publishers with Covey, Blanchard and the likes, where a lot of printed books have been digitized and are available off mobile devices like Kindle as a complete library.
Mobile Training and Learning
More and more ISVs are talking mLearning. There were a number of companies that have already put their mobile strategy out there. Be it for education in K-12 or corporate learning, there is no denying that the mobile revolution and the learning evolution have to stay abreast of development in these changing times. So there was naturally a lot of talks around how authoring is being influenced by Apple and Samsung for their own devices and thus, naturally, adding to the already ebullient market place.
The Coming of Age for eLearning
There is decreasing mention of eLearning as such as if it is an old word adage. There are fancier words floating about with titles like Organization Development, Resource Enhancement, Career Management, etc. which, in the end, is further derivatives of what eLearning is meant to deliver in its content, delivery, practice and assessment. There is a lot of emphasis on interactive learning, simulations, gaming, HTML5, etc. with the common aim of getting the "eLearning" in an effective manner to the learner. And if the learner still has left some avenues which were left open, then now this learning comes to them, where ever they may be or whatever their medium of content consumption might be, however, they stay connected with 4G as well as free Wi-Fi making it easy to connect.
While I was thoroughly impressed by the insightful sessions by industry leaders, this time I wasn't lucky to get one of the freebies like Kindle etc. that some booths were giving away!
Then, of course, there was the Denver downtown, which is bustling with cafe's, old style diners with stuccoed ceiling, and our favorite corner Starbucks. Attending ASTD conference was a fabulous experience. We had loads of fun inside and out of the expo!