Top 5 Reasons to Implement Digital Accessibility
Author: Manasi Mehendale
Posted On Jun 22, 2022 | 6 Mins Read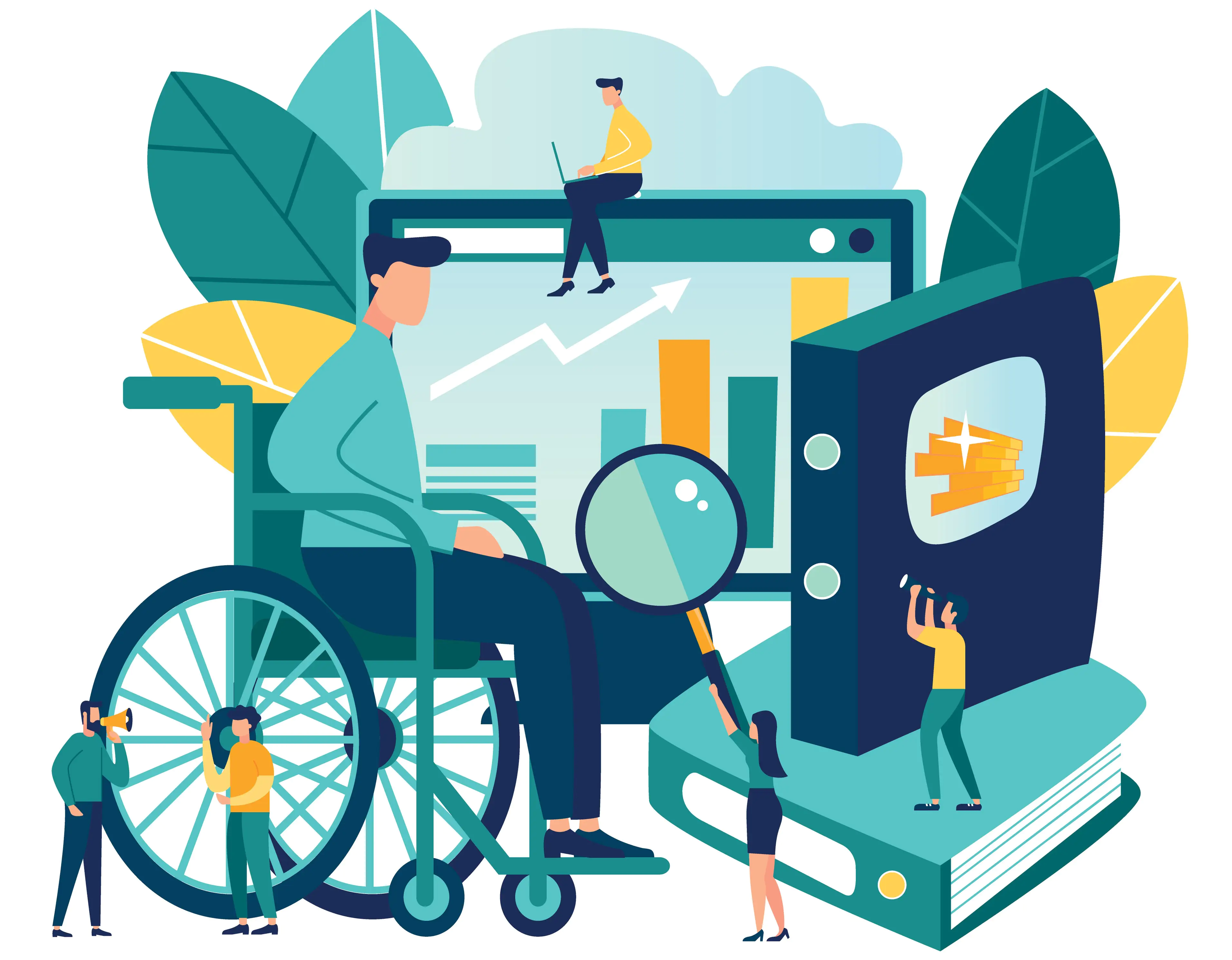 Understanding is intrinsic to learning. Having an equal opportunity to learn is a fundamental right of every individual, whether he/she has a disability, or irrespective of his/her physical disposition. This is the premise on which the entire online accessibility movement began.
Accessibility, in simple terms, is a concept that advocates inclusivity and universality in whatever you create. It implies, whether it is a product or service, everything you build should be made in such a way that it can be used by everyone, regardless of how they encounter it.
This is especially valuable and relevant when it comes to eLearning or online web content. eLearning accessibility ensures that online learning is delivered by an organization with such care and consideration that even learners with special needs can access it without much hindrance.
According to the WHO, a billion people, or nearly 15% of the world's population, has some form of a disability. If we focus on the US, the number is even more startling at 26%, according to the CDC. It is higher in the US than the global average.
Disabilities are broad ranging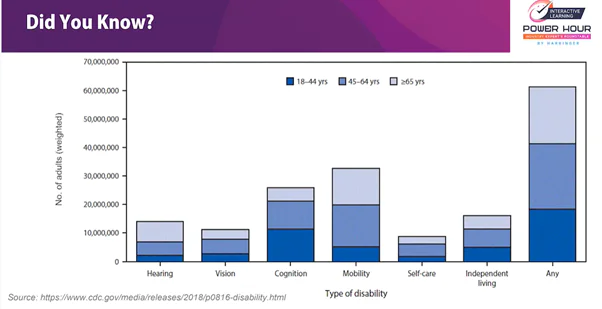 When we think of disability, we commonly think of visual impairment or hearing loss, but that's not it. There are different categories of disabilities: cognitive, mobility, self-care, inability to live independently, or a combination of these, which imply a broad scope of accessibility concerns.
As per the American Optometric Association, beginning in the early to mid-40s, many adults may start to have problems seeing clearly at close distances, especially when reading and working on the computer. There is also the issue of color blindness, with 1 in 12 men having color vision deficiency, according to the National Health Service (NHS).
These are just a few examples. The list of disorders is quite long. For instance, apart from vision and auditory impairment, people could also have motor or other physical disability, or a cognitive problem affecting the way they learn or hindering them to learn effectively.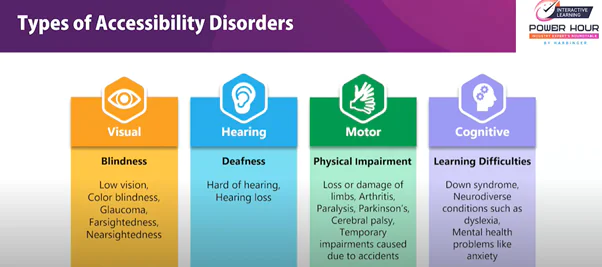 The scale and scope for disabilities is quite large. If we consider all these possibilities, there is a vast landscape of disabilities that businesses need to design for. If such a large group of people with disabilities have issues in accessing digital content, it becomes the responsibility of business leaders to make online content accessible.
People with disabilities should be able to enjoy online content and services with the same ease as everyone else. And this is not just a noble cause. It makes business sense and has legal implications as well. Thus, there are a lot of reasons why businesses need to look at digital accessibility seriously.
Top 5 Reasons to Implement Digital Accessibility
Let us look at the most important reasons for making content digitally accessible:
1. Following a legal mandate
eLearning accessibility is a non-negotiable requirement and most importantly, required by law. It is a lawful duty of every organization to provide equal access to their online content and enable accessible eLearning content design, development, and delivery.
As per the 2020 Website Accessibility Lawsuit Recap report, 265,000 website accessibility demand letters were estimated to be sent to U.S. businesses that year. Considering that all the 265,000 demand letters resulted in a settlement at an average $25,000 conservative cost, U.S. businesses may have potentially spent over $6 billion on legal fees for inaccessible websites in 2020.
Online learning accessibility has two basic requisites:
Compliance with recognized accessibility standards issued under the:

Americans with Disabilities Act (ADA)
Accessibility for Ontarians with Disabilities Act (AODA)
Revised Section 508
Web Content Accessibility Guidelines (WCAG) including WCAG 2.0 and 2.1
Other World Wide Web Consortium (W3C) accessibility guidelines

Keeping pace with the changing technology
The above standards and technology competency requirement together drive how eLearning content is accessed by people with disabilities. Designing for inclusive learning is a responsibility of every business under the law to maximize accessibility and accommodate a wide range of learners, especially those with disabilities.
2. Improving user experience
According to a Facebook study, video ads with closed captions increase video view time by an average of 12%. In other words, when the content is simpler to access and understand, users are easily drawn to it.
When you provide accessible content, i.e., content which is easy to navigate, offers text clarity, allows ease of use, is visually aesthetic, and offers keyboard operability, learners of all abilities can use it, and there is no limitation on the user base.
3. Reaching a larger learner audience
Accessibility is for all and people with any kind of disability. It is not limited to making content accessible for learners having any one type of disability. It is a concept that focuses on enabling users with disabilities to understand, perceive, interact, and navigate information like everyone else.
This helps the users contribute and learn equally without any barriers. A universal design that makes content more user-friendly is therefore certainly a plus.
4. Portraying a business brand that values inclusivity
There is a lot of careful planning, design deliberation, knowledge of accessibility principles, and implementation experience that goes into making content functional, easier to perceive, quicker to understand, and intuitive to navigate. All these factors add up to the brand value – users appreciate a brand that takes efforts to create "inclusive" content.
Accessibility not only ensures inclusivity by helping learners with disabilities, but also, in the larger context, benefits everyone. In other words, the lack of accessibility can impact anybody. eLearning accessibility is therefore no more a "good-to-have" feature but a fundamental necessity.
5. Ensuring better SEO ranking
According to a Gartner report, being web-accessible can improve your total available market (TAM) from 15% to 46%. Accessible websites are more SEO-friendly, risk-free in terms of legality, and improve time to market (TTM).
As per WebAIM's 2022 report on the accessibility of the top 1,000,000 home pages, 96.8% of home pages had detected WCAG 2 failures. Making your website accessible is also a great way to improve your SEO ranking and gain a better edge over other brands.
Here's what an article on Google's web.dev says on accessibility: "Broadly speaking, when we say a site is accessible, we mean that the site's content is available, and its functionality can be operated, by literally anyone."
Digital Accessibility for Greater Learner Engagement
Harbinger recently hosted a Power Hour on "Digital Accessibility: From the Viewpoint of Decision-Makers" with industry experts Casandra Blassingame, President and CEO, IACET; David Berman, Accessibility Expert, David Berman Communications; and Krista Weber, Director of User Experience, Vector Solutions. This interactive webinar was hosted by Dr. Vikas Joshi, CEO, Harbinger Group.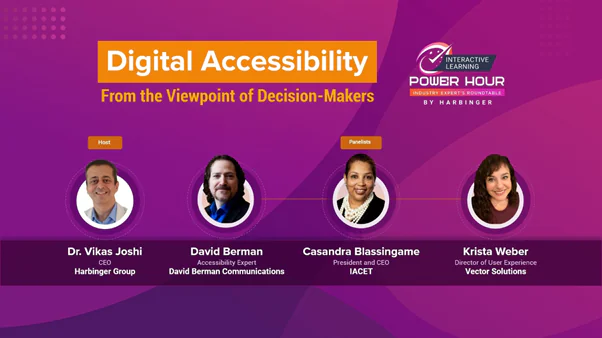 David shared an interesting insight about what made him passionate about inclusive design in this webinar. He said, "My parents taught me that social justice is not optional. Over the last 10-15 years, I realized that because of the time we live in, the biggest opportunity perhaps I have as an inclusive designer, as a professional communicator, is to focus on including everyone. We live in a generation where it is truly possible to include everyone. We have the technology, we can do this now, and so we must."
Harbinger has been at the forefront of offering end-to-end eLearning accessibility solutions and consulting. We have over a decade of experience designing accessible learning content that complies with WCAG, ADA, and Revised Section 508 standards.
If you have an idea to discuss, please write to us at  contact@harbingergroup.com. Harbinger experts will be happy to help you design accessible eLearning content to create inclusive learning experiences and design programs that fulfil all eLearning accessibility considerations.