Top 5 HR Tech Webinar Hosts You Shouldn't Miss
Author: Manasi Mehendale
Posted On Jun 19, 2020 | 5 min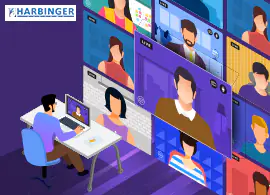 Webinars are a good way to find precise information about a topic in a specified time slot, and at your desk. More so, with the current social distancing and remote working environment, webinars have turned out to be a productive platform to learn, connect, and eventually network without needing to step out of the house.
Even from the companies' perspective, webinars are an excellent channel to educate people about latest trends and any new products as well. If we talk about the HR Tech space, in particular, many companies have been hosting webinars to discuss various aspects of HR technology in the new normal.
The only thing which might hold back the audience is that though most of these webinars are informative, it is virtually impossible to attend them all. In fact, deciding which one to attend can be a pretty time-consuming affair.
Meet the Best in Business
To make it simpler for our readers, we have picked out five best HR Tech webinar hosts one shouldn't miss:
Lighthouse Research and Advisory
Why we like it: For Ben Eubanks and his HR Summer School! As a Principal Analyst, Ben's webinars include everything about cutting-edge technologies. It includes AI, tools on learning and development, and a lot more. Most of the webinars Ben conducts are in partnership with speakers from other organizations. This requires registering on specified platforms, but, in turn, you get to hear great conversations from experts like Sarah Noll Wilson and Eric Torigian.
Ultimate Software
Why we like it: These HRM webcasts cover topics right from compliance and payroll solutions to thought leadership. Some sessions provide actionable insights, and suggest viable strategies which are quite useful. On another note, the company is donating $50 to a food bank on behalf of every registrant, for certain category of their webinars, for two months. That seems like a nice gesture.
HR.com
Why we like it: It is easy to select which webinar you would like to attend on HR.com. Just check all the filters, for there is an entire range of topics to suit individual interests, and you will be guided to the one which you can safely attend. Majority of the webcasts available here focus on implementation and how to establish key metrics. Which means these webinars sufficiently cater to technical needs as well. HR.com also has an interesting feature of virtual booths adding an experiential value to the sessions.
ADP
Why we like it: From the several webinars listed on ADP's website, some of the topics include interesting ideas on HR outsourcing and workforce management solutions. Certain live webinars by ADP offer one free CPE credit (Continuing Professional Education), and a certificate which can even be printed immediately after the session.
Harbinger Systems
Why we like it: Call us biased but the webinars by Harbinger are straightforward, and offer solutions for businesses of all sizes. These webinars are hosted by highly experienced HR Tech experts for you to stay updated with the latest industry trends as well as use cases. Harbinger also conducts polls at regular intervals during the webinar and in fact, the Q&A section at the end lets attendees directly interact with the speakers, making the entire session quite hands-on.
Here to Stay
Webinars are proving to be a useful resource to stay updated. Audiences can attend these live or watch the recording later at their discretion – which makes them highly convenient and accessible.
No doubt then that webinars are a key factor driving the learning and development industry in the new normal. Love them or hate them, you cannot ignore them.
Here's our webinar recording of 'The Value of Data Driven Decision Making for HR and Learning.' : https://j.mp/34dX0aD