Technology Intervention Using Business Simulations to Bridge Industry-Academia Gap
Author: Ulhas Bodhankar
Posted On Apr 23, 2021 | 4 Mins Read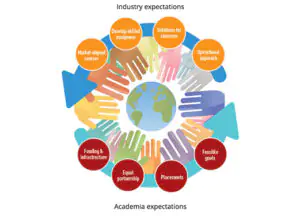 'There is a gap between what industry needs and what universities offer'. Does this statement sound familiar? The industry-academia dialogue has been going on for ages. While the Industry feels that the graduates that the universities churn out are not ready for industry, the universities feel that the industry is not coming forward to contribute to the curriculum, teaching, projects, funding, etc, to bridge this gap.
Concepts like 'Internship', 'Articleship' have existed and worked well in the field of medicine and accounting. I was associated with NIIT where we had introduced this concept (~mid-90s) of 'Professional Practice' in the last year of the 3-year education program whereby the eligible student would commence work with the designated industry and will be guided by a nominated mentor from the company, a mentor from NIIT, and will be rated on the work by the department head. But these attempts did not get much success. While there was no flaw in NIIT's model, the acceptability was low due to the constant comparisons with a full-time engineering degree, which was preferred at that time even though it came without any direct industry affiliation/experience. Since then, a lot has been written and talked about creating newer models to bridge the industry-academia gap.
I recently attended an online product launch event of an EdTech company where few educational products were launched. What was interesting was that all the products launched were industry simulation products directly linked to the qualification that the students were seeking and what the industry would want.
Real-life business simulations can be a great step towards bridging this industry-academia gap and as a technology enthusiast, I can see how technology can play a major role in this. As a part of Harbinger's EdTech focus, we came across few more such companies which I thought are worth mentioning.
What business simulations do is, directly connect with important aspects of getting ready for the industry such as business knowledge, work processes, market situations, customer relations, operational issues, vendor management, supply-chain realities, and more. To drive home these lessons through simulations is of great value and this can be done using technology. Interestingly, while there is a lot of talk about technology like AR/VR/AI/ML/IOT to enhance the value of the educational material, they still have their own challenges, which are being worked out. The technology required to build business simulations doesn't need to get into complexities, it can actually be simple and basic. Business simulations can be effectively built using options like Xamarin, JSON, mobile apps, and a clear understanding of logic using business rules.
The efforts from EdTech companies working on business simulations will go a long way in not only bridging the industry-academia gap but also providing a great foundation to the skill-gap problem the industry is grappling with.
In the ongoing 2021 StartEd (EdTech) Week online, this industry-academia gap is emerging as the most prominent gap being eyed by prospective investors seeking newer business simulation based product start-ups in this space.
What are your thoughts on bridging the industry-academia gap? Please write to me at contact@harbingergroup.com to connect and discuss.