Technology in Healthcare: Today and Tomorrow
Author: Maheshkumar Kharade
Posted On Mar 03, 2016 | 6 min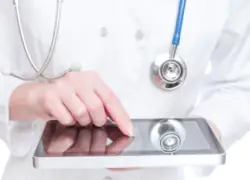 In today's digital world, technology evolution has been one continuous process over last 20+ years which has surprised us all. In the context of IT being a key driving factor, its impact has been observed and experienced to the fullest. Out of many different domains in which IT has played a vital role, Healthcare has been probably the oldest and the stable as well as open to adapt to technology evolution at rapid pace. Over last few years, we have been witnessing multiple major shifts happening, that too in parallel by means of Cloud computing, Big Data and IoT. As I look back at some of the major achievements accomplished at Harbinger as well as in overall healthcare domain, impact of Cloud, Big Data and IoT is very evident. With so many technologies at hand, it's an impossible task to cover it all but here are some of my observations on how different technology tracks are being applied in Healthcare IT today, let's take a look one by one.
Cloud Computing
I believe now most of the Healthcare organizations have settled on with their decisions on whether to migrate to cloud or with defining the strategy to run the show by combining legacy applications along with recently developed systems running in the cloud. Most of the data sensitive applications in Healthcare have been cautious about Public cloud adoption to some extent but use of cloud based services like Email service such as Amazon SES, MailChimp, etc. or cloud storages like S3 are being used along with legacy systems. Impact of compliance requirements such as HIPPA and other federal regulation has been playing a key role in overall technical landscape in Healthcare application infrastructure; most of cloud providers are now supporting it off the shelf. This should lead to more migrations of Healthcare apps to cloud, as in coming years need for external integrations, Interoperability and scalable deployments will increase even more. As mentioned earlier, multiple services from cloud provider will also become more and more popular as it adds much needed value proposition to the existing application at a very affordable cost.
Data Store
In the Big Data buzz, there is hardly anyone who is talking RDBMS now days, I would say, not in Healthcare. Relational databases have been critical to the implementation of most of the Healthcare applications and it continues to be the case even today. Over last few years, at Harbinger we came across scenarios where solutions needed to be built around existing databases as well as device a mechanism to improve performance. This has led to use of indexing tools such as Solr, Sphinx and AWS Elastic Search. This combination along with clustering capabilities still makes RDBMS as one of the preferred choice for Healthcare applications. Being said that, Big Data has lot more to offer in Healthcare applications. In one of the EHR based application being developed and maintained by Harbinger, we have seen unique use of Hadoop and Map Reduce to process and as well as migrate data from legacy systems into cloud based new platform.
Analytics
Day-today reporting is the core of Healthcare application. Variety of reporting platforms are being used by Healthcare applications.  Reports generation is a resource intensive processing, so backend services such as scheduling are getting used widely along with messaging services to enable distributed processing and job executions. With Big Data picking up, many Healthcare organizations are optimistically planning for Predictive and Prescriptive analytics. This shift in analytics will be driven by adapting to advanced data modeling techniques like chained map reduce and so on to some extent. This would lead to use of more big data tools and methods in coming years but in my opinion, its usefulness and real world application is yet to be seen and experienced.
DevOps
Apart from depths and breadths of the Healthcare domain, I have seen it being a most dynamic sector from non-functional technology needs. In real world, you would find most of the Healthcare applications being overloaded for specific period, not every day. This is a tricky situation because an application needs to be capable of handling maximum load as well as it needs to be able to tone down as needed. In my opinion, this is where first Cloud Computing has been a big relief by means of auto scaling capabilities and recently DevOps have started making it even better. It has consistently been observed that automation workflows implemented through DevOps is helping Healthcare applications immensely in speeding up overall deployment process as well as reduce possibility of manual errors and resulting penalties. Over last few years, we have experienced this shift by using DevOps in some of our Healthcare projects, and much more is being planned for roadmaps to be worked on in coming 2 years.
mHealth and IoT
Almost none of the technical discussion today can be completed without the mentioning of Internet of Things. In the context of Healthcare, it has a very big role to play as it will be at the core of every mHealth implementations. This year has been an exciting year at Harbinger with respect to mHealth work as we developed a wide variety of applications combining mHealth and IoT. Focus has been on improved Patient care as well as automated and sensor based health tracking. Along with conventional mobile application, its combination with wearable tech might get used more consistently in Healthcare domain. With its nature and amount of data to be collected and processed, most of mHealth scenarios are falling under the category Complex Event Processing (CEP). The combination of wearable tech and mobile device can help in offloading the overall data transfer as well as processing to be done at server side. In my views, mHealth use cases will make use of this approach more consistently in coming days.
To summarize, most of the healthcare applications will revolve around technology options in categories mentioned above. What's interesting to see is the how well it will be combined together as it will lead to even more surprising outcomes.
Harbinger Systems is exhibiting at HIMSS16 Annual Conference & Exhibition, the largest healthcare conference of the year. Interact with us at booth #8450 to know more on the recent developments in Healthcare IT.