Author: Prachi Kulkarni
Posted On Nov 08, 2020 | 6 Mins Read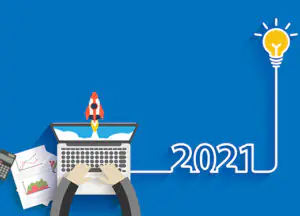 It is the time of the year when we start looking at the predominant technology trends that can govern the coming year and beyond. As we see it, these trends develop upon the existing technology. Let's see how the trends for 2021 are set to enhance the overall HRTech operations and experiences.
Total Experience (TX)
With the onslaught of the COVID pandemic, 2020 enforced remote availability on almost all businesses. Digital transformation became the buzzword where work culture was supported via video conferencing, efficient communication tools, and central availability of data and information through the cloud. In short, multiple modalities of communication supporting various devices towards a multi-experience, dominated this year.
Going a step further, we are now looking at a more unified and cohesive experience for all stakeholders – employees, customers, and end-users via these multiple communication channels. This seamless experience calls for a unified communication strategy where the entire business is analyzed from a communications point of view. Unified communication will also lend itself to an analysis of communication. This should provide us important behavioral insights to enhance operational efficiency.
At Harbinger, we see this trend greatly followed by our customers. In one case, a business created a candidate selection platform, a job marketplace, and corresponding mobile applications for candidates and employers for interviews and interactions, all connected together with communication channels where vendors, employers, and candidates could interact together. The experience so designed helps the business to not just enhance customer experience and satisfaction, but also brings in insights on the communication methods and behaviors, internally and externally. Collaboration and productivity tools like MS Teams, in such scenarios, are enabling the total experience through different interaction mechanisms like conversational interface, custom apps, and Tab views along with support for integration.
AI Engineering
Artificial Intelligence (AI) and Machine Learning (ML) are helping businesses gain valuable insights from accumulated structured and unstructured data. However, till now, the AI component was built on top of the existing offering, something that was planned after stabilizing the intended business offering. Going forward, AI needs to be engineered right from conceptualizing the business solution. Data gathering, storage, and analysis will now need to be baked into requirement definitions to have the maximum impact of the AI solutions and insights.
At Harbinger, we encourage businesses to enable AI and ML capabilities early on. As an example, when architecting a technology rehaul for a client, we designed the data warehouse complete with data visualization and analysis not only for the data to be gathered in the future but also from the perspective of migrating legacy data.
We also feel that more and more AI-based DevOps will help teams to test, code, release, and monitor software more efficiently. Augmented analysis where ML and Natural Language Processing (NLP) is coupled together with AI to automate repetitive tasks as well as for data gathering and insights is also going to be a major trend.
An interesting aspect of AI engineering is Ethical AI. As AI gets applied to the work environment, the value proposition is the removal of human bias due to the use of ML. However, it is frequently observed that the training data and subsequent data model may carry the geographical/ethnic/gender bias that the underlying data displays. It seems like the coming year will show initiatives defined and implemented towards removing such a bias.
Hyper Automation
Business process automation for operational efficiency has been around for a while now. Businesses are looking for more and more ways to automate various tasks – be it processing files, answering emails, providing customer support, etc. They are doing this using various technical capabilities like event-driven software, robotic process automation as well as AI and ML.
Till now, automation was done as and when needed, using multiple tools, where these automated processes did not necessarily talk to one another. Hyper automation will be the next step which considers end-to-end automation with processes exchanging information through integrations and connectors. Such integration will also enable easy access to data and superior analytical insights.
This will be particularly important for HRTech. By design, almost every application has a workflow engine at its core, which essentially helps HR in automating different applicable workflows. But in the current ecosystem, a typical hiring process in the ATS stops after releasing the offer to a candidate. Subsequent workflows for onboarding, HRIS updates, etc. are executed independently. In the future, we will see the use of Hyper Automation to enable the connection between workflows across different HR applications.
Distributed Cloud
One of the major backbones supporting the trend of 'anywhere operations' is a distributed cloud. It allows deployment in physically and geographically distributed cloud infrastructure, allowing management of the cloud in one central location. This enables remote availability in cost-effective ways. Post the pandemic situation of 2020, the HR industry is now going towards distributed control and centralized coordination which again relies on the distributed cloud.
In HRTech, we are also observing that the use of distributed cloud also helps with certain compliances such as GDPR where data separation and access control is a key requirement. As a result, the geographically distributed availability enables saving data in the corresponding location – for example, a distributed cloud allows to have data for a person from Germany be saved in Germany, enabling GDPR compliance implementation.
Personal Analytics
Data-driven HR generated with the data that is gathered from the HR systems, lends itself for analysis, giving us insights about the stakeholders. In today's times, organizations will need to couple people data with day-to-day operational data as well as location-based data for better predictive analysis and decision making. For example, the use of biometric data along with people data, like facial interactions for productivity analysis, will expand the personal analytics further. Real-time analysis and decision making can be done where daily interactions and behavior of individuals is analyzed by embedding analytics in the business models, instead of having it as a separate module.
In my opinion, these trends are extensions or the next steps of the architecture and technology we are using. The important or the overarching message for everyone here is to be able to define a strategy that will help unify all parts of the HR process, systems, and data. We are now trying to see how all the pieces connect, which will provide us further abilities for better analytics and better operational efficiency.
We will be looking forward to these trends making a mark in the new year. Are there any others that you think should join this space? Do let us know at  contact@harbingergroup.com.
References
https://www.cxfocus.com.au/news/total-experience-tx-management-in-gartners-top-technology-trends-for-2021/
https://www.ringcentral.com/us/en/blog/total-experience-why-tx-is-the-new-tech-buzzword-you-need-to-know/#:~:text=TX%20seeks%20to%20identify%20intersections,the%20needle%20across%20the%20board
https://www.forbes.com/sites/bernardmarr/2020/02/14/future-of-people-analytics-what-lies-ahead-for-data-driven-hr/?sh=38f3f1836693
https://www.informationweek.com/big-data/ai-machine-learning/top-10-data-and-analytics-trends-for-2021/d/d-id/1339439?
https://emtemp.gcom.cloud/ngw/globalassets/en/information-technology/documents/insights/top-tech-trends-ebook-2021.pdf