Talent Mobility: An Impactful Organization Strategy
Author: Sushma Joshi
Posted On Oct 06, 2021 | 5 Mins Read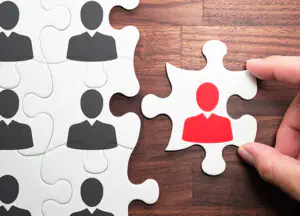 The pandemic has dramatically changed the world of work for employees – from offices and tighter deadlines to virtual meeting fatigue and less downtime. For employers, the need to retain talent, especially skilled and dedicated staff, is becoming increasingly critical in today's fast-paced business environment.
This is where talent mobility can prove to be an effective strategy. It is useful not only to retain good talent but also in the process help employees regularly gain new skills, get exposed to a variety of projects along with multiple internal opportunities, and continue to stay motivated.
Unlike the common perception, talent mobility is a lot more than just moving employees into new roles. It additionally provides opportunities for continuous and all-round assessment of the individual growth and aspirations of the employees. Essentially, it is about creating a culture around competency mapping, with a larger vision of preparing an employee not only for the current but future roles as well. It is about keeping the employee at the centre and ensuring that individual aspirations align and fit well with the potential skill requirements of the business.
Within the new way of working, talent mobility requires both a shift in organizational thinking as well as the organization's orientation towards employee development.
Strategizing Talent Mobility
A successful talent mobility strategy requires close internal coordination, ongoing employer-employee interaction, engagement, and analysis of appropriate tools to drive a new way of thinking about internal talent. Here are some recommendations that work well to embrace and make 'talent mobility' an integral part of the organization culture:
1. Imbibe A Culture of Continuous Learning
For employees to stay motivated there needs to be career growth as well as opportunities to continuously upskill, especially today when new skills are the need of the hour. By leveraging talent mobility via a robust talent management system, employers can help create up/re-skilling opportunities to close skill gaps as well as facilitate frank discussions about internal career development. This needs to be done by regularly monitoring and assessing both business requirements as well as the internal talent pool.
2. Embrace Internal Transfers
With appropriate technology implemented within their human capital management solutions, businesses can enable internal transfers and allow in-house recruitment across departments, divisions, or locations. Here, both employees and recruiters can receive alerts when suitable positions arise and communicate directly. Simultaneously, working on building a culture that helps employees to develop an open mindset that is ready to accept and adopt change, helps immensely.
3. Invest in Internal Talent Marketplace
To further push skill-based development, employers can create a talent marketplace where employees can connect and explore suitable projects as per their skills and career aspirations. Using a powerful recommendation engine, suitable 'matches' can be connected to fill in these gaps within the marketplace. These could be for both longer roles and roles where there may be a specific skill required for a short-term project.
To accompany career discussions, mentorship programs can be offered across the board to increase and address issues surrounding projects, skills, and career growth. This can work as the talent marketplace and match mentors and mentees based on profiles, needs, and requirements.
Suggested Read: See how Harbinger helped an organization integrate its talent decision tools with multiple Applicant Tracking Systems that enabled them to offer an end-to-end talent decision platform catering to requirements from talent selection to quality of hire.
4. Leverage AI
Much of what talent mobility can offer organizations requires powerful technology, AI, machine learning (ML), and deep analytics. Analytics can be harnessed to provide insights into the career aspirations of employees, the skills they have and would like to develop, and gaps in talent across the entire organization. In fact, a recent survey has noted the multiple uses of AI in HR, with 58% of the surveyed respondents planning to leverage AI to recommend job openings, career paths, or learning to current employees (see figure).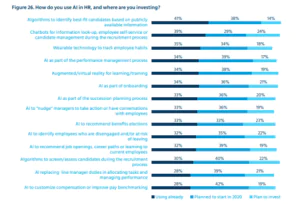 Source: Mercer
Tools such as Gloat provide Open Talent Market (OTM), an internal talent mobility platform, matching employees to new part-time and full-time roles as well as stretch assignments and mentoring engagements. This is only poised to continue as new and innovative efforts support HR and business with internal skill-building, online courses, and coaching programs.
Read more about the current state of AI in HR from a remote workforce perspective.
Conclusion
Talent mobility can be a powerful solution to retain internal talent and can benefit the entire business. When faced with new staffing requirements, talent mobility can help reduce costs, provide a larger candidate pool for project staffing, and support the growth and development of employees.
A recent study has underlined the need for businesses to more closely examine their internal talent pool for hiring purposes and effective human capital management. Further, businesses must create a culture of mobility and make it integral to the organization's values. This will not only incentivize and motivate internal talent but also help organizations flourish in the long run.