Startups and Mobility
Author: Mandar Kulkarni
Posted On Sep 17, 2012 | 2 Mins Read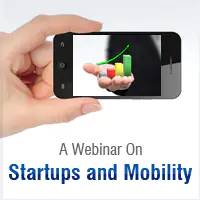 Many researchers and analysts have expressed in their studies, surveys and industry reports that the startup failure rate is between 75-90%, and when you take into account the competitive dynamics of app industry, the path towards business goal becomes more treacherous and steep. What should be the key considerations for any start up?
Successful companies have a deep understanding of their audience. Have you studied your target market well? What are the latest trends in the market? Do you know your competition well?
Popular apps are the ones which fulfill the user's need, have rich UI, backed with robust performance and high availability. And of course, when you build a great app, you need to complement it with successful ROI strategies. And most importantly ensure faster time to market, as they say 'Strike while the iron is hot'
Harbinger Systems is hosting a Webinar on "Startups and Mobility". The key Takeaways of the Webinar are:
What are key considerations for Startup?
How do you take idea to cost?
What is the ROI?
Design considerations for a robust design
How does one ensure less time to market?
Harbinger Systems invites you for this special Webinar addressing the needs and challenges of Tech Startups.
Webinar Topic: Startups and Mobility
Date: September 27th, 2012
Time: 11 am PST | 1 pm CST | 2 pm EST
You can View the Webinar Slides here