Author: Saritha Suryawanshi
Posted On Feb 03, 2020 | 7 min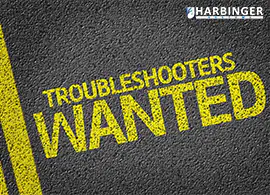 Over the past few years, companies have been incessantly working toward improving internal talent mobility. There are several reasons that justify this move. But above all, businesses are keen on finding internal expertise which is often camouflaged in the traditional setup.
The human resources team takes this up seriously as it is a great way to cross leverage talent and build a strong sense of engagement and belonging amongst employees. Not only this but reshuffling and reallocation of internal talent also save businesses a fortune.
In addition, the corporate world has got introduced to the gig economy. This newly flourishing concept is all about free market system where the market has open positions and organizations hire an independent workforce specifically for short-term commitments.
Regardless of the economic crisis, the gig economy is on the rise. The concept can be applied to the internal talent marketplace where companies can use their own employees as freelancers, and practice internal talent mobility effectively.
Today, companies are trying different ways to tap into the current talent pool to effectively deal with the accelerating pace of change. Companies looking for internal talent to be deployed to work on special projects or temporary assignments are becoming a hot topic.
Also, this move is extremely useful in driving employee and customer satisfaction, with better productivity, retention, and cost savings. The internal talent marketplace is gaining popularity, especially during the COVID-19 pandemic, as companies are on the run to deploy idle talent to areas that are overwhelmed.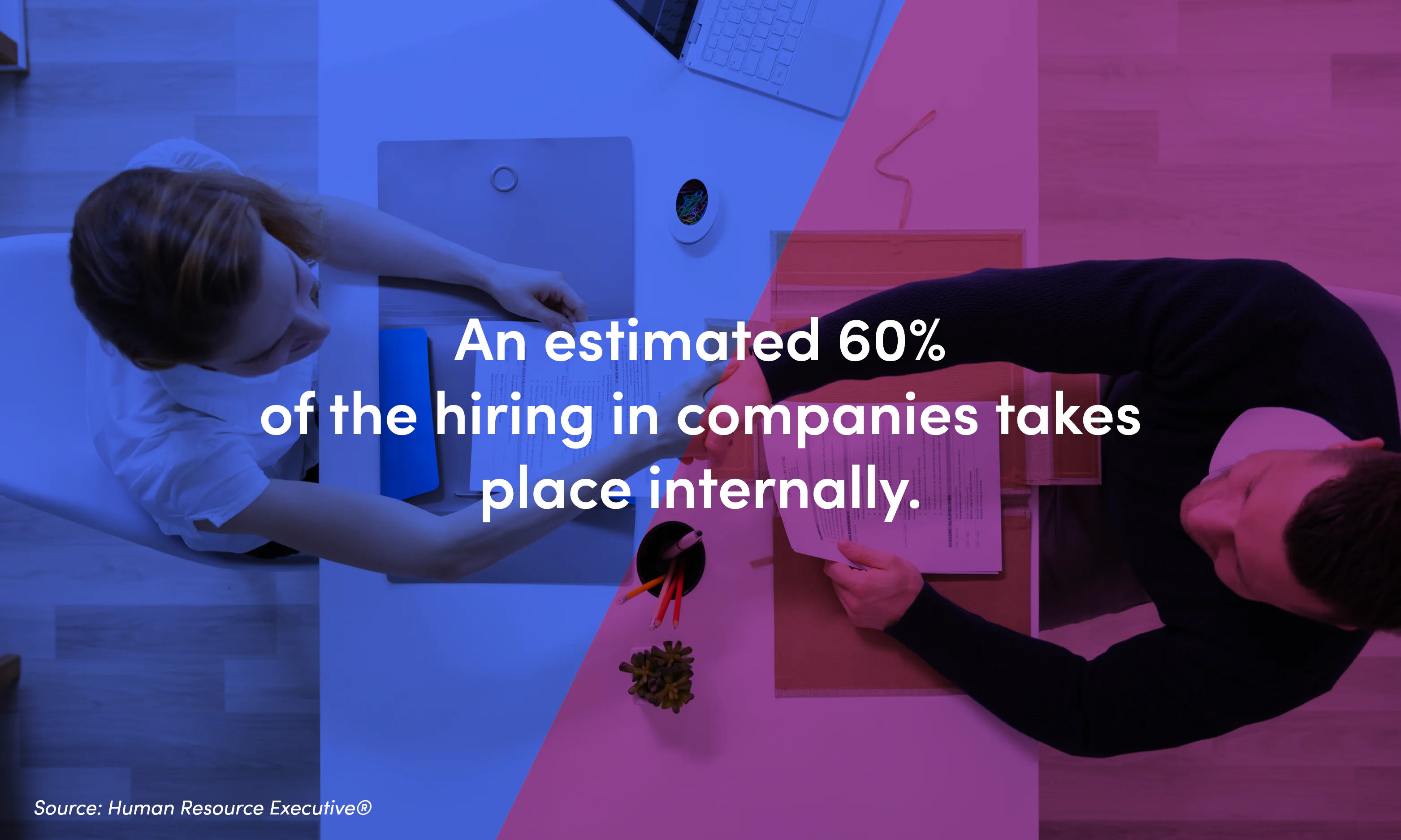 The need for the internal talent marketplace
A strong motivation for change, especially among younger employees, is an ongoing desire for new experiences and challenges that support their learning and development.
The bigger challenge is that it is easier for an employee to find a job outside the company than inside the company. It's not easy to get approvals from current managers, know what a possible job really is, or convince another person about how one is the right fit.
This is where the real need for the internal talent marketplace arises. And as the competition for talent gets aggressive, businesses invariably broaden their search and double their efforts to find the right candidate to do a targeted job.
However, instead of searching for this talent outside, it is a lot easier and more convenient for businesses to find it in-house. Why would you search outside when the talent you need is available right under your nose?
On the other hand, the internal talent marketplace can give clarity to leaders about the talent available in-house. This can help businesses:
Address the skills gap
Quickly deploy employees in new roles
Make use of idle talent
Prepare employees for the future
Increase employee retention
Enable career development of employees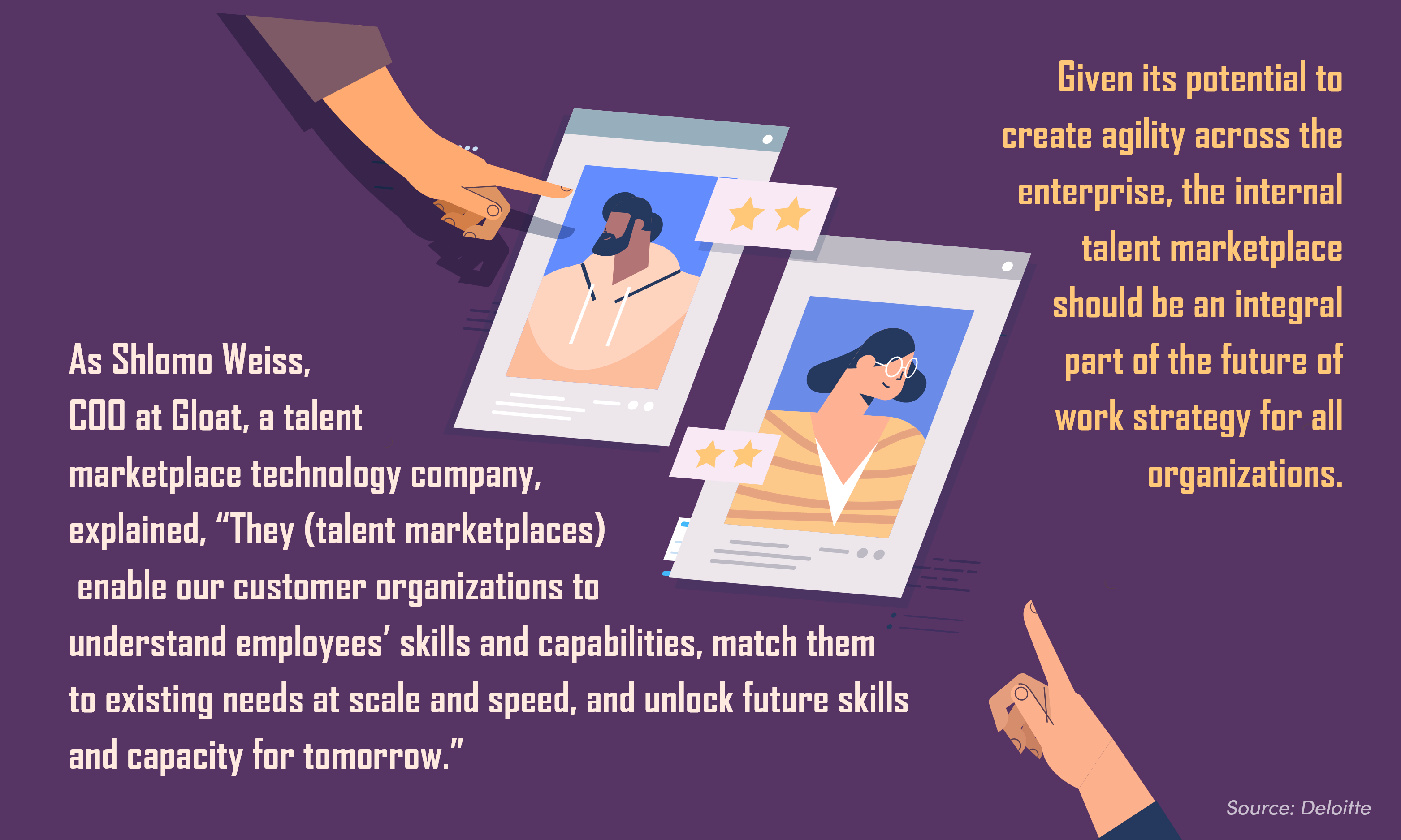 How does the internal talent marketplace find its relevance?
The internal talent marketplace is like a parallel talent economy running inside the organization. When tapped and utilized intelligently, it can prove to be valuable to the organization. But if left unattended, it can cripple the organization.
The relevance of the internal talent marketplace is emphasized by the data published by the Society for Human Resource Management. The data tells us that every time an employee is replaced, it costs the business six to nine months' salary on average.
Having said that, costs are not the sole driving force for companies to search internally when it comes to hiring. Retention of a positive and motivated employee is very important to the success of an organization.
Some of the key advantages of the internal talent marketplace are:
Background check is not required as all the details are available with the company
No time is lost in onboarding and training. Work related to a new role can start immediately
There is faster scalability at a new role as the hire already has strong contextual knowledge of how things are done and can network well to get the work done
How can the internal talent marketplace be activated?
To make the internal talent marketplace a success, a change must happen at different levels in the organization. Technology is a big enabler of the implementation of such changes.
To leverage internal talent, there needs to be in place a:
Cohesive ecosystem of skills repository
Learning management system (LMS)
Performance management system (PMS)
These systems should be automated to receive feeds from one another. Automation will also enable them to provide recommendations about the available opportunities and the talent interested to take them up. Learn how Harbinger helped a staffing agency deliver an enhanced candidate experience with automation and personalization in the hiring process.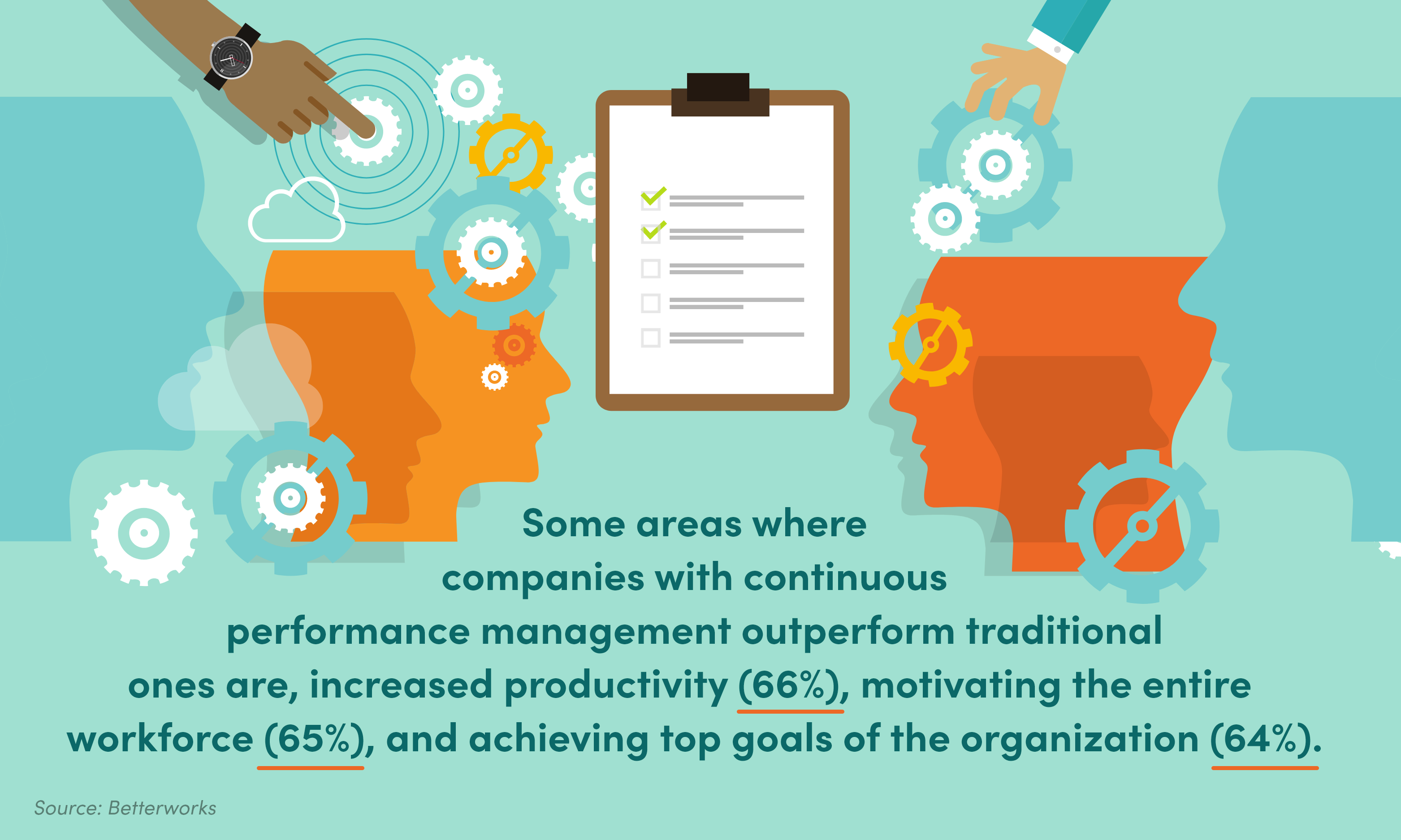 For instance, a PMS must move away from the traditional way of capturing performance information. Studies on attrition show that career development tops the list (22%). Image an employee who sees a progressive path and knows what it takes to get to the next level. There is more chance of employee retention than a capable employee looking outward for career growth.
Goal setting is a major part of performance measurement. When individual goals are linked to business objectives, employees will be more effective as they can see how their goals fit into the big picture. With continuous performance management, an employee's aspirational goals and inclination to move to other functions or to simply do more can be recorded.
Linking aspirational goals to a central LMS and further recommending relevant training to accomplish those goals are crucial steps to follow. Once done, it's important to ensure the skills inventory is updated. And that completes the talent finding loop.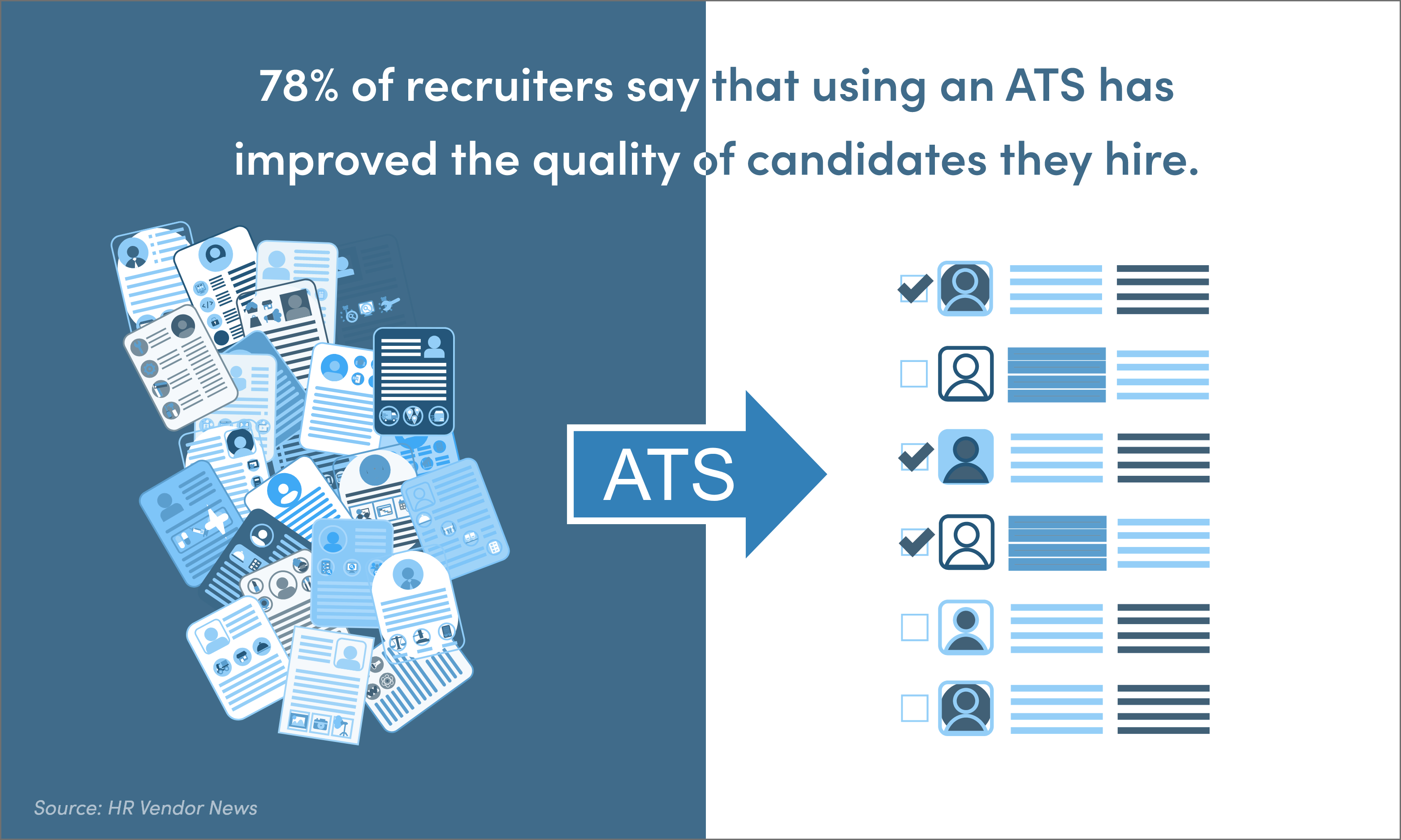 Application tracking systems (ATS) are innovating in a big way to attract talent. Organizations should thus leverage an ATS and use it to explore the internal talent marketplace. These systems help perform multiple functions such as:
Helping recruiters automate recruiting processes
Recommending employees tools and training required to reach their career goals
Capturing information for mobility requests from an employee
Connecting the platform to the skills repository to:

Get recommendations
Automate mailers
Enable the talent acquisition team to reach out to the recommended employees

Helping managers identify and create flexible, targeted short-term opportunities based on skills, grade, location, and other factors
Learn how Harbinger helped a popular recruitment portal to integrate with an ATS.
How do we know whether the internal talent marketplace is right for us?
The internal talent marketplace has many advantages but comes with the share of its own challenges. An organization could be faced with different disruptions taking place in its relevant market. In such a situation, it needs to decide whether an external candidate would help in innovating and taking the company to levels that no one internally has.
In addition, a company should look outward when a specific skill is needed immediately but is not readily available within the organization. This step becomes more important when the required skill may cause the company to incur significant training/upskilling costs.
In highly evolved organizations, succession planning and performance reviews take place regularly. Additionally, maintaining the transparency of hiring practices is a norm in such organizations. As a result, it becomes natural for such organizations to consider internal candidates first to fill open job positions.
Cultivating an internal talent pool builds employee loyalty and increases engagement. Also, if you find that maintaining recruiting buffer capacity is too expensive for your business, you can always leverage the internal talent marketplace to help ease the strain. Organizations need to strike a balance between these tough but important decisions and make the right choice.
What do you think? Will the internal talent marketplace work for you? Do let us know in your comments below or drop us a line at hsinfo@harbingergroup.com.