Rise of Contactless Hiring with AI
Author: Shilpi Negi
Posted On Apr 23, 2021 | 5 Mins Read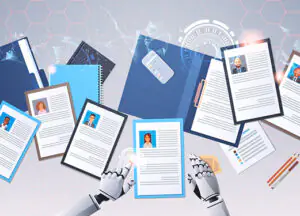 The sudden outburst of a global pandemic the previous year turned the world upside down. It caged people inside their homes. Every sector got awfully affected by the pandemic. Organizations embraced work from home with challenges and solutions going hand in hand. When talking about recruitment, the complete hiring process collapsed. Recruiters had to take some quick measures to cope up with the constraints posed by the Covid era.
As a consequence, evaluating processes, technologies, and tasks has become imperative. This is an opportune time for recruiters to leverage the benefits of technology in making job execution faster. AI is here to help, and it is going to stay for much of the near future. There is a global study done by Mercer on Global Talent Trends. According to this study, 41% of HR professionals use AI algorithms to filter out promising candidates. And, 30% use algorithms to screen and test the potential candidates. Artificial Intelligence, thus, can be a panacea for recruiters to achieve contactless hiring.
How?
Read ahead to know more.
Over the years, recruitment practices may have changed significantly, but the fundamentals continue to remain consistent. Right from sourcing a candidate to releasing a job offer, there are a lot of intermediary steps that recruiters follow. In the past, these tasks were largely accomplished through in-person interactions and manual interventions. Inefficient manual tasks plagued the hiring process and lack of access to the right data proved to be an impediment to making informed decisions.
AI came to the rescue. This post gives a quick overview of some of the AI-enabled hiring processes that have made the recruitment process contactless, easy, and scalable.
Save Recruiters Time with Intelligent Sourcing
Analyzing and pulling the best talent from millions of resumes is one of the major concerns that recruiters have. As per the research done by LinkedIn, 46% of recruiters find it taxing to get the right fit for a job profile. Identifying passive candidates based on pre-determined parameters sounds ideal. AI can help in selecting the candidates that are relevant and are the closest match for the job profile.
Data-driven algorithms help in filtering candidates against many parameters. This channelizes better candidates into the hiring funnel. Unlike human recruiters, AI enables quick identification of exact matching candidates from a much broader pool of talent than just job boards. Moving forward, marketing automation will foster the right candidates at the right time. This will relieve the majority of recruiters from the burden of cumbersome in-person hiring drives.
AI for Resume Screening – Screen Best from the Lot
Post sourcing, and screening best candidates is the next logical step. The use of the right tools at the right time is the key. This will help recruiters identify the most appropriate match for a prospective job role. Nearly 80% of HR professionals believe that AI in recruitment is going to make the hiring process efficient, for sure. Deep Learning (DL) and Machine Learning (ML) can make the screening process a cakewalk. To achieve this, leave behind the keywords approach this time. Match the profiles of suitable candidates with relevant experience and capabilities.
Beamery and Vervoe are such tools that use ML for candidate screening. These tools focus on what the candidates do, despite what is there in their resume. Beamery enhances the client's Application Tracking System (ATS) and facilitates relationship-building with the candidate. Vervoe is a skill assessment tool that chooses the best hire based on performance. Additionally, these tools also drop the possibility of unconscious bias.
Suggested Reading: Integration of a recruitment portal with social media integration
Test Candidates on Many Facets Using Gamified Assessments
Because there can be a gap between what a resume intimates vis-à-vis the actual competencies of the candidate. Most of the time, CVs and resumes can be misleading. Hiring candidates based on their resumes can lead to a pitfall later.
Do you remember Google's billboard mathematical riddle of 2004? It displays the stunning capability of gamification in recruitment. From then until these days, gamification and hiring have come a long way. Recruiters can test candidates through AI-powered gamified assessments. These include interactive questionnaires, cognitive-behavioral tests, scenario-based challenges, and specific psychological attributes. Scoutible leverages video games to identify best-fit candidates for the jobs.
Change Recruitment Conversation with Conversational AI
Candidate engagement is very critical with respect to a new hire. Work From Home (WFH) doesn't mean the availability of Human Resource professionals 24*7. Conversational AI and NLP-powered chatbots are here to help. These chatbots offer interactive and engaging conversational flows with the candidates.
Let's say, post-joining someone wants to know who is working in which department by name. The pre-loaded data in these chatbots flash instant results. Besides, they address queries around the clock. This reduces the dependence on face-to-face interactions, thus enabling AI-powered contactless conversation.
Takeaway
As they say, change is the only constant. Coronavirus changed the working patterns on a global scale. Recruiters and talent managers are also adapting to this swift, dynamic work environment. Many new technologies and tools are being leveraged widely to adapt quickly to the new ecosystem. The hiring domain is molding into a new world with AI becoming a lever of change.