Reduce Costs on Tele-support System with VOIP Solutions
Author: Subodh Bhide
Posted On Oct 05, 2012 | 3 Mins Read
Almost all organizations now days, irrespective of their size heavily depend on an efficient Operations Support system which can help their business function smoothly.
Operations Support systems exist in different modalities, ranging from personalized services to automated emails. But tele-support systems are the most popular, as they provide a right balance of convenience and affordability. But these telephone systems are rapidly aging as they are not able to keep up with changing technologies. Due to this, companies are desperately seeking measures to enhance their systems.
Recently Harbinger Systems undertook a project for a giant enterprise (with over 50,000 employees). The enterprise had a conventional telephone based system integrated with an IVR (Interactive Voice Response – keypad only, no voice) interface. Though the system was successfully run for a number of years, it had started falling behind on the user's growing demands for more convenience. For instance, during the peak load the phone lines were getting jammed, users only had audio aids to state their problems; and all this resulted in long duration calls, incorrect redirections and importantly larger call dropouts.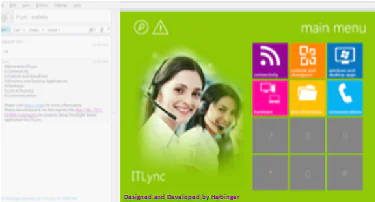 The solution to this problem was to make the support system more accessible and better interactivity. Fortunately, the answer wasn't far. The enterprise had made it mandatory for all its employees to use Microsoft Lync for all intra office IM communication. MS Lync clients were already installed on all computers connected to their network. So we came up with a radical solution, to build an interface to the Operations Support system into the Microsoft Lync infrastructure. With this employees were no more dependent on telephone lines, as Lync communicates over the network.
The solution was built using a combination of technologies. UCMA (Unified Communication Managed APIs) was used for handling the Lync connectivity and communication. A custom BOT on the Lync server managed the redirection. The Lync client was extended using a Lync CWE (Conversation Window Extension) which used a Silverlight UI. This interface had a cool looking Windows Phone (metro style) like of interface. This UI made it very easy for the user to state the problem just by clicking on buttons carrying easy to understand graphics.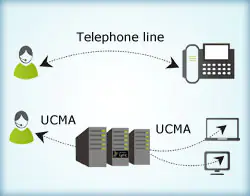 This new interface surely solved the two core problems – accessibility and interactivity. But here are some more advantages it opened –
For IT issues, users could share their screens from Lync in the context of the support call
Conferencing with multiple in the same support call became a piece of cake
Using the Conventional IVR system, an employee spent an average 48 seconds on the phone to go through the menu reaching the right queue of support helpdesk. This interface reduced this wait time to a few seconds. That is huge time savings for employees and enterprise
This will also result in huge savings on 1-800 toll charges the enterprise pays to telecommunication companies
This solution is just one of the places where Microsoft Lync played a role. Going forward, we strongly feel more problems could be solved with the Lync based solution. For instance, Lync being used by back office employees to answer Support calls.