Author: Dinesh Vaidya
Posted On Dec 06, 2013 | 4 Mins Read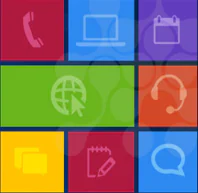 In any big or small organization, there should be a platform where people can instantly get in touch, collaborate, share resources, do online meetings and video conferencing. The Lync Server platform provides an infrastructure for achieving real-time collaboration and does all these things. The bold features include instant messaging, real time presence, VoIP, ad hoc and structured conferences (audio, video and web conferencing) and much more. These features are available within an organization, between organizations and with external users on the public internet or standard phones.
"Microsoft Lync" and "Microsoft Lync for Mac" are instant messengers which serve as client for the Lync Server Platform. "Microsoft Lync" client is completely customizable using Lync SDK; moreover, an organization can also implement middle layer bots for automating complex business processes using UCMA (Unified Communication Managed API).
My experience with MS Lync has been exciting. I have used Lync SDK in a project for customizing the Lync client by integrating new custom features and have also developed standalone desktop applications which work in conjunction with the Lync Client. The SDK is really simple and facilitates fast development. The best part is, one can easily develop simple customizations or standalone applications within a couple of weeks.
I have also utilized UCMA to implement intelligent call routing at middle layer. The API is really strong and gives full control of the flow and call.
The already feature rich server platform was loaded with more good features and released as Lync Sever 2013. This has been very well received by the market evident from a 30% revenue growth in 2013 Q3. The video conferencing feature was enhanced to support 1080P HD resolution to give a complete crisp video experience to the participants. Lync 2013 uses standard video codec to support an enormous range of platforms and devices.
Lync 2013 uses persistent chat for enabling real time collaboration of workgroups in topic based virtual rooms. All discussions persist over time and are searchable at any point in time thus facilitating efficient knowledge sharing.
Unlike its predecessor, Lync 2013 also has Application Sharing and Content Sharing capabilities which enables very interactive and effective communication when it comes to product demos, walkthroughs or reviews.
Lync 2013 exposes API sets for Persistent Chat, Application Sharing and Content sharing so that these features can be used in customized business processes developed by using Lync SDK and UCMA.
To ensure high availability universally, Microsoft has released Lync mobile applications for Windows Phone, IOS and Android. Apart from the client software and mobile applications, Lync 2013 introduced a web app which the users can use to join a Lync meeting from Windows or Mac OS using a web browser. The web app is equally powerful and the users can enjoy all features including HD video, VOIP, desktop sharing etc…
With easy integration provided with Skype, you can now add your Skype contacts to Microsoft Lync and vice versa. Features like presence information, Audio calling, Instant messaging etc are available for such users who are outside organization.
Many big and small organizations have already deployed or are thinking of going for Lync as their primary communication platform. Big organizations understand the crucial role Unified Communication can play in improving their business processes and saving them a lot of money, while small organizations are going for it as the deployment is simple.
In my opinion, Lync 2013 has opened up more options and created more possibilities for business process innovation and improvement. Organizations of all sizes can reap rich benefits if they use this technology to the fullest and in the optimized way.
View our webinar recording to know how UCMA and Lync SDK can help enhance unified communication experience