Micro-credentials for Economic Mobility: The Expert Perspective
Author: Minal Ghorpade
Posted On May 09, 2022 | 5 Mins Read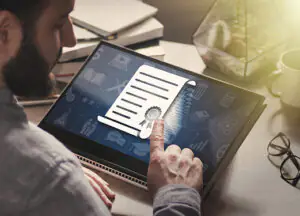 "It doesn't matter what industry you're in; the demand for skills changes at such a rapid pace, your organization has to keep learning."
This interesting quote by Nickle LaMoreaux, Chief Human Resources Officer for IBM, makes complete sense in the present era where technological advancement is a primary catalyst for change in the way we live and work.
Disruptive forces such as digital transformation, automation, retiring baby boomers, and the gig economy are some of the major factors responsible for the current skills gap.
Encountered as a significant challenge in the post-pandemic era, one of the ways to combat the problem of the skills gap is to develop the right skills while having the willingness to continue learning. And the best way to take this approach is to invest in micro-credentials.
Micro-credentials are a new and promising way of skilling, reskilling, and upskilling a workforce. They enable workforces and job seekers to acquire proficiencies that are relevant to a job role, through flexible, short, timely, and legitimate learning and training options.

"The World Economic Forum's Future of Jobs report points to the double disruption of automation and pandemic, with 85 million jobs displaced by 2025. But among those set to remain, 50% will need reskilling by 2025."
There are more compelling statistics available that tell us that the skills gap can grow wider if not addressed properly. This is exactly why organizations must invest in employee training and empower professionals to earn new certifications. This not only helps fill the skills gap, but also retain the best talent and can be leveraged to conduct the most accurate hiring within an organization.
To shed more light on the concept of micro-credentials and their role in economic mobility, Harbinger Systems recently organized a Power Hour webinar centered around the idea of "Leveraging Micro-Credentials for Economic Mobility."
Hosted by Rahul Singh, Senior Director – EdTech at Harbinger Systems and a digital learning enthusiast, the session was graced by Dr. Ginger Malin, Founder & CEO at BadgeCert and our expert panelist for the day.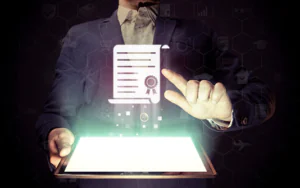 Degree or skills?
The nature of work, the way we work, and careers are changing at a lightning speed. Due to these changes and with technology taking over almost each of these spectrums, it has become even more important to have the right kind of skills to do a job.
As per a recent Harvard Business Review, between 2017-2019, employers slashed the degree requirements for 46% of middle-skill positions and 31% of high-skill positions. Given these numbers, it can be clearly construed that employers are now resetting the degree requirements for a wide range of job roles.
So, can we say that the degree inflation is reducing? Has the tide finally turned?
Let's find out.
Tim Cook, Apple CEO, said nearly 50% of the company's US employment in 2018 included people who did not have a four-year degree. (Business Insider, 2019)
Barbara Humpton, CEO of Siemens, said "All too often, job requisitions will say they require a four-year degree, when in fact there's nothing about the job that truly requires a four-year degree…" (Business Insider, 2019)
When Rahul asked Ginger if this information was relevant from an expert point of view.
Here is what she had to say.
"I think they are absolutely relevant. I believe that degrees from higher-ed are often times gatekeepers and it is the first thing one needs in order to enter into career."
"Organizations that do exceptionally well with hiring are those that really understand skills are necessary in order to be successful in a position."
A deep dive into micro-credentials
Moving forward the EdTech experts spoke about various aspects related to micro-credentials. Right from what micro-credentials are and how do they help identify certain skills or competencies at a high level, to how micro-credentials can address some of the talent acquisition challenges.
Technically, when somebody earns a micro-credential, an authority in the space validates that the person can perform a particular job and has the required competency or skill. Post which, a digital badge can be awarded to them. Since these badges are digital, they can be displayed on social media sites like Facebook and LinkedIn or included in email signatures to help employers find the right fit.
Along with these details, the Power Hour webinar answered some interesting questions such as:
· What role can blockchain play in setting up micro-credentials?
· Can micro-credentials or digital badges be revoked?
And it's a wrap
If you ask businesses and HR leaders what their main concern is, their answer would be widening skills gaps. The lack of specific talent with the right skills to achieve business objectives is a huge roadblock for enterprises today. That is why training employees on the go or encouraging them to take up short, specific skills training is a must.
A report by Harvard Business School, titled "Dismissed by Degrees" explicitly talks about how degree inflation is undermining U.S competitiveness and hurting America's middle class. Considering the increase in inclination toward skills over degrees, there has been a more realistic shift in the labor market where talent or skills matter more than theory or college degrees.
Now, when most of the world is struggling to get the equation of talent and job position right, micro-credentials and digital badges are at the rescue.
To learn more about the nitty-gritty of the booming concept of micro-credentials and their impact on economic mobility, watch our on-demand webinar.