Metaverse: A New Dimension to the Future of Education
Author: Shivam Bansal
Posted On Apr 13, 2022 | 5min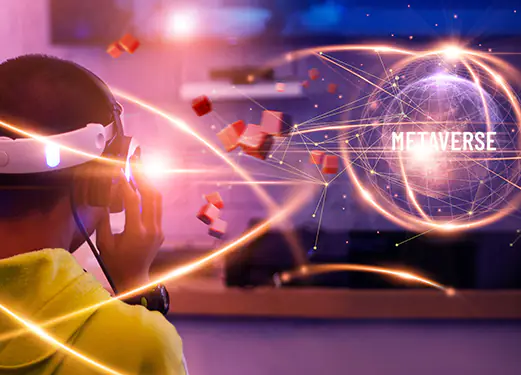 The Metaverse in education is a hot topic. It is expected to transform teaching and learning with endless virtual possibilities, remote capabilities, and its other peculiar aspects. Technology is here to stay and will revolutionize the way you learn and communicate, say technology experts not just from education, but also other industries.
The digital landscape is constantly changing. And with increasing access to augmented reality (AR) and virtual reality (VR) technology, it is becoming more immersive. Technology experts expect the real life and virtual life to become more interactive in the future due to the presence of an enriched world with the Metaverse and digital overlays.
The Metaverse can be a breakthrough in various industries like healthcare, IT, and education by making experiential learning finally possible.
Yet, the Metaverse is a mystery for many people, and they have been increasingly searching this term on the internet. People are also interested in learning about the world created by wearing cool VR glasses. Having said that, people are unaware of the difference the Metaverse can make in real-world applications.
To help you understand the Metaverse, we spoke to some EdTech experts who explained how this technology can impact our lives, especially in terms of education.
Jay Schnoor, CEO and Co-Founder of VEDX Solutions, and Taqi Sleel, Co-Founder and Head of Operations and Business Development at Last Link, spoke about what the Metaverse could mean for the education industry and shared their expert opinions on how the technology will change education in the future. These experts were interviewed by Rahul Singh, Senior Director – EdTech at Harbinger Group.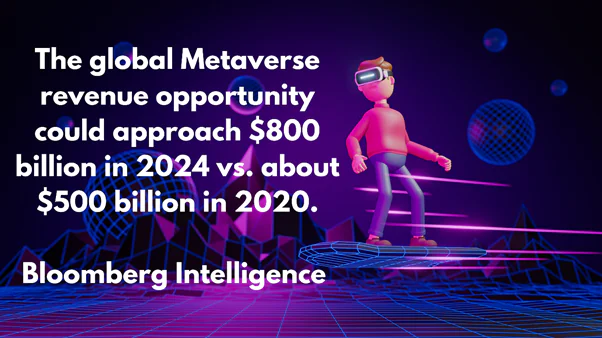 Here are some crucial insights about the Metaverse and the future of EdTech innovation gathered from the interview:
Rahul: How would you define the Metaverse in layman's terms?
Jay: First, I would like to thank Mark Zuckerberg for bringing attention to it. It was created a long time ago in VR as people began connecting worlds. So, when you take your VR experience in one app and you connect it to the VR experience in another, you've just crossed worlds and you have crossed those barriers. The Metaverse started way back in VR, in 3D.
But now the Metaverse has got a lot of attention and a lot of buzz. And I also think that it has brought attention to what we are doing in this space from an education standpoint and a future standpoint and what things will change socially in the future. And yes, it is exciting to watch all these changes take place.
Taqi: Well, when we hear the term "Metaverse," we connect it to the VR environment right away. I personally think there are at least two aspects to it. One is like, being in a VR experience to experience the Metaverse, just like Jay said.
But to me, Metaverse can be 2D as well. It's more about the actual experience, how you could be in a different world than the actual physical world that we're in, and just being able to connect with people, whether for education, networking, or anything else.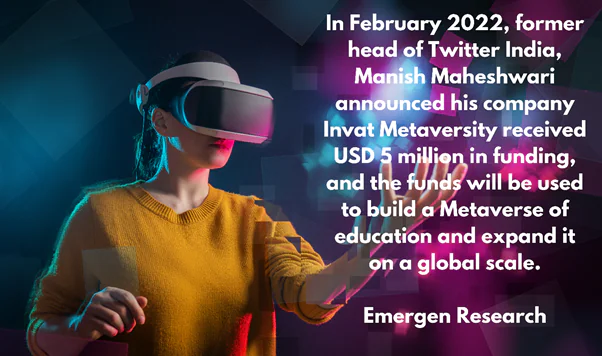 Rahul: Is the Metaverse just another buzzword that will create ripples for some time and fade away or is it for real?
Jay: Is "Metaverse" a buzzword? Yes, it is a buzzword right now. And it's been going crazy because it is new and letting people know that there is this new type of live 3D internet.
This is changing fundamentally how people explore subject matter, content for education, and social interaction. It's following the same pattern as when the internet emerged, early on. So, I don't think the Metaverse is going anywhere.
Taqi: The Metaverse is a buzzword, and I second with Jay on this. The technology has been there for a while. But the term Metaverse is the buzz today. And I personally see it as more about connecting people.
But there is so much into the Metaverse when we talk about its value for education. More than seven to eight years ago, I experienced VR and went inside a human body; I was amazed at the experience. So, it is a buzz, but it is here to stay, absolutely.
Rahul: Do you think, in this 3D internet era, VR is going away?
Jay:  Do I think VR and this 3D internet are going away? Absolutely not, they are here to stay. And if you think that the technology will go away, after 10 years, you're going to be one of those people who will look back and say – "How could I think that this technology would fade away or be just a fad?"
We are in an era where schools use Chromebooks and have software installed for learning. But I feel with VR and the Metaverse on board, a new dimension will be added to learning and education.
[Suggested read: Digitization of Education – Modernizing Classrooms for Good]
I mean, it will be great to see assets and deep link labs pinned inside a virtual classroom, and students learning in a VR lab or 3D environment along with their teacher and classmates. So, it is really about the integration of technology and how it will affect learning.
Taqi: Well, I also think that Metaverse is not going anywhere, and it is the future. And, at least for me personally, it is more about connecting people. Like, how can I go to the Metaverse, to this new environment, and virtually connect with people – walk around or go sit at coffee shops.
Again, there are sides to this. For education, the Metaverse is here to stay, for sure. When it comes to networking aspects and living inside the Metaverse, those things will mainly rely on the hardware and the technology.
Rahul: What's your vision about developing a platform and deploying it in the educational space?
Taqi: Honestly, we are planning a lot about this concept. It's like creating a building from scratch, where you can have a lobby and multiple rooms. So, we give you that flexibility to build your building, and we give you all the tools to use however you want.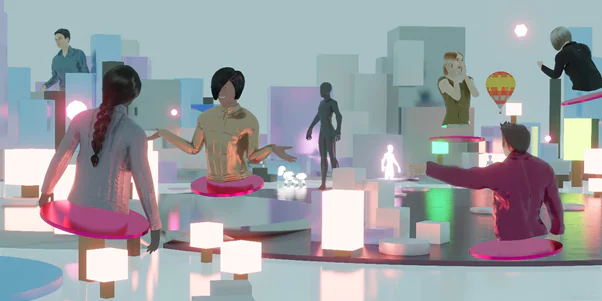 So, on that Metaverse platform, you can prepare a building where you can have chairs, offices, classrooms, playground, and labs. You'll be able to experience everything in VR. So, depending on where your clients want to go to, you can provide them with different experiences.
And if someone wants to come, they can check the Infant Metaverse (a 3D space for educational purposes), experience a 3D storefront, and learn more.
Rahul: What would be the biggest challenge when integrating Metaverse in education?
Jay: The cost of hardware.
I think any school that can invest in a laptop can also invest in a pair of VR goggles. The price may differ as per different country policies, but you can get them at your doorstep through e-commerce services available across the globe.
But my point is that the money students spend on a book will give them knowledge about that particular subject. But at the same price, a pair of headsets and 3D glasses will give them access to the world of education.
From biology labs to history lessons, literature, social space, and connecting with professors and university recruiters, all this will become available for students with a few clicks. So, I think schools should think about the future, and their engagement with students; and try this concept as a pilot project.
Now this is the section that we call "turn the tables." We have a final question that goes from Jay to Rahul.
Jay: What do you think about the Metaverse?
Rahul: There are some interesting industries in which the Metaverse is expected to show promise. For example, the Metaverse is being implemented in education in some form or the other, and this application will continue to grow.
Healthcare is another space that will see the application of the Metaverse, especially in areas like remote health monitoring, telehealth, elderly care, and so on. I also see a lot of potential of the Metaverse in FinTech areas like contactless banking and similar concepts.
In the US and the western part of the world, many countries are already changing their banking and FinTech systems. So, the Metaverse could play a role in these areas as well.
Wrapping Up
This interesting and candid conversation on Metaverse between the trio ended by getting an overview on industries the technology will impact the most.
According to Rahul, industries like education, healthcare finance, and banking can benefit the most from the Metaverse. Heavy machinery is another industry which could witness the application of the Metaverse, mainly because of the high-risk factor involved. But he feels industries like travel, hospitality, and retail are areas people would want to explore in the real world.
On the other hand, Jay feels that retail will take off when it comes to the application of the Metaverse.
And like Facebook puts it, "The Metaverse is the next evolution of social connection." So, there is a still a lot to explore and learn about the world of Metaverse.