Decoding Top Factors responsible for eLearning Content Development
Author: Minal Ghorpade
Posted On Jun 15, 2023 | 5 Mins Read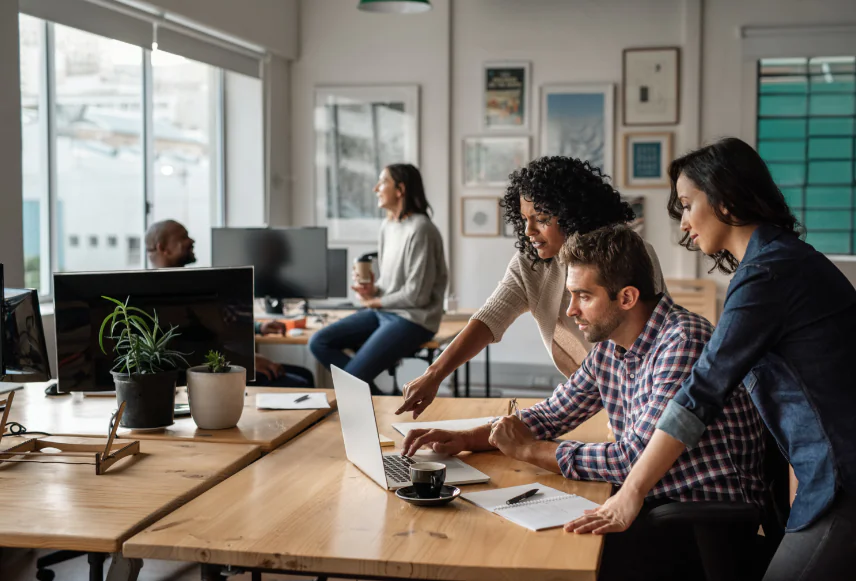 eLearning has indeed revolutionized the way knowledge is imparted, and one of the key components of this transformation is eLearning content development. 
Given the needs of the modern learner who looks for relevant, self-paced, mobile, and personalized learning experiences, paying close attention to eLearning content development has become inevitable.  
Emerging as a powerful and transformative method for providing flexible learning experiences, eLearning has become an integral part of the educational journey. However, creating effective eLearning content is not only about transferring traditional classroom materials onto a digital platform but a process that requires careful planning, innovative and thoughtful designing, and a deep understanding of learner needs and preferences.
Additionally, there are a few more eLearning statistics that cannot fail to amaze you:  
93% of global firms are turning to online learning – Finances Online 

 

41.7% of global Fortune 500 companies make use of some form of E-learning technology to train their employees – Skill Scouter 

 
Now that we reasonably understand the gravity of eLearning, we will explore crucial factors contributing to successful eLearning content development in this comprehensive guide. So, whether you are an educator, an organization, or an instructional designer, this can be your guide to delivering impactful online learning by deeply understanding factors responsible for effective and efficient eLearning content development. 
Online education is like a rising tide; it's going to lift all boats." – Anant Agarwal, CEO – edX.
So, the million-dollar question is, do you want to be at the competitive edge and create a fantastic eLearning experience? If yes, it is time to explore key factors contributing to successful eLearning content development.  
What are the Key Factors for Successful eLearning Content Development?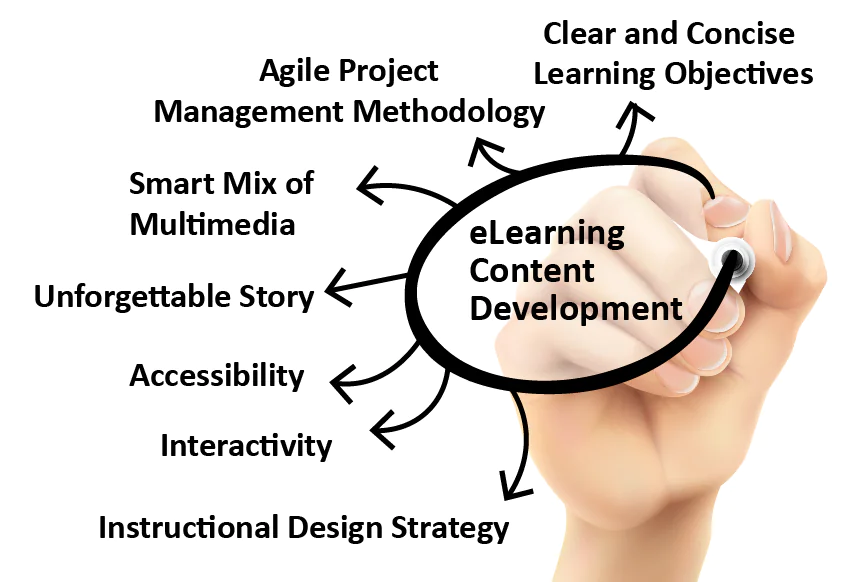 1.

Set Clear and Concise Learning Objectives 
Setting clear, realistic, and concise learning objectives is inevitable in effective eLearning content development. These objectives are of utmost importance because they work as a roadmap and can potentially convert vision into substantial, measurable targets.  
This step primarily involves understanding your target audience's needs and demands. However, performing a target audience analysis is essential to keep learning objectives aligned with organizational goals. As eLearning content creators, it is crucial to be aware of the objectives of the learning program before anything else. It is equally important to understand the kind of competency to be acquired once the learner takes the course.  
To make this process foolproof, it is wise to work around with SMART goals that are: 
Specific

 

Measurable

 

Attainable

 

Realistic

 

Time Bound

 
Pro Tip: (a) Ensure the learning objectives are closely aligned to the organization's goal. 
(b) Do not underestimate the power of aligning assessments to learning objectives. 
2.

Opt for an Agile Project Management Methodology
Agile Project Management, as the name suggests, is a flexible and iterative process that can add to the effectiveness of eLearning content development. This approach promotes collaboration, easy adaptability, and continuous improvement. Agile project management can help create learner-focused eLearning.  
Additionally, agile principles can enhance the overall eLearning content development process and take it a notch higher. Let's look at a few elements in the process that prove groundbreaking: 
Iterative Development:

This process can help break eLearning content development into smaller iterations, also known as sprints. Each sprint further focuses on developing specific portions of content and makes room for regular feedback, ensuring the eLearning content development remains focused and aligned with learner needs and objectives. 

 

Early Identification of Issues:

Agile methodology puts learners at the center of development. Regular feedback and testing during sprints help early identification of issues and errors and help make necessary adjustments to actual learning experiences.

 

Reduced Wastage of Efforts:

Adopting an agile methodology for eLearning content development focuses on delivering value and reducing unnecessary tasks that come in the way of efficient and effective creation of eLearning content. 

 

Stakeholder Involvement:

The agile process includes stakeholders throughout the process to ensure content needs are met. 

 
3.

Use a Smart Mix of Multimedia
It might be extremely challenging to transform real-world content into an eLearning format. However, several tools can be deployed to convey the information most efficiently. Using multimedia forms such as audio, video, animation, and other creative functionality makes learning more accessible and engaging. Making comprehensive choices about multimedia integration can be a crucial factor in successful eLearning content development, as every learner is different in how they learn. 
4. Build on an Unforgettable Story
Creating a connection with the audience is paramount to effective eLearning content development. A story-based module can help content creators connect instantly with the learners. It is part of offering the audience a real-world situation that can be relatable.  
Additionally, story-based modules are a great way to represent challenges that a learner will likely face in the real world. It can be a powerful way of showing employees how to apply this knowledge in the realms of their personal and professional lives.  
A story can be best represented through a gamified solution, that enables knowledge retention and flattens the forgetting curve.
Check out how Harbinger use gamification to build a Drive Thru Game for a quick service restaurant chain in the US to deliver exceptional results.
5.

Do Not Miss Out on Accessibility
Accessibility in eLearning content development ensures that educational materials are usable by all, including those with disabilities. It involves creating content that is easily accessed, navigated, and understood by individuals with varying needs. Incorporating features like alt text, captions, and adaptable formats makes learning inclusive, fostering equal opportunities for all learners to engage effectively with the material. 
To make this process finer, you can improvise learning content creation and delivery with Xyleme.
6.

Interactivity is the Key 
Adding an element of interactivity in eLearning content development is crucial in accelerating the learning and knowledge retention process, making it more engaging and fun.  
Regardless of your audience's demographics, explaining complex concepts with the help of videos, diagrams, or even animation can take eLearning content development a long way.  
Including a final sum up or a recap of the information delivered with the help of quizzes or examples can add more value to the process.  
7. Include a Powerful Instructional Design Strategy
Instructional design and instructional designers are both paramount for successful eLearning content development. Leveraging well-planned instructional design strategies can breathe life into online courses.  
On the other hand, instructional design strategies provide a systematic framework for creating eLearning content that is learner-focused, engaging, interactive, and aligned with desired learning outcomes. These strategies ensure that the content is informative and conducive to compelling learning experiences in online environments. 
Now that we are well-versed with key elements for effective eLearning content development, it is time to move ahead. If you want to build on a competitive eLearning course and deliver great results every time, it is essential to have a robust eLearning content development process in place.  
So, without further ado, let's look at the top 3 steps to producing effective eLearning content.  
The eLearning Content Development Process
1.

Developing the Instructional Design Blueprint
IDD, also known as the Instructional Design Document, is a comprehensive overview of the entire instructional design approach of the eLearning course. Common actions during this phase encompass addressing challenges, utilizing scenarios, and designing avatars.  
This phase also enables educators to outline the course's scope, learning objectives, assessment methods, and interactive elements. It's also here that decisions are made about content structuring—whether as courses, screens, or modules.  
If an eLearning program includes several courses, it is essential to have a unique and independent Instructional design strategy for every course separately. The IDD also helps understand the placement of the content. It can be used to decide when and how the content will be divided or broken.  
2.

Prototyping eLearning Content Development
Prototyping e-learning content helps streamline the development process, prevents costly revisions at a later stage, and allows for early testing of instructional strategies and user engagement techniques. 
In this step, a preliminary course model is developed to get an overall idea about the course layout, use of multimedia, and finalized interactivities. In this stage, a lot of iterations and revisions take place. Later, the prototype is tested to understand its operation on the eLearning content management system.  
Adding this element to the eLearning content development process enhances interactivity, identifies design flaws early, and aligns content with organizational objectives. 
3.

Developing the LMS Version 
Creating the Learning Management System (LMS) version in eLearning content development involves adapting the finalized course materials to fit within the LMS framework. This is a crucial stage involving stakeholders to evaluate if the course is compliant and ready to go live.  
You

H

ave

S

uccessfully

C

ome to the

E

nd of the

P

rogram

.
Successful eLearning content development is about enhancing online learning experiences by considering several factors and operating with a process. Therefore, it requires careful attention and a checklist of crucial facts and processes that can significantly impact the overall learning experience delivered by the course.  
If you want to create an eLearning course that aligns to the organizations goal and promises results, write to us at contact@harbingergroup.com