Is Your Learning Effective? Strategies to Make Learning Effective
Author: Poonam Jaypuriya
Posted On Feb 10, 2023 | 7 Mins Read
According to Statista, the global market share of workplace L&D was over $357 billion in 2020. Furthermore, a report by Allied Market Research shows the global eLearning market is expected to reach a value of over $840 billion by 2030 while growing at a CAGR of 17.5% between 2021 and 2030.
Another interesting report reveals that the average annual spend on L&D per employee in the U.S. is $1,472 – up from 42% in 2019. Moreover, a new Capterra survey shows 49% of organizations increased their L&D spending in 2022 – up from 41% in 2021.
But is this really worth it?
Here are some statistics to look at:
A Brandon Hall Group study on upskilling and reskilling employees shows 54% of employees feel that learning has weak positive outcomes as they don't get opportunities to practice/apply knowledge.
45% of learners feel that their technology ecosystem for learning is inadequate.
Even with so much spent on eLearning, a report by World Economic Forum says 50% of all employees in the U.S. will need to be reskilled by 2025.
A survey by LinkedIn shares that only 24% of HR leaders say their L&D approach prepares them for the future of work.
Why this discrepancy? Is there a solution
The above statistics indicate that not only most of the training in today's companies is ineffective, but also the purpose, timing, type of content, or method of delivering learning may be flawed. There could be multiple reasons for this. Here are a few which we think could be some of the common reasons and ways to overcome these challenges.
The Forgetting Curve
We quickly forget what we've learned. German psychologist Hermann Ebbinghaus pioneered the experimental study of memory in the 18th Century, along with his discovery of "The Forgetting Curve." He found that if new information isn't applied, we'll forget about 75% of it after just six days.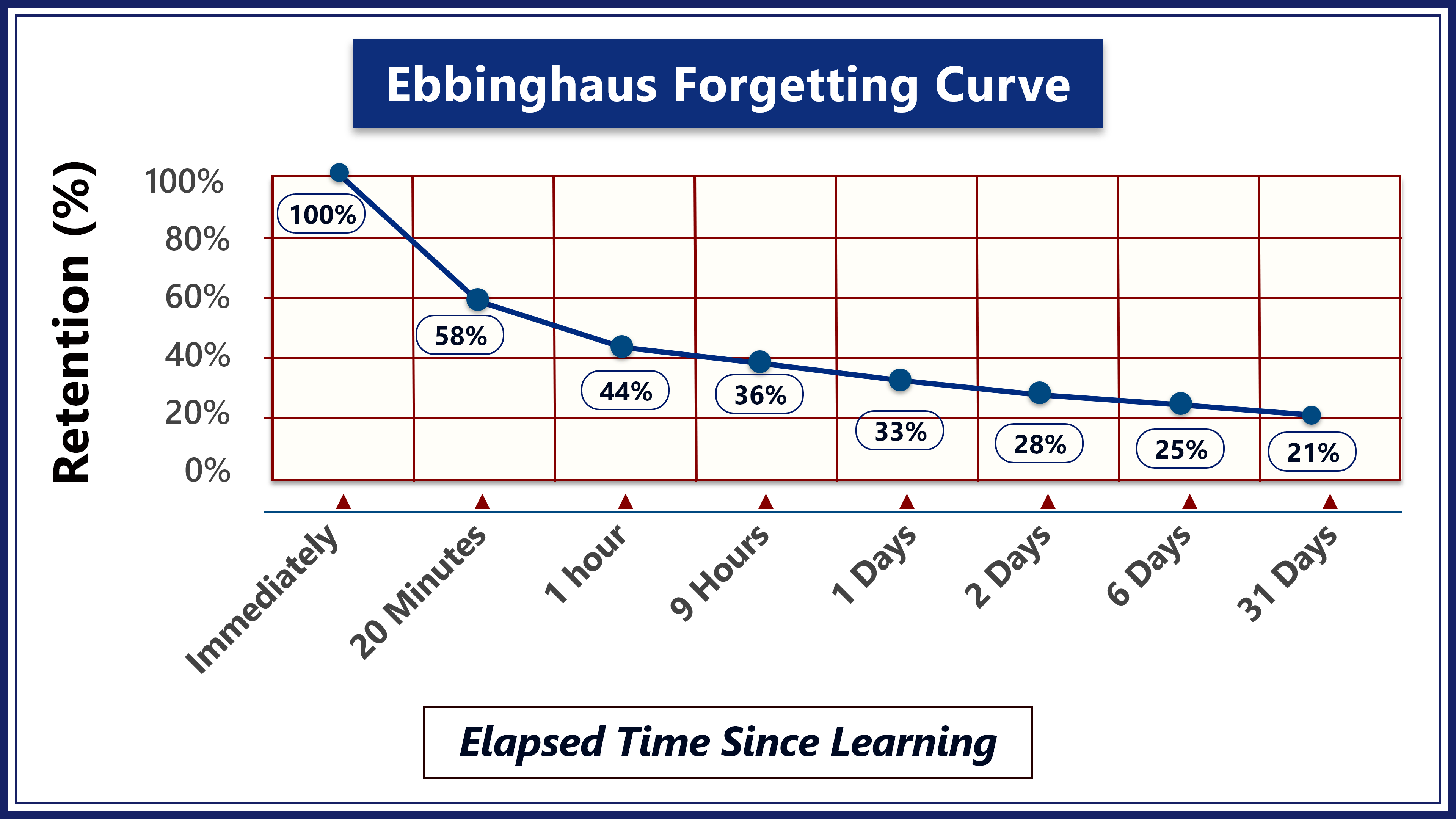 Our brains quickly forget what we don't use. Incorporating new learning into your work is one way to retain knowledge.
Another strategy to improve learning retention is spaced repetition. Originally proposed by psychologist Cecil Alec Mace in 1932, it refers to spreading learning out over time (learning material should be reviewed in gradually increasing intervals of roughly one day, two days, four days, eight days, and so on).
Harbinger's SprinkleZone is a lightweight, nudge-based, reinforcement learning platform. It is used by learning leaders or function heads to create and deliver short bites of learning at specific times. It allows bites of learning to be distributed across multiple channels such as email, LMS, MS Teams, and other apps at a specified duration. It supports the following content formats: text, image, video, and quiz. It tracks learner progress with the completion status and quiz scores. It is a standalone application or can be used as an add-on to LMS.
Contact us to know more.
Learning at the Moment of Need
Learn when it impacts the most. One should relook at the way the learning is delivered. Learning has the maximum impact at the moment of need or when one can apply the knowledge which is recently learned in the real world.
Have you ever learned a cooking recipe just while cooking it with the help of a YouTube video? Why did it work? Because you learned it at the moment of need.
In most cases, employees are asked to go through a learning schedule that has been set up long back by the L&D team. Also, in most cases, the learning schedule can't be immediately applied to day-to-day work or doesn't have any relevance to their immediate work. L&D should check if their employees are learning the wrong things. Are the courses being taken by learners aligned with their needs? If not, the learning impact will suffer.
Track the Right Metrics
Are people learning for effectiveness or promotion? Employees, to make a case for promotion, get continuous professional education (CPE) credits rather than using CPE as a way to improve their skills. And to discourage such practices, it is critical to track the right metrics.
L&D should reflect on their KPIs to see if they are tracking the right metrics. Is it about CPE credits that employees earn, the number of certifications done them, or the number of hours of learning in the organization?
"Instead, if L&D starts focusing on KPIs which measure business results, impact, or learning outcomes, the right training programs would be designed. Moreover, only the employees who need to be upskilled for those skills can go through it, so that the learning can be immediately applied on the job."
Focus on Improving Learner Competencies
Competency-based learning is a learning approach where learners move from one learning level to a higher level based on their demonstration of knowledge rather than the time spent on a specific course. This learning approach ensures learners learn at their own pace and focus more on mastery of knowledge and valuable skills.
Once the competencies are clearly mapped to job roles in an organization, they can be used to design the right learning experiences. It benefits an individual by increasing their self-awareness and aiding in career management. It also has many more benefits for an organization at various levels, such as succession planning, performance management, skills gap analysis, and reskilling individuals for new business demands.
Design Personalized Learning Programs Rather than One-Size-Fits-All
Learning programs being designed can be mapped to competencies, and assessment engines can be designed to test learners on various competencies to plot the gaps. Based on the identified gaps, only selected learning modules can be assigned to learners. This helps personalize training that adapts content based on employee performance and tailors it to every single employee's needs.
Competency-based learning is not easy to implement as there is limited support from traditional LMS's. Moreover, implementing a new system can involve a higher cost. To overcome this, Harbinger has implemented a Competency-Based Learning Framework which could help in identifying competency gaps and delivering appropriate learning content to close those gaps.
The framework includes the following benefits:
Identifying competency gaps through pre-test and post-test
Delivery of personalized individual learning experiences based on his/her competency level
Detailed competency-level analytics at an individual and organizational level
Easy mapping of learning content to various competencies
Concluding Thoughts
Does your L&D team have similar challenges? Does any of these solutions resonate with you? Harbinger has helped multiple enterprise customers design solutions that enable them to implement customized learning solutions as per their business needs. Feel free to write to us at  contact@harbingergroup.com  to know more stories around how we have helped companies like yours to make L&D effective and deliver business results.