Is Your HR Ready for Digital Recruitment
Author: Marketing Desk
Posted On Aug 21, 2020 | 5 min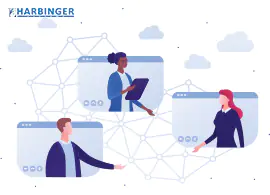 The economic slowdown and global recession due to the COVID-19 pandemic has led many organizations around the globe to rethink their business strategies. The looming uncertainty in the market has brought a tectonic shift in their priorities. During The Great Shutdown a few months back, many businesses shifted to remote working overnight, even though most of them were unprepared.
Consequently, the need for digital transformation has greatly accelerated in the new normal. Various HR functions from recruitment to payroll have seen a technological transformation in recent years. The global pandemic has sped up the digital transformation efforts, especially in the recruitment sector.
But what exactly is 'digital recruitment' and how does technology help with virtual hiring?
Digital Transformation: What it Means for Recruiters
For some organizations, digital transformation in recruitment can mean redefining the entire process with more reliance on tools and technologies.
Digital transformation in recruitment mainly involves the use of technology solutions to resolve various recruitment challenges such as talent search, virtual interviews, remote onboarding, and more. Such a transformation helps to increase operational efficiency and improve customer retention.
"Think of digital transformation less as a technology project to be finished than as a state of perpetual agility, always ready to evolve for whatever customers want next, and you'll be pointed down the right path." – Amit Zavery, VP and Head of Platform, Google Cloud
The global trend indicates that the recruitment budgets are most likely to shrink during and post the pandemic. According to a recent survey, a whopping 82% of respondents have reduced their spending on new hires. A digital transformation could prove timely for organizations that want to continue cost-effective hires in the new normal.
How Can Recruiters Benefit From Digital Recruitment?
· Improved Time-to-Hire
Digitalizing various recruitment tasks enable recruiters to automate and streamline their workflows. Various recruitment activities like candidate screening, candidate assessment, interviews, etc. can be digitalized to attain faster hiring. With simplied processes, candidates too benefit from a digital recruitment process, leading to a positive experience about the organization.
· High Volume Recruitment
The pandemic has resulted in more than 200 million job losses globally. Organizations need to be ready to scale their recruitment processes efficiently to handle the volume when the world gets back to normal. Digital technologies ease and automate processes like candidate screening, resume parsing, and more, to scale their recruitment activities whenever required.
· Improved Efficiency
With digital technologies in place, candidate assessments can be improved. Recruiters can reduce the time of interview panels, and can drive the process with lesser staff. This helps recruiters to improve their efficiency and reduce their cost-per-hire.
· Easier Candidate Evaluation
Technologies like Artificial Intelligence, Machine Learning, and Natural Language Processing add significant value to candidate evaluation. It allows an efficient assessment of shortlisted candidates to find the best match for the profile. For example, read on to know how Harbinger automated an interview panel selection to improve its efficiency.
· Better Access to Global Talent
Talent acquisition is one of the biggest challenges in recruitment processes. When a significant number of candidates are available, recruiters often struggle to find the right talent. Using AI and ML, the applicants' list can be shortlisted so that recruiters can find the best fit faster than traditional techniques. Recent trends show that most recruiters leverage AI to reach out to the right talent.
The HR function is continuously evolving, and the pandemic has greatly accelerated the need for digital adoption. Digital recruitment, which was once a possible alternative, has become a crucial business need in today's world. Of course, it is a continuous process which cannot be completed overnight. In that case, the recruitment teams should start making the best use of this opportunity to ready themselves for digital recruitment and continue to grow in the post-pandemic world.