IoT in Healthcare: An overview
Marketing Desk
Posted On Jul 31, 2015 | 2 min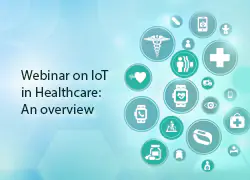 The healthcare ecosystem is witnessing a huge transformation lately; propelled by improved care and patient outcomes as the critical drivers. Briefly put, organizations (providers, hospitals and all) are leveraging the potential of Internet of Things, to empower their people, patients to take control of their own health. In a subtle way, redefining the way people, sensors, apps, devices and wearables can interact with each other in a secure environment, and take the healthcare experience to the next level.
A recent survey by Forrester Consulting suggests 90% of the Healthcare IT departments are ready to adapt IoT-based solutions. And, 52% of the surveyed respondents are already incorporating IoT technology.
With IoT as a powerful enabler, innovative apps and wearables are taking strong roots in the healthcare ecosystem; health bands, fitness devices, calorie meters, heart rate monitors, to name a few. Such healthcare devices are used by physicians to record patient's biometric information as they deliver exceptional patient monitoring and management results on-the-go.
Harbinger Systems hosted a live webinar "IoT in Healthcare: An overview" on August 26, 2015. Attendees gained insights on how IoT is redefining the current healthcare ecosystem and the various applications of IoT in healthcare.
Key Takeaways:
The current healthcare ecosystem
Application of IoT in healthcare
IoT is transforming healthcare- real world examples

In prevention and wellness domain
IoT led healthcare innovations – Electronic Bottles and Pouches, Smart Watches or Pebble Watches

Analyze the current challenges faced by healthcare industry in adopting IoT
The road ahead
Thank you for the great response to this special webinar!
You can view the presentation and the webinar video here