Implementing Dynamic Themes in your Mobile Applications
Author: Marketing Desk
Posted On Sep 20, 2013 | 2 Mins Read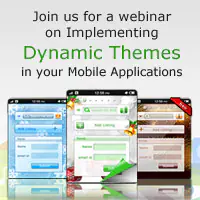 How many times have you designed a mobile app which needed NO iterations? Sounds too good to be true, doesn't it?
We are in the middle of a highly demanding and competitive environment, wherein the form factors, the operating systems and the customer requirements are evolving rapidly. Companies are faced with the herculean task of keeping pace with these changes as they innovate at the "customer-facing edge".
Now imagine this for highly customer-facing industries like ecommerce, retail, digital publishing, which have a heterogeneous user base and address diverse events like periodical offers, promotional events, brand makeover and many more. And you realize the enormity of the challenge! There is a compelling need for an adaptive mobile app that rapidly tunes to the changing seasons and business scenarios of the company.
And this is precisely where dynamic updation of themes in the mobile app comes to the rescue. Updating dynamically will increase user engagement and also save time and resources by eliminating the need to develop a new version of an app for publishing new themes.
Harbinger Systems hosted a Webinar on "Implementing Dynamic Themes in your Mobile Applications".
Key Takeaways:
Why dynamic themes? – Introduction and use-cases to use themes
Which theme aspects could be made dynamic? Such as backgrounds, colors, animations/transitions
Overview of dynamic theme architecture
Application of dynamic themes in industry verticals. Examples such as shopping apps, domain specific apps
Demonstration of a sample theme
Thank you for the great response to this special webinar!