Implementing Blockchain based solutions for Recruitment Applications
Marketing Desk
Posted On Jun 13, 2018 | 5 min
Introduction of new technologies has accelerated the pace of innovation in recruitment sector. In our earlier blog, we had briefly covered 5 technology trends that are disrupting the recruitment market. Blockchain holds a strong potential for delivering promising applications in recruitment sector. In this blog, we look forward to explore some of the use-cases and technology considerations for implementing the same. It has been so successful in solving the core problem of trust with dapp.  There are myriads of applications that solve similar problem at various stages in recruitment lifecycle.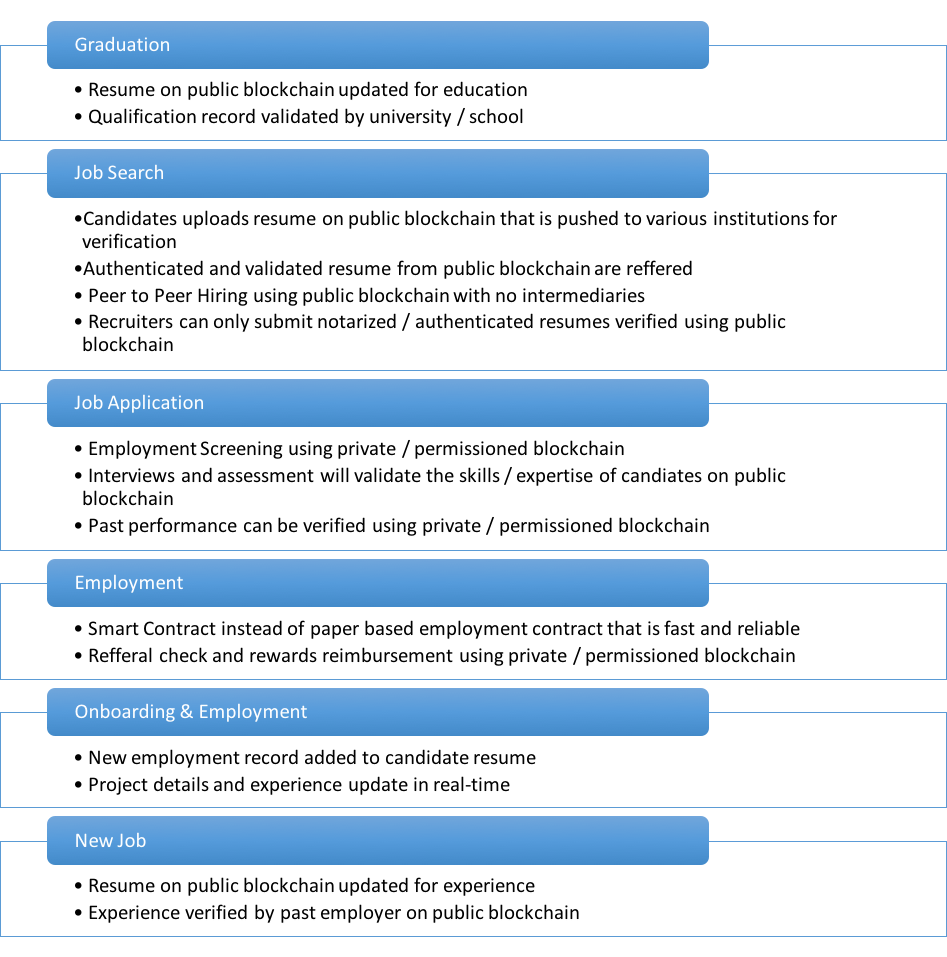 Due to emergence of digital recruitment platforms, frauds and cyber attacks have increased significantly in talent sourcing market. Furthermore, criminal background checks and education / employment verification is time consuming and costly. Due to these reasons, there have been numerous applications that leverage blockchain more particularly for background screening and resume verification.
Traditional Method
Blockchain based solution
Background Screening most typically implemented on private / permissioned blockchain

Employer has to contract various vendors for identity check, criminal record check, drug test, etc.
Depends on third-party and has no guarantee on authenticity and adds up to loss of time and cost for hiring.

Employer can authenticate candidates based on digital identity stored on blockchain.
Various screening tests records / documents will be secured with blockchain based solution instead of relying on third-party

Resume Verification most typically implemented on public blockchain.

Schools and Universities provide certificate to students
Employers have detail record of their past employee history and performance
New employer / recruiter has to manually call / email and depend on adhoc verification process or trust applicants submitted documents.

Schools / Universities, employers all will have a copy of applicant's credentials that is always verified.
Any change in resume will be recorded and pushed to respective institution for validation.
New employer can trust employee resume stored and secured via such blockchain based solution

Applicants Documents can be on either of the blockchain depending on type-of-document

Applicants have to submit documents to required institutions from time-to-time to obtain verification and comply with employer processes.
Hold no ownership of verified documents and has to repeat this for every change in record (new certificate, employer change, etc)

Applicants will own their identity, documents (criminal history, drug test record, etc.), resume that is authenticated by respective institutions.
Notarized documents verified using respective blockchain based solution can be submitted in minutes
One of the key decisions for implementing blockchain based solution is using Public / Permission-less (Bitcoin, Ethereum, etc) or Private / Permissioned blockchain (e.g. Hyperledger, Ripple, etc.). For resume verification use-case, since there are various institutions (universities, employers, etc.) as well as candidates requiring access to such document and search / share them on-demand it is best implemented on Public / Permission-less blockchain like ethereum. On the other hand, for background screening since there will be third-party screening companies (who will have authority to search criminal database and national records) as well as employer who will require access to status of reports and digital identity of candidate that is proprietary information and due to data privacy laws, it would be best implemented on Private / Permissioned blockchain.
Besides background screening and resume verification, there are a few more blockchain based solutions being implemented for optimizing inefficiency in recruitment workflow. A few among them are listed below:
Blockchain based recruitment: Job-portals and recruiters are seen as middlemen in talent acquisition processes.  With public blockchain based solution that can provide access to authenticated talent pool along with their validated resume; such solutions are going to explode. It removes the bottlenecks and inefficiencies that are involved in traditional hiring processes.
Smart Contract instead of paper based employment contract: Service delivery and quality assurance is critical for hiring and so far, there have only been paper based labor contracts and escrow services for payroll. Smart Contract based solution that can verify services offered by logging time as well as work at regular intervals can be very efficient way for performance checking and payment processing for both employees as well as contractors.
Referral platform: Referrals have been the most preferred way for hiring at many companies and HR are looking for ways to increase candidate pool from referrals. Blockchain based referral system that can reward not only internal employees but also external partners, friends / family of employees, recruiters and influencers at large can refer qualified candidate pool and be rewarded timely without any discrepancy as the journey of candidate referred is recorded on the blockchain ledger that one can verify.
Freelance and contract hiring: As per US Freelance Statistics, there are 53 million people doing freelance work in the US that is roughly 34% of total workforce which will soon be 50%. There is a need for decentralized platforms that will freelance / contract hiring instead of traditional method of posting job opportunity on multiple freelance market or engaging with contracting firms. Additionally, binding such relationships with a smart contract that ensures overall talent management function is simpler, transparent and cost effective.
To conclude, while there are many blockchain based solutions for recruitment use-cases, it is very important to verify the use-cases and validate the pros / cons of adopting blockchain for that particular use-case. It is important to understand various technologies and approaches available and plan the implementation accordingly.
Resources: https://www.pwc.co.uk/issues/futuretax/how-blockchain-can-impact-hr-and-the-world-of-work.html
https://www.prnewswire.com/news-releases/global-employment-screening-services-market-expected-to-reach-48923-million-by-2023—allied-market-research-674572523.html