7 HR Technology Trends Businesses Can't Afford to Ignore in 2024
Author: Rahul Niraj
Posted On Nov 21, 2023 | 5 min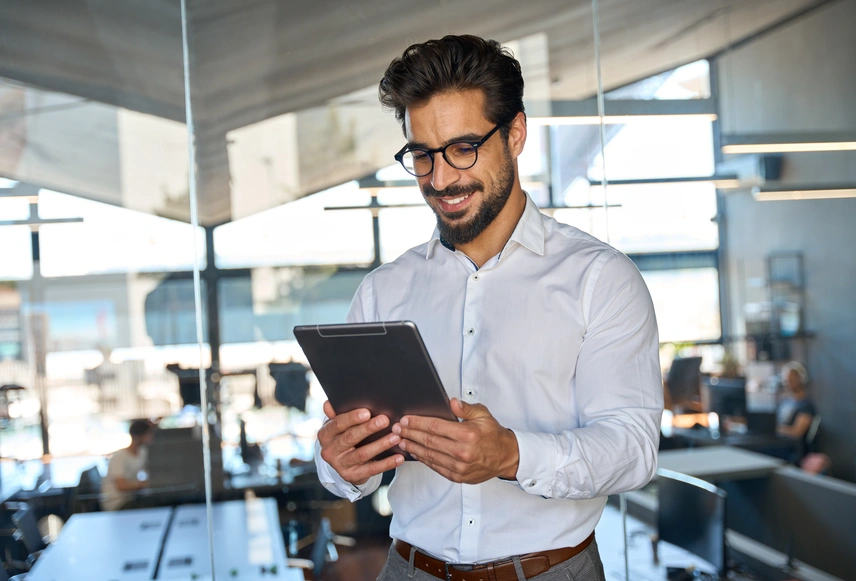 With 2024 just around the corner, it is time for organizations to watch out for the latest HR technology trends. Why? Because keeping an eye on the top HR technology trends will help organizations understand the changing workplace dynamics and optimize their HR technology investment. This will help organizations build a robust HR strategy, accelerate HR operations, improve employee experience, foster people development, and maximize business growth.
According to Gartner, 56% of HR leaders say their HR technology solutions and strategy are unable to meet their existing and future business requirements. This statistic points toward a dire need to analyze HR technology adoption and its impact on future organizational priorities.
Our HR technology trends 2024 guide will help you make the right decision and plan a successful technology-forward HR strategy. We will explore some of the most important HR technology trends that have the potential to shape the future of HR in 2024 and beyond. Let's begin!
Top 7 HR Technology Trends to Track in 2024
HR technology trends highlight transformative solutions, approaches, priorities, and strategies that can revolutionize the way businesses operate. Paying attention to and embracing these advancements will help HR teams accelerate digital transformation and resolve complex HR challenges head-on.
1. Technology to Build Reliable Employee-Employer Relationship
One of the most critical HR technology trends for 2024 is enabling mutual trust between employees and employers with the use of technology. Fostering a culture of trust helps businesses build a transparent and responsive digital HR ecosystem.
Gartner research on strategic priorities for recruiting leaders highlights a disparity in trust levels between employers and employees. While 63% of organizations trust their employees, 53% of employees trust their organizations.
The implementation of advanced HR technology facilitates transparent communication, streamlined feedback mechanisms, and personalized employee experiences. From performance management platforms to employee engagement tools, these technologies help bridge the gap between employer expectations and employee needs, ultimately strengthening their bond.
2. Technology to Address Skill Shortages
Addressing the lack of skills with the help of technology is among the predictable HR technology trends for 2024. Organizations are already facing various challenges in identifying and retaining talent with the right skill sets. According to ManpowerGroup, nearly 77% of employers face difficulty in filling job vacancies. But thanks to HR technology, such challenges can be mitigated.
As industries undergo rapid transformations and the demand for specific skills evolves, HR will need to utilize technology to identify and close the skills gap. HR can leverage advanced analytics and machine learning capabilities to forecast future skill needs, empower employees to upskill or reskill, and build a more agile workforce.
Businesses can harness the power of recommendation engines to automate talent-to-role matching and supercharge HR to find candidates who best match the required skill sets. With this strategic approach, HR teams will not only be able to address immediate skill shortages but also position their organizations to thrive in 2024.
3. Technology to Prioritize Learning and Development
Learning and development technology for leaders, managers, and employees will emerge as one of the most crucial HR technology trends for 2024. According to Gartner, 66% of HR leaders say career paths within their organizations don't appeal to many employees. Moreover, less than 1 in 3 employees know how to advance their careers in the next five years.
As per HR technology trends for 2024, HR teams will need to shift from traditional learning and development programs and outdated career paths to agile and adaptive career recommendations by using technology. They can invest in technologies like people development to create personalized learning pathways and succession planning.
People development technology will play a significant role in employee training and development. As part of HR technology trends for 2024, its other use cases to look out for include:
Providing continuous feedback.
Generating data-driven insights.
Linking performance management to learning and productivity.
Upskilling and reskilling using multiple modalities while maintaining SCORM and xAPI standards.
Engaging and interactive learning and development with enhanced accessibility and flexibility.
HR can also utilize technology to practice iterative career management and internal mobility with these approaches: develop job-to-role career paths that accommodate employees' long-term goals, create searchable career portfolios to facilitate seamless career transitions, and create job roles that help employees advance their expertise and experience.
4. Technology to Explore Multiple HR and Employee Touchpoints
In the contemporary workplace, HR and employee touchpoints refer to the various interactions employees and HR professionals have with HR technology, processes, and tools. It encompasses the entire hire-to-retire workflow.
Our list of HR technology trends for 2024 will be incomplete without mentioning the importance of underlining HR and employee touchpoints. Addressing these touchpoints will not only improve employee engagement but also augment HR operations.
For example, HR professionals can drive digital transformation through technology by using HR chatbots that can cover the complete employee lifecycle. Be it answering initial queries during recruitment, facilitating onboarding processes, providing real-time support for HR-related inquiries, or assisting in employee offboarding tasks.
5. AI-Based Solutions for HR
Implementing AI in HR stands among the most considerable HR technology trends for 2024. Utilizing the capabilities of AI-powered solutions for HR can automate various HR functions, improve workforce productivity, and maximize HR capabilities.
AI in HR can transform the way HR operates and performs routine tasks. According to The Society for Human Resource Management, 89% of enterprises use or plan to use AI in hiring. Another report by Gartner reveals that 68% of executives say the benefits of AI outweigh the risks, and 72% of HR leaders plan to use AI technologies like Generative AI for HR operations.
With Generative AI, businesses can automate the entire hire-to-retire workflow. HR professionals can use Generative AI, large language models, and ChatGPT to accelerate HR processes and revolutionize HR strategies. They can use AI models and transformers to automate skills gap analysis.
Harbinger recently helped a global technology company automate recruitment by integrating GPT API, natural language processing, and AI-based model. Download the success story to know more about our unique solution and its impact.
Our iContent framework, powered by Generative AI technologies, has been instrumental in automating HR operations for global businesses. It can help HR professionals with automated content translation, transcription, summarization, JD creation, resume parsing, candidate matching, interview screening, evaluation, question generation, nudge-based learning reinforcement, and video skimming.
6. Selection of HR Technology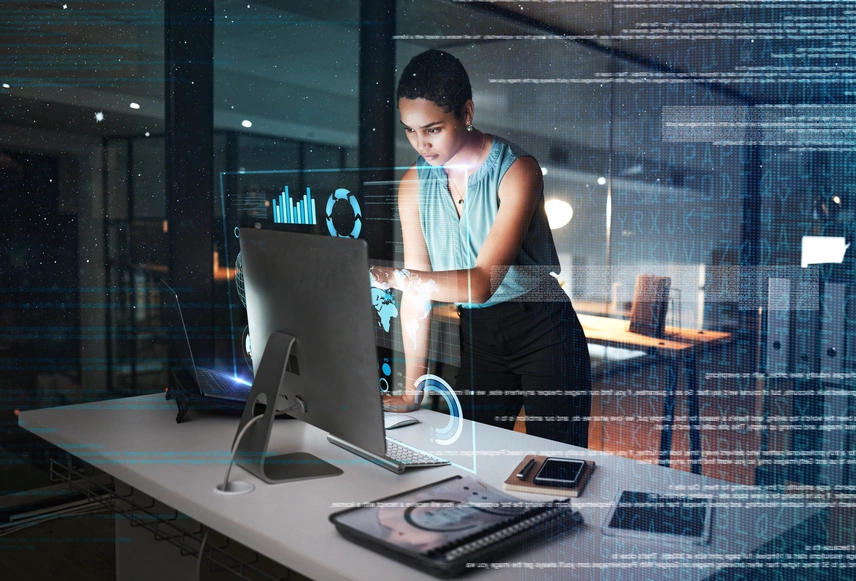 Choosing the right HR technology is one of the top HR technology trends for 2024. As businesses evolve, the demand for effective HR technology solutions continues to grow. The right HR technology can streamline processes, enhance employee experience, and drive overall organizational success.
This trend emphasizes the importance of carefully selecting HR technology solutions that align with an organization's unique needs, culture, and goals. It may include digital product engineering, AI, and UI/UX solutions emphasizing AI-enabled skills management, responsible AI, Generative AI for HR, internal talent marketplaces, and employee experience technology for frontline workers.
HR professionals can also benefit from custom integrations related to human capital management systems, human resources information systems, applicant tracking systems, learning management systems, and content management systems.
Additionally, businesses need to collaborate with an experienced HR technology partner. It will help them choose and implement HR technology that is competitive and can successfully contribute to workplace productivity.
7. Technology to Manage Workplace Changes
2024 will observe workplace changes driven by technology that will impact the future of HR like never before. That's why managing workplace changes is one of the biggest HR technology trends HR professionals should keep an eye for in 2024.
According To Resume Builder, 90% Of Companies Will Introduce Return-To-Office Policies In 2024. Another Report By Buffer Says That 98% Of Employees Sometimes Want To Work Remotely. These Figures Clearly Indicate The Growing Affinity Of Employees Toward Flexible Shifts, Autonomy, And Work-Life Balance.
Managing workplace changes demands introducing business-centric technology solutions, such as dedicated onboarding and learning, workflow automation tools, integrated communication platforms, and AI-based talent management systems to ensure a seamless employee experience.
HR professionals need to adeptly address scenarios like international migration through cross-border employment considerations. They need to use digital onboarding and learning tools and AI-based remote workforce management system to tackle the fluctuations across remote working opportunities, hybrid working arrangements, decentralized workplaces, and frictionless work settings.
Parting Thoughts
The continuous evolution of HR technology products and solutions underscores the need to harness the power of innovation and automation to create workplaces of the future. Organizations that embrace the aforementioned trends and invest in cutting-edge HR technology will be better positioned to identify, attract, engage, develop, and retain top talent in the dynamic and competitive landscape.
Yes, no one can tell how the future of HR may turn out to be. However, taking the necessary steps and strategic planning can enable HR professional to embrace technology, level up their HR game, and stand against all odds.
If you want more insights on HR technology trends for 2024 or seek dedicated assistance to build HR technology products that transform the future of HR, write to us at contact@harbingergroup.com. Our HR technology experts would be more than happy to help you achieve your business goals.