How to Drive Student Engagement through Next-Gen LMS Solution
Author: Archita Nayak
Posted On Feb 07, 2023 | 3 Mins Read
The education industry witnessed a significant paradigm shift in the learning ecosystem after COVID-19. Online learning has re-engineered the way students are educated, revolutionizing the classroom experience by providing remote course materials. Although, lack of face-to-face interaction makes student bonding an arduous task, eventually taking a toll on student learning experiences. Hence, it is imperative and undeniable to cultivate better learning experiences for students in today's digital age.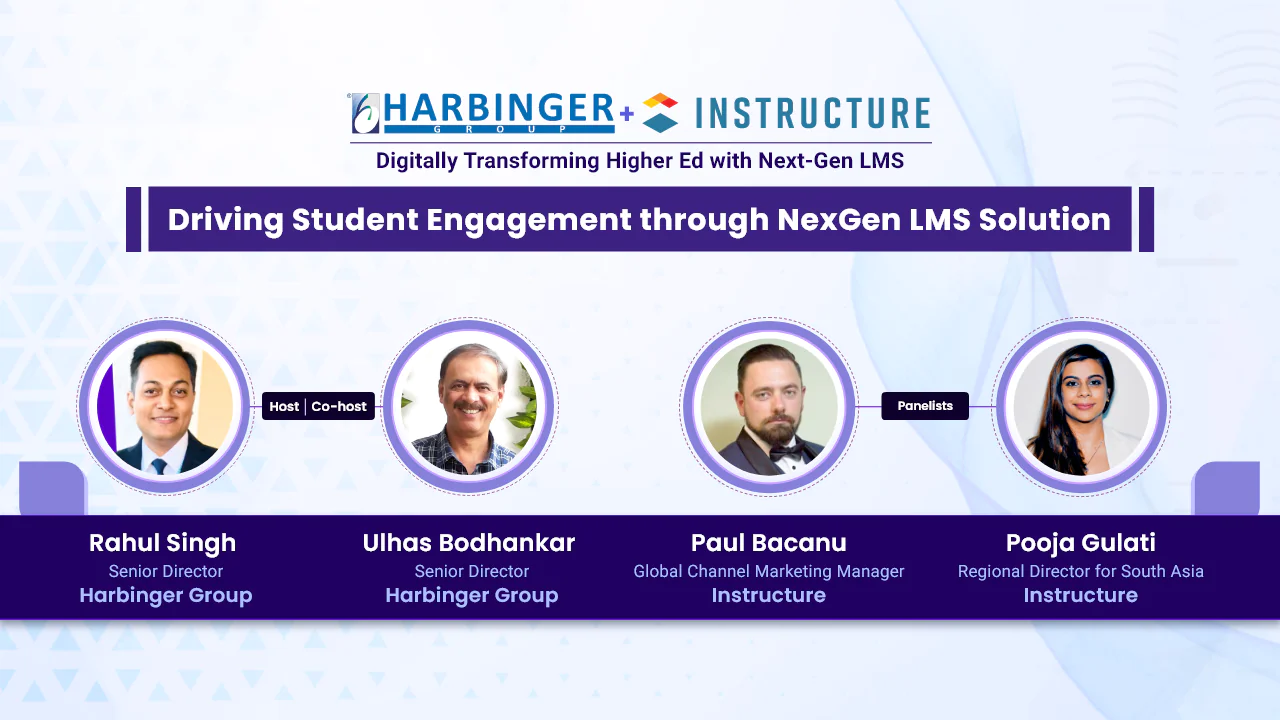 We are excited to discuss the recent webinar hosted by Harbinger. In the Power Hour "Driving Student Engagement through Next-Gen LMS Solution," industry experts from leading companies shared their insights on:
Reasons to be cognizant about student engagement
Importance of student engagement and how to drive it
Teaching strategies in a blended learning environment
NextGen LMS solution: Canvas LMS and Canvas Studio
The informative webinar was hosted by Rahul Singh, Senior Director – EdTech, Harbinger Group and co-hosted by Ulhas Bodhankar, Senior Director – Business Consulting, Harbinger Group. It featured talented industry experts Paul Bacanu, Global Channel Marketing Manager, Instructure and Pooja Gulati, Regional Director for South Asia, Instructure.
Importance of Student Engagement in the Digital Era
According to the Instructure study, State of Student Access & Engagement in Higher Education, 51% of the most impactful student engagement strategies involve hands-on learning and experience-based learning models.
Online learning is challenging for both educators and learners. And while discussing how to drive student engagement and provide them with interactive educational experiences, we must consider both the standpoint of teaching and learning. Every student has a different learning trajectory and pace. Based on their aptitude, every student has a different way of being taught. Some of them work well with constant interaction, while others with less. Various conditions of learning must not be avoided while designing student engagement strategies.
Student engagement has multiple aspects. We have put together a few critical elements concerning engagement among students.
Student and faculty interactions
Employment-focused learning
Action learning
Measurable learning outcomes
Social and collaborative learning
Teaching Strategies to Foster Student Engagement in a Blended Learning Environment
One of the crucial aspects of a blended learning environment is that it must have a fine blend of synchronous and asynchronous materials. You can design a transparent, continuous, and unified course structure with a perfect combination of asynchronous and synchronous activities. Furthermore, the classification of indicating when, where, and what activities will happen and maintaining continuity throughout the semester can enhance the blended learning program.
As you can refer to the diagram below explaining how to develop straightforward and unified programs for the blended learning environment.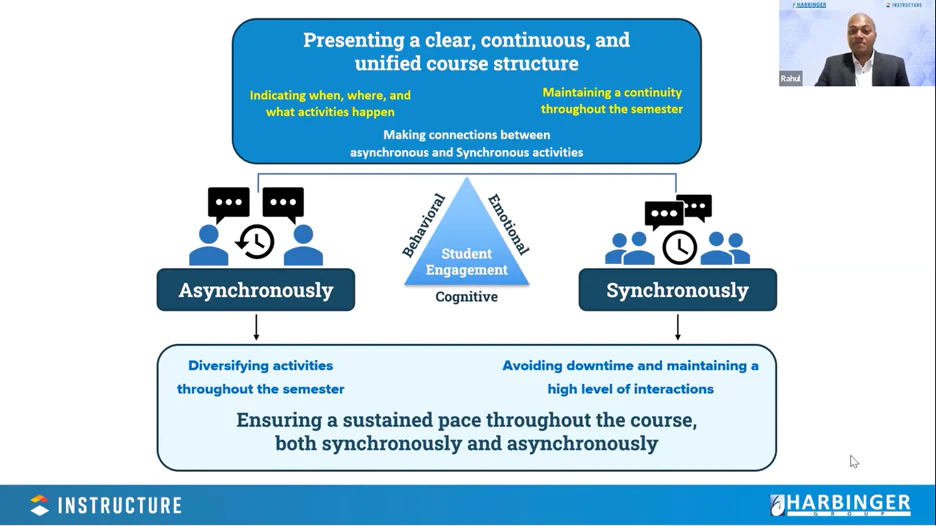 Student engagement takes place on three axes:
Behavioral
Emotional
Cognitive
The program must consider how important it is to maintain continuity throughout the semester, including hands-on learning experiences, connecting synchronous and asynchronous aspects, diversifying the activities, avoiding downtime, and maintaining a high level of interactions. A student willing to revisit the lecture or want to give an assessment should not be disengaged by any means of error.
Lastly, one of the significant aspects is student empowerment.
NextGen LMS Solution: How Canvas LMS Drives Student Engagement
Consistency in teaching and learning elements is vital to boost student engagement. A consistent portal for all kinds of users built a foundation and improved instruction quality and scale.
Canvas Learning Management System (LMS) provides an extendable learning environment. It has made learning and teaching easy and accessible by putting everything in one place. Various features provided by Canvas LMS are discussed below:
Total Accessibility: Regardless of the disabilities, instructors and students can access everything they need.
Mobile Learning: Leverages mobile apps and full-featured responsive design to ensure every learner is engaged.
Clear Communication: Communicates with the students or groups with announcements, messaging, audio notes, and video.
Everything in One Place: Course content, assignments, quizzes, and grades are all in a customizable and easy-to-use interface.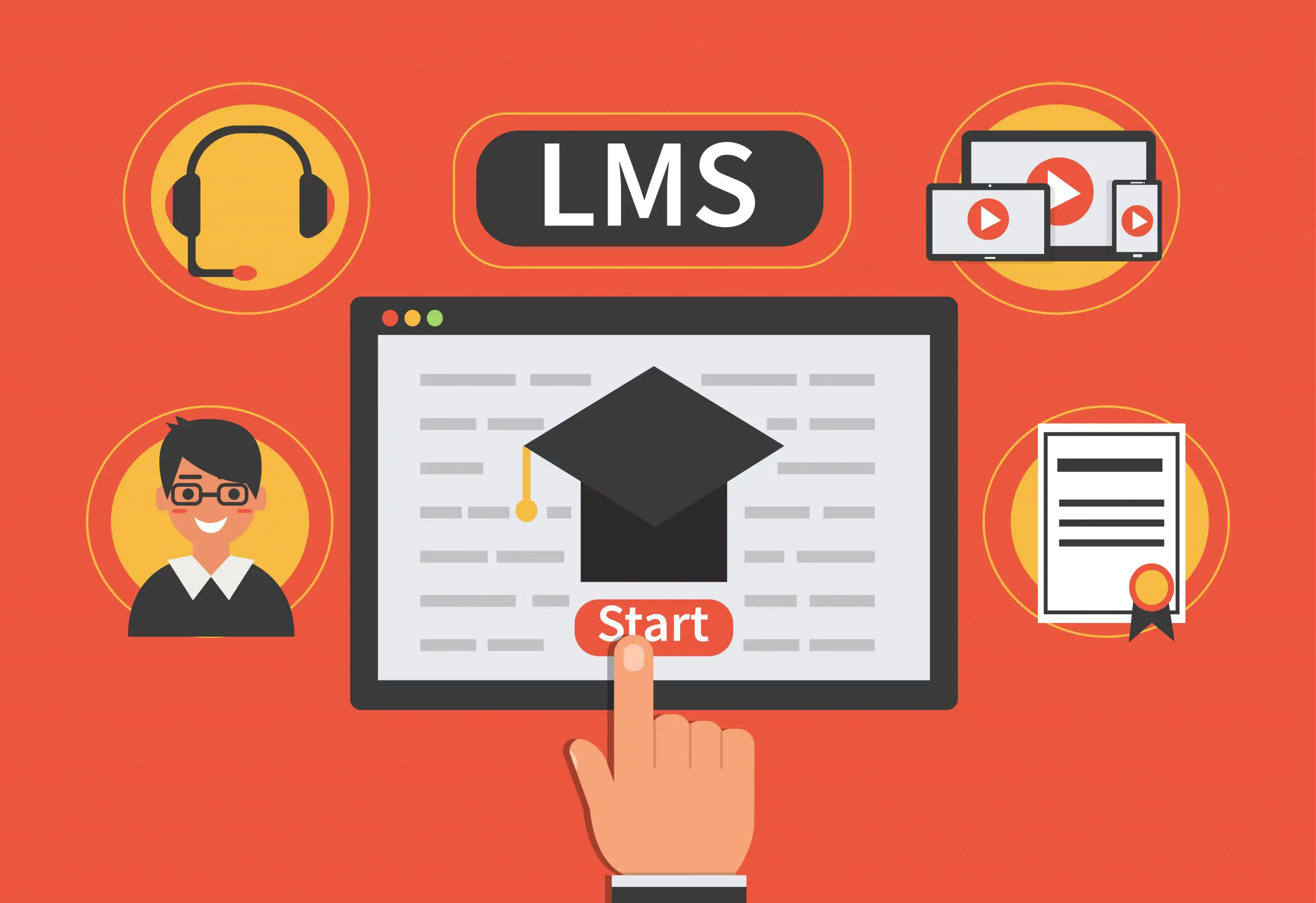 Canvas Studio helps learners turn passive watching into active learning with the help of video content. Much digital content is consumed in video format today, and it's easier to grasp than any other material form. Also, it allows educators to study their students' progress and analyze where they are dropping out from a particular video or which part of the video is most engaged/commented on. Data collection and its analysis fill the gap between teaching and learning patterns.
Canvas Studio provides video learning anytime and anywhere with helpful and enhancing features as mentioned below:
Custom Library: Enables creation, delivery, host, organize, and share video content in all major formats.
Easy Uploads and Imports: Allows to upload video from different devices or add it from YouTube in their courses.
Create Engaging and Interactive Videos: Embeds quizzes, add captions, screen-capture, and track student comments.
A Better Viewership: Watch who has watched a video, for how long, and which sections.
Canvas LMS empowers people by providing extensive access to education. To explore these aspects in detail, feel free to visit the webinar.
A Final Word
Post-pandemic provided an opportunity to make greater use of online learning platforms. The educational ecosystem was struck by such a massive change in teaching and learning techniques. However, next-generation solutions like Canvas LMS have made the entire experience interactive, fun, and informative. The goal is to empower students and educators and build a better learning experience for everyone. If you are looking for any assistance or direction in developing the EdTech solution for your requirements, contact a Harbinger EdTech expert at contact@harbingergroup.com.