Author: Marketing Desk
Posted On Jun 30, 2014 | 2 Mins Read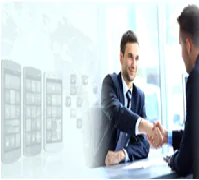 Mobile apps have become ubiquitous and are continuing their successful adoption among enterprises and consumers at an astounding pace. Gartner states that by 2017, mobile apps would be downloaded more than 268 billion times and generate upwards of $77 billion in revenue. With mobile devices becoming a major customer engagement point, businesses have boosted their efforts in mobilizing their solutions.
The most difficult part is to find the right development team to materialize your great app idea. And this decision is not made any simpler with the remarkable increase in outsourcing providers. In the face of such diverse options, it becomes vital for you to choose the right mobile app outsourcing provider. A provider who can support and extend your capabilities to meet the needs of customers and employees while transforming your business for mobile success.
Harbinger Systems hosted a webinar 'How to choose your outsourcing partner for building mobile apps?' on July,16th 2014 at 10 am PST. John Banse , Founder Contractors Aid shared his experience on outsourcing to an offshore vendor. Attendees got to know about the various factors one should look at in selecting their outsourcing vendor for mobile app development, followed by an interactive question and answer session.
WEBINAR KEY TAKEAWAYS:
How mobile app outsourcing is different from software outsourcing
Key factors to look for in your mobility partner
A customer's perspective of working with an outsource mobility partner
Demo of the award-winning Contractors Aid app
Thank you for the great response to this special webinar!
You can Watch the webinar recording here.