7 Ways to Automate Employee Onboarding with AI
Author: Avishek Chakraborty
Posted On Jun 08, 2023 | 9 Mins Read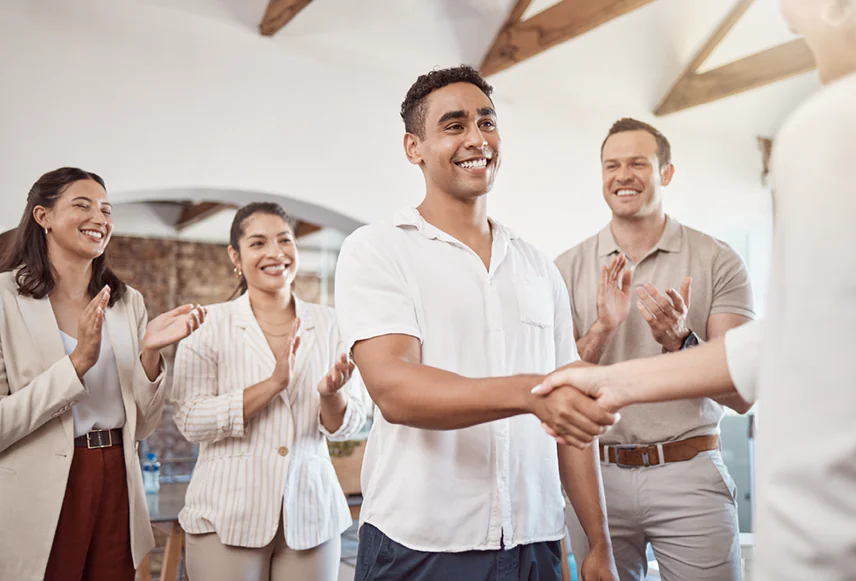 It's high time organizations automate employee onboarding if they are to build inspiring, future-ready workplaces. You might have heard the popular saying, "You never get a second chance to make a first impression." Have you lately thought of the first impression you want new hires to have of your organization?
From the insights gained at the CLO Exchange 2023 conference held in California, employee onboarding is interpreted as a pressing business need – something that is keeping global HR leaders awake at night. HR and support teams are running errands including many ad hoc transactions while trying to best articulate the corporate brand equity to new recruits inducted across different geographies.
From the originally budgeted few weeks, such employee onboarding in many cases stretches to more than 6-8 months. This seemed to be a major eye-opener to act fast, act soon…rather act now!
While positive customer experience is the cornerstone for business success, superlative employee experience is the precursor for achieving business success. The trigger point for a superlative employee experience is employee onboarding success.
For efficient and effective employee onboarding, there is a need to leverage best-of-breed modern-day technologies like Generative AI and Conversational AI, translation and localization, nudge-learning, microlearning, game-based learning, performance management, and feedback mechanism to name a few.
This in-depth blog post defines employee onboarding, discusses industry best practices, creates a business case, and envisions tech-enabled employee onboarding or an automated onboarding process.
What is Employee Onboarding?
Employee onboarding is like a journey rather than an event. It is the process where new employees are inducted and integrated into an organization. It also involves familiarizing the new employees with the company culture, values, policies, and procedures.
It is important to build a strong employee onboarding process and culture to welcome and retain new employees – with the goal of making them more engaged, productive, and instilling a sense of commitment inspired by the company's values and culture.
For even the best of global enterprises not engaged in effective employee onboarding, it might appear like a labyrinth of complicated passages or channels with obscure navigation controls. That's why it makes sense to automate employee onboarding to achieve the best outcomes.
Business Case for Effective Employee Onboarding
Based on reports from the Society for Human Resource Management (SHRM), Bamboo HR, Gartner, and other research findings, the following are some interesting statistics to consider. They mainly emphasize the need for effective employee onboarding. Thanks to technological advancement, organizations can automate employee onboarding to meet this goal.
If employees experience great onboarding, 69% of them are more likely to stay with the company for three years
58% of new employees were more likely to stay with an organization after three years when they went through a structured onboarding program
Organizations experience 50% greater new-hire productivity when they have a standard onboarding process
Organizations with insufficient onboarding duration or lacking adequate training and support resulted in 31% of new hires quitting within the first six months
91% of employees who receive company culture training feel connected to their workplace
53% of employees said their interactions with co-workers were more transactional rather than meaningful
46% of employees were interacting less with co-workers after they shifted to remote work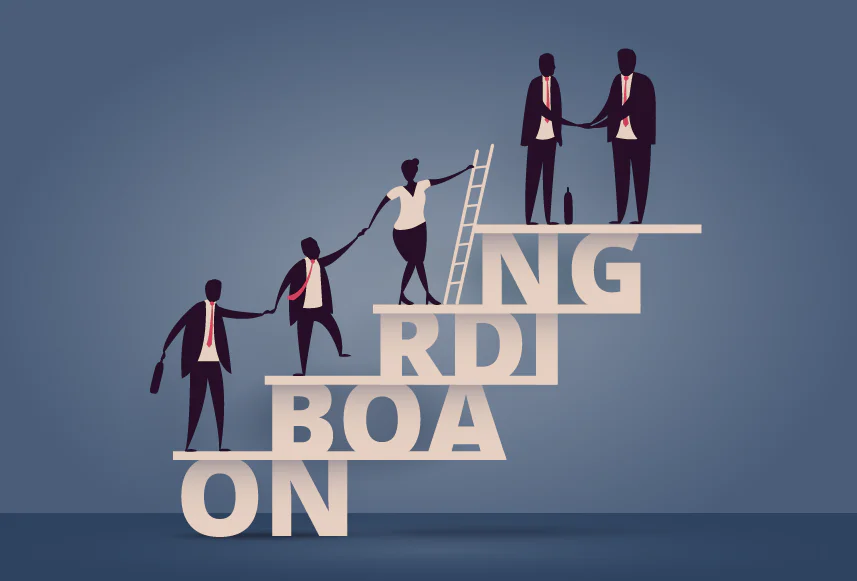 Automate Employee Onboarding to Achieve the 5 C's
Good news! Programmatic onboarding is as easy as A-B-C-D-E or rather C-C-C-C-C. Aim to achieve the five C's of employee onboarding – compliance, clarification, culture, connection, and checking back – with onboarding automation.
1. Compliance
Compliance is the lowest level of effective employee onboarding and ensures new employees are aware of and adhere to the regulatory and legal obligations of their roles and the organization.
Compliance helps prevent legal issues, fines, penalties, and reputational damage that may arise from non-compliance with laws such as labor regulations, workplace safety standards, data protection, and anti-discrimination. It covers paperwork, policies, and all codes of conduct.
Organizations can set up automatic email notifications for compliance obligations and paperwork when looking to automate employee onboarding.
2. Clarification
Clarification provides clear and comprehensive information about job roles, responsibilities, expectations, and organizational policies. Lack of clarity can cause anxiety and uncertainty among new employees.
By providing clear information and explanations during employee onboarding, organizations can alleviate these concerns and enable new employees to feel more comfortable and confident in their roles. Clear expectations and guidelines reduce ambiguity, enabling employees to focus on their work rather than worrying about what is expected of them.
This can be facilitated when organizations automate employee onboarding tasks like scheduling orientation, new hire training, and professional headshot sessions, document processing, and creating and sharing welcome kits including policy documents, contracts, and manuals. With onboarding automation, new hires can clarify all their doubts even before start working.
3. Culture
Culture is a broad category that sets the tone for the organization's values, behaviors, and norms. A strong culture fosters a sense of belonging, making new employees feel connected and integrated into the organizational community.
On the other hand, a poor cultural fit can lead to dissatisfaction and potential conflicts, affecting job performance and retention. But thanks to onboarding automation, it can be made easy for new hires to connect with their organization's both formal and informal culture.
For example, organizations can automate employee onboarding tasks like drafting and sending a welcome email explaining and sharing instances of company culture.
4. Connection
Connection refers to the process of establishing meaningful relationships and fostering a sense of belonging between new employees and their colleagues, managers, and the broader organizational community.
With an automated onboarding process, organizations can easily facilitate connections during onboarding by implementing activities like:
Team building exercises
Social events
Mentorship programs
Creating opportunities for cross-functional collaboration
By prioritizing people connections, organizations can create an inclusive and supportive environment that promotes the success and engagement of new employees. For faster and better results, organizations can automate people connections.
For example, you can automate employee onboarding tasks like appointing onboarding buddies. By automatically appointing employee onboarding buddies, organizations can ensure new hires feel welcomed on their first day.
5. Checking Back
Checking back on new employees helps ensure they are settling in well and address any issues or concerns they may have. The goal is to gather feedback, address concerns, and continuously improve the employee onboarding experience for new hires.
Organizations can automate employee onboarding to enable consistent check-ins to ensure new hires are onboarded efficiently. With onboarding automation, they can also set automated reminders to track the individual progress of new hires or check in on them.

Automate Employee Onboarding with AI as Technology Booster
AI and machine learning (ML) have taken customer as well as employee engagement transformation to the next level. These advanced technologies can be leveraged in several ways to enhance the employee onboarding process through automation. A survey by Leena AI reveals 68% of companies are already using AI in recruitment and employee onboarding.
Organizations can automate employee onboarding using AI to reduce the time, cost, and effort required in onboarding. Here are some examples of employee onboarding automation using AI and how the technology can help with fast and efficient onboarding.
1. Sentiment Analysis
Natural language processing can help analyze employee feedback and sentiment during the employee onboarding process. By monitoring employee sentiment, HR can identify any concerns or areas of improvement, allowing for prompt interventions and adjustments to enhance the employee onboarding experience.
Automate employee onboarding with natural language understanding or applying it to open text feedback. This will help enrich your employee engagement responses and get an in-depth understanding of how your employees feel.
2. Personalized Onboarding Plans
Automate employee onboarding to enable personalization in the overall onboarding process and make new hires feel they belong to your organization.
AI algorithms can analyze employee profiles, including their skills, background, and job requirements, to create personalized onboarding plans. By considering individual strengths and weaknesses, AI can suggest specific training modules or resources to help new employees ramp up quickly and efficiently.
3. Virtual Assistants and Chatbots
AI-powered virtual assistants or chatbots provide real-time support and answer common questions during employee onboarding. They can guide new employees through the necessary paperwork, provide information on company policies and procedures, and assist them with various onboarding tasks. This improves the employee onboarding experience and reduces the workload on HR personnel.
Many organizations are already using virtual assistants and conversational AI chatbots to automate employee onboarding. It's a great way to transform employee onboarding using AI. Such an automated onboarding process helps:
Increase new employee engagement and satisfaction
New hires receive the information they need on their preferred device and in their own time
Save HR time and effort as well as cost to some extent as virtual assistants and AI chatbots reduce the need for human support and enable 24×7 HR availability
Provide personalized and timely support to new employees during their onboarding process
4. Predictive Analytics for Role Fit
Predictive analytics is another powerful advantage for organizations that automate employee onboarding. It allows HR to forecast the impact of people policies on employee well-being and bottom-line performance. For example, it can help prevent expensive employee turnover or new employees leaving the organization.
AI algorithms can analyze historical employee data, including performance metrics, skills, and experience, to identify patterns and predict the likelihood of success in specific roles. This can help HR make more informed decisions when assigning new employees to appropriate positions, increasing the chances of a successful onboarding experience.
5. Performance Monitoring and Feedback
AI/ML can be used to monitor employee performance during the onboarding process by analyzing various data points, such as project progress, task completion rates, and customer feedback. This allows supervisors and HR teams to provide timely feedback and support, identifying any issues or areas for improvement early on.
6. Gamification and Interactive Training
When looking to automate employee onboarding, don't miss out on adding gamified and interactive training to the process. It not only helps make onboarding and training fun, but also accelerates these processes and enables heightened engagement, improved productivity, better retention, and higher knowledge transfers.
AI can be leveraged to create gamified and interactive employee onboarding experiences. This can include interactive modules, simulations, and quizzes that engage new employees and facilitate better knowledge retention. AI algorithms can also adapt the training content based on individual progress and learning preferences.
Learn how to enable gamified learning using Generative AI.
7. Nudge-Learning to Identify Key Learning Moments
AI-based nudges can be beneficial to new hires and organizations during critical moments of employee onboarding. This could include:
Reminders to complete specific training modules
Prompts to review important policies or procedures
Suggestions for connecting with key colleagues or resources
Such nudges could also be personalized based on individual employee characteristics, such as role, department, skill level, and learning preferences. Nudge-learning is a powerful technique to reinforce learning and retain knowledge.
These are just a few examples of how AI/ML can be leveraged to automate employee onboarding while improving the overall process. The specific applications and techniques employed will depend on the organization's needs, available data, and technological capabilities.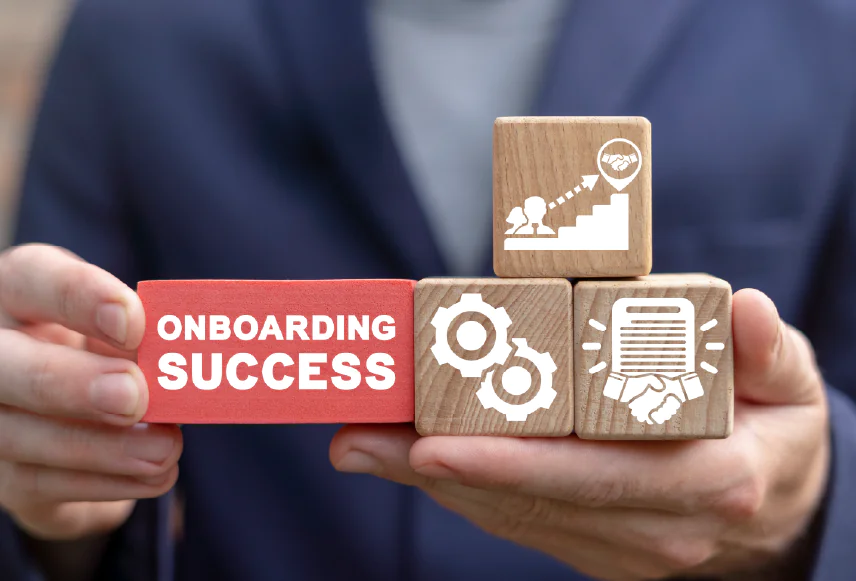 AI-Driven Employee Onboarding and Engagement Customer Stories
Customer Story #1 (AI-Based Translation, Localization)
Client Profile
Global manufacturing and hi-tech client which needs to onboard and train employees through different geographies, countries, and cultures.
Business Objectives
Improve productivity by providing localized learning in native languages

AI-based solution for translating the existing content specifically having video content
AI-based solution for personalizing the video content for contextual learning
Optimize the learning curve and improve knowledge retention

AI-based solution to autogenerate reinforcement learning (nano/micro-learning knowledge bites)
Automated scheduling for periodic nudging in the flow of work

Fully customized user interface and integrated experience with client authoring workflows
Benefits of Harbinger's Solution
Content Localization
Improve productivity by providing localized learning in native languages
AI-based API solution for localizing the existing content including video content

Spanish, Chinese, Korean, Thai, and Vietnamese

Automation-driven solution to extract content from source documents

Word Files
iSpring XLIFF files

Human review of translations as part of the process to ensure high content accuracy and quality
Integrating Generative AI in eLearning development can prove beneficial in delivering personalized, engaging, and interactive learning experiences at scale. Check out this strategy guide to understand the potential of Generative AI in eLearning.
Customer Story#2 (AI-Based Bot Integrated with HR and Other Systems)
Client Profile
A Fortune 500 company with more than 800 employees. It serves software vendors and enterprises across the globe. It has been named as one of the fastest-growing technology companies in Asia Pacific.
Business Objectives
With remote working becoming the new normal during the pandemic, employees were increasingly working from home in an isolated manner.
The client noticed the challenges employees were facing in their work due to the absence of an office environment. There was difficulty in remotely supporting employee queries 24×7. The client needed a solution to ensure continued employee engagement. They needed technology to effectively connect with employees, resolve queries, and enable better support service times.
Benefits of Harbinger's Solution
Reduced Support Functions Load
With workflow automation, Harbinger's AI-enabled office bot 'Pritella' could interact with support departments such as transport. This was to provide information about facilities, raise/manage service requests on behalf of the employees, and book/cancel conference rooms reservations.
Personalized Recommendations
Pritella could provide personalized learning recommendations to employees based on LMS/MOOC offerings in the company.
Download this success story to learn more.
Final Word
It's time for HR leaders of global enterprises to start designing the new automation and learning procedures for holistic employee engagement translating into superlative employee experiences. There's a dire need to design and bring this change to organizations, especially in employee onboarding.
However, organizations need a partner that has done this successfully and can guide them with a customized solution approach. This is where Harbinger comes in!
If you would like to explore a forward-looking, future-ready intelligent employee onboarding framework and related AI solutions, or simply automate employee onboarding, reach out to us at contact@harbingergroup.com.