How Can EdTech Product Companies Leverage Google Workspace for Education?
Author: Ulhas Bodhankar
Posted On Mar 25, 2021 | 4 Mins Read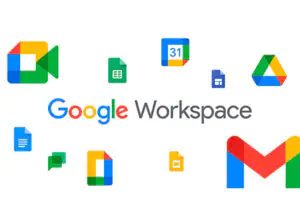 The world was getting digital at a reasonably fast pace… and then covid happened and accelerated the digital transformation need like never before. The most significant impact was on education. Overnight, educators had to change their model and resort to technology in whatever form they could manage initially and then they evolved to look at and absorb numerous technology options to make the entire teaching-learning experience richer than what it was. No wonder money from investors started pouring in abundantly ($2.2 Billion in 2020 in the US – 30% increase from 2019). There has been a flood of innovations since then, and it continues.
The old horses relooked at their stocks and saw this opportunity to renovate and relaunch. Be it Microsoft, IBM, Oracle, or Google, everyone tried to make the most of the opportunity. Just a couple of weeks back, Google launched 'Google Workspace' – for business and other domains, but predominantly for education. Just to set the context, Google Workspace, formerly known as G Suite, is a collection of cloud computing, productivity and collaboration tools, software and products developed and marketed by Google.
Many of Google's applications were already in use and popular with educators. And given the constant feedback from users, this was an excellent opportunity to relaunch with more features, ease of use, adaptability, integrations, communication, better instructions, and security.
The four versions that Google has launched under Google Workspace for Education are:
Google Workspace for Education Fundamentals – Free (Formerly known as G Suite, includes Collaboration tools like Classroom, Docs, Sheets, Slides, Forms, and more. Communication tools like Google Meet, Gmail, Chat. Data loss prevention for Gmail and Drive. Can be used in compliance with FERPA, COPPA, GDPR.)
Google Workspace for Education Standard – $3/student/year (Same tools as Education Fundamentals but with advanced security features and enhanced administration controls)
Google Workspace for Education Teaching & Learning Upgrade – $4/student/year (Adds enhanced video-communication capabilities, Classroom add-ons, and other features and tools)
Google Workspace for Education Plus – $5/student/year – (Comprehensive solution incorporating advanced security and analytics, enhanced teaching & learning tools, attendance tracking in Google meet and more)
The list of the 50 new features launched also includes break-out rooms, instructional design tools, an offline mode, improved mobile grading, and more. At the core, Google Workspace is the same service as G Suite. It's the culmination of several changes Google made throughout 2020. The separate tools have deeper integration with each other. Rather than jump between Gmail, Docs, Meet, etc., everything is available in one central spot.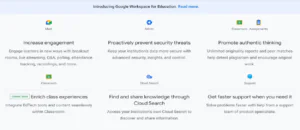 And just like all of Google's existing education tools, Google Workspace for Education is free too. However, upgrades are available at reasonable rates to derive more value from this launch.
How Can EdTech Product Companies Benefit?
This period is a goldmine of opportunities for EdTech product companies to really make a difference. So, how does Google Workspace help? Yes, a good question.
Google Classroom userbase has seen a rapid rise since the pandemic – from 40 million users to 170 million users (325% growth) in less than a year. EdTech start-ups could effectively use this userbase to increase their product usage. For example,
Make your product integration-ready with Google Workspace for education.
Design viral features in the product which help teachers or students to share and invite other colleagues or friends to the product.
Design features in your product that can complement student and teacher experience within Google Classroom. For example, creating engaging content and enhanced student engagement, and integrating with Google Classroom.
Design Google marketplace app in Google Workspace that teachers can seamlessly use. And also, design the app UI as simple as Google to ensure seamless experience and higher usage.
Many schools and teachers started using Google Classroom because it was free. It was only recently that Google put a price tag around it. So, design a freemium business model for your product that allows users to start using your product and, in turn, drive adoption.
Google has always been receptive to user feedback and responded in an agile manner to implement the feedback to drive adoption. The list of features for Google Workspace for Education is just an example of that. EdTech product companies can deliver a similar experience to their users. So, in a nutshell, drive adoption, actively hear your users, and implement feedback in an agile manner to get it all going.
How do you plan to use these new features of Google Workspace for Education? Would you like to discuss possibilities? Please write to us at contact@harbingergroup.com to connect.