How AI-Powered Teaching Assistance in EdTech is Making a Difference
Author: Ulhas Bodhankar
Posted On Mar 01, 2021 | 6 Mins Read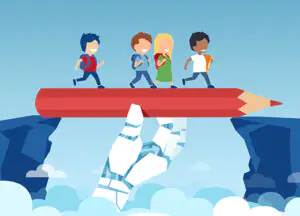 The year 2020 showed us endless possibilities of how things can be looked at anew especially in imparting education. The entire education system revamp got accelerated through technology innovation. For the learners, shifting to a remote, online medium has meant absorbing more multi-media content. As for the educators, to make up for the lack of in-person interaction, I believe the new system demands creating engaging sessions that are content-rich to eventually ensure effective course outcomes.
This positive disruption in education has thrown open many opportunities for innovation, predominantly in technology. And while this is a welcome shift, it needs to provide teachers easy-to-use tools that help them enhance the teaching-learning process. Rather, teachers will be able to focus on their core task using technology tools as enablers.
Enter Artificial Intelligence
Videos are an extremely effective medium to impart education. However, there is a dire need to streamline the vast content. Many of the education videos available (for example, Open Education Resource) are too long and unstructured. These need to be clipped/snipped appropriately to retain only the most relevant learning content visible. Further, there is a need to logically structure these into micro-learning bites for easy information retention. In fact, this holds true for almost every learning content. Additionally, interactivity and gamification could provide better student engagement and outcomes.
I feel technology will play a crucial role in assisting the education sector for these needs. The one that is particularly making waves is Artificial Intelligence (AI). What can intelligence that is artificial do for us? Well, it has proved to be a resource worth investing in, especially to make technology an enabling function.
For instance, examples of AI usage are surfacing rapidly, be it for student selection, course recommendation, interactive and intuitive content modules, nudge learning, adaptive assessments, reinforced learning, and more. The often-quoted Georgia State University is a good case in point for having used AI effectively in making a difference in the overall student learning at the university.
In this blog, we will talk about two specific AI-powered tools that can help teachers make learning more effective: Quillionz and Skimthru.
Quillionz – Leverage the Power of Questions
In the age of information overload, I find that the key to a successful learning experience lies in asking the right questions. Powered by AI and Machine Learning (ML) algorithms, Quillionz is a platform that lets you build a host of quality quizzes and assessments – within seconds.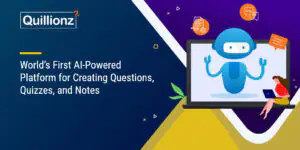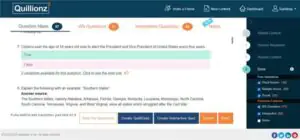 Quillionz creates a variety of questions from any given content, including multiple-choice questions, recall questions, and short descriptive questions. Once the questions are ready, Quillionz can curate and enhance them. It lets you generate questions and also allows exporting questions into multiple formats, thus enabling you to directly upload questions on Learning Management System (LMS) or print the assessments.
Self-assessments are important and can be fun too for both students and teachers. Students can examine their own level of understanding without any judgment. Using QuilliQuiz, teachers can quickly reinforce key concepts whenever required. Basically, you can take a self-assessment, check your knowledge, identify areas of improvement, and also have fun sharing it with your peers. Creating editable notes is also very easy with Quillionz. It offers a concise and objective view of the original information so you can highlight important parts, summarize main points, and reinforce key concepts.
Additionally, Quillionz offer APIs for easy integration for product companies. It supports REST API and offers custom integration options with systems that use questions, such as EdTech platforms, assessments and quiz platforms, LMS, digital publishing platforms, and more. With multiple integration options designed to handle various OEM business needs, advanced tools and utilities, and custom input/output formats, Quillionz API can be tailored to suit your unique business needs.
Skimthru – AI-powered Video Navigator
This unique tool is equipped with an interactive video browsing feature making use of a patent-pending concept to create a set of Theme Clouds. Words used in a specific text are clubbed together to emphasize either their frequency or importance or even both. This as a Theme Cloud which helps focus on the core topic in a given video.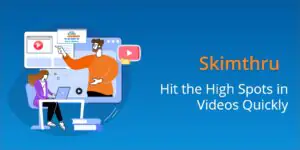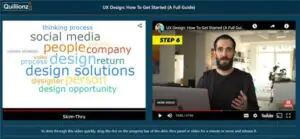 As an educator, say if you wish to use a particular YouTube video on a subject, then all you need to do is to ensure that the video comes with a transcript and enter the URL on Skimthru. With the help of AI, the Theme Clouds will get generated automatically based on the key words. As learners go through the video by moving along its timeline, Skimthru highlights relevant parts of the video and vice-versa. It is literally like skimming through the video. Such multiple Theme Clouds make up a Skimthru. This enables a better learning process as learners get precise relevant content that is easier to absorb and retain.
What the Future Holds
Artificial Intelligence, which was once just a dream, is now a reality – chatbots, recommendation engines, personalized tutoring, adaptive assessments, smart virtual assistants, and more, are already here. Educators agree that AI is essential for the future of learning and how it can empower both teachers and students and reshape the way we approach education.
We know that teachers have to handle varied tasks such as organizing educational material, evaluating assignments, grading exams, managing paperwork, communicating with the management, students, parents, etc. The good news is that AI can help teachers with all these administrative tasks in addition to providing all the teaching-learning aids.
I was recently a part of a Point of View session where together with my colleagues, we have explained how EdTech stands to benefit from AI. Unfortunately, there is a notion that with the rise of AI technologies in education teachers may become obsolete. In reality, this is highly unlikely to happen as AI will instead become a reliable assistant for the teachers, helping them fulfil their responsibilities with higher efficiency. After all, while AI can be of great help, students will still need a teacher to connect with personally, and more importantly, to guide and inspire them in a way that no machine ever will.
References:
https://www.admithub.com/case-study/how-georgia-state-university-supports-every-student-with-personalized-text-messaging/ https://www.wired.com/story/digital-textbooks-radical-transformation/