Author: Deepali Tharkude
Posted On Mar 03, 2012 |
– An account by Mona Sharma, DGM – Projects, and Exhibitor at the Conference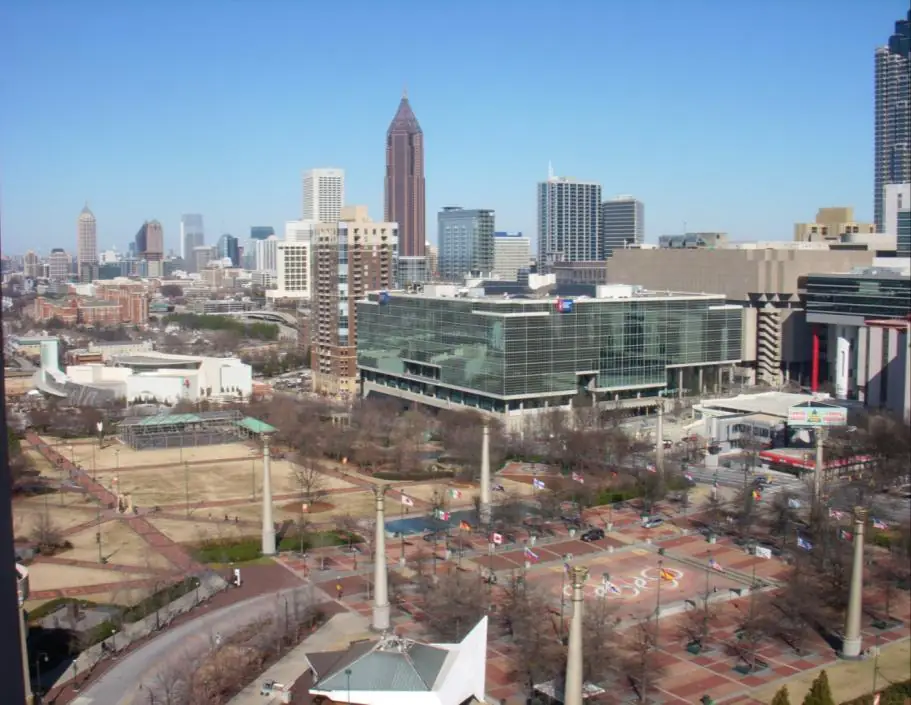 Date: February 13-15, 2012
Venue: Atlanta, GA, at the Georgia World Congress Center
Visitor's Profile: Professional trainers, consultants, and academics, HRD professionals and senior executives, Instructional designers & other related professionals.
Exhibitor's Profile: Business Development Services, Training and Talent Development Services, Authoring and Publishing Platforms, Custom Content and Communication Services, Learning and Performance Services, Digital Literacy and Desktop Productivity Assessment Services, Train the Trainer Workshop and Consulting Services, Distance Learning, Employee Selection & Orientation, Ethics, Leadership Training, Motivation, Presentation Skills, Problem Solving, Project Management, Team Building & Performance, Videoconferencing, Writing Skills, Translation services, Training Documents Development Services.
The training 2012 conference & expo was an event designed for learning, training and performance professionals. It was a midsized conference with approximately 700 – 800 attendees. There were around 65-70 vendors exhibiting in the expo hall, a varied mix of vendors, providing content development services, transcription and translation services, technology solutions, train the trainer services, corporate training and corporate entertainment services too! It was very encouraging to witness that people worldwide were taking learning and training so seriously.
With the assurance that we were at the right place at the right time, we got busy with setting up the booth, the fun and creative part of the exhibition booth preparations, where we presented our eLearning Products and Custom Content Development Services.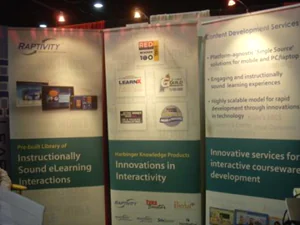 We exhibited Raptivity, our interactivity building tool which allows you to quickly and easily create elearning interactions such as games, simulations, brainteasers etc. and embed them directly into your online courses. There are around 170+ interaction templates to choose from to make your elearning courses interactive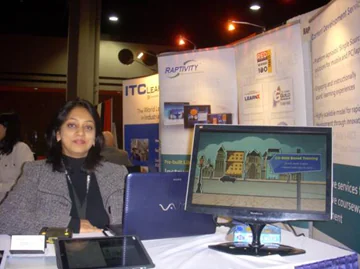 Along with our products, Harbinger also presented its Custom Content services offerings. Visitors showed keen interest in experiencing our expertise in content development using Flash, HTML5, Lectora, Articulate, ToolBook and our own tools Elicitus and Raptivity. All our learning solutions got an overwhelming response
Edumercials: One of our unique offerings was development of 'Edumercials'- short for Educational Commercials, which are 5-6 minute self playing animations that are either story or scenario-based and put across a concept in an interactive way. Edumercials can be used as standalone just-in-time learning pieces or they can also be integrated within elearning courses to make the courses more engaging. Quite a few visitors signed up for the raffle to win a 5-minute free edumercial.
Single Source Solution for Mobile Learning: Our mobile learning conversations led us to discussions about the platform independent 'Single Source' solutions being offered for mobiles and laptops. The iPad demos and especially the interactive e-Book, was well appreciated by everyone. Many were surprised to see Flash based animations, video and audio integrated in an eBook developed in HTML5.
Interactive ILT: Some visitors who engaged in virtual classrooms or face to face training were interested in our Instructor Led Training services where in we offered to instructionally and visually enhance their presentations and develop facilitator and student notes for them.
We had an exclusive range of elearning samples for both desktop/laptop and mobile tablets ranging from Product, Process, Soft skill and Leadership and Management training to K-12 training. All these samples were also made available on our showcase so that they could be viewed at leisure. (https://showcase.harbingerknowledge.com/ ; Username: training2012-visitor; Password: password1!)
Visits by the Industry Expert: Well known speakers and thought leaders from the industry visited our booth and were impressed with our instructional approach and the apt use of interactivity in our courses.
The expo ended after two full days of meeting new people, interesting conversations and demos and assurances of exploring a new relationship with Harbinger! Through Harbinger I have attended other International Conferences in North America and visited customer sites for project discussions, however this was the first time I experienced being a presenter in the conference booth.
I would say I experienced a very different Valentine Day's eve by connecting with many new people and prospects! I look forward to meet with them again in the next upcoming conferences!! Till then bye and enjoy the new ways of Learning!!!