Harbinger at SHRM22: What We Learned and Experienced
Shivam Bansal
Posted On Aug 02, 2022 |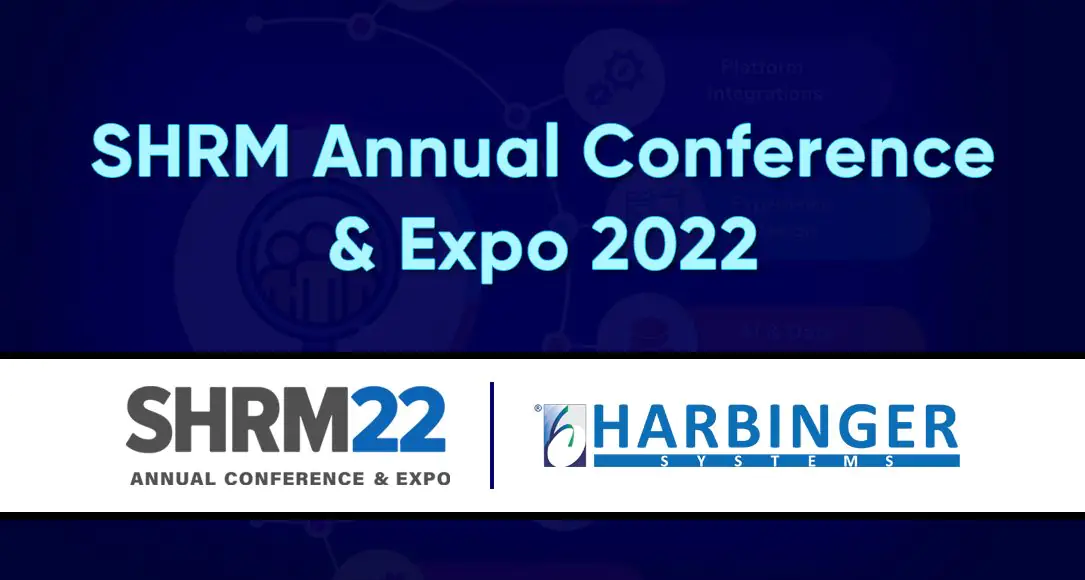 Over the years, Harbinger Group has attended and exhibited in quite a few global HR conferences and exhibitions. We love to be part of events like the Society for Human Resource Management (SHRM).
The SHRM Annual Conference & Expo 2022 was one of the most awaited HR events of the year. Harbinger participated in SHRM22 conference on June 12-15 in New Orleans. The conference attracted various HR professionals from the global HR ecosystem and focused on ideas changing the workplace landscape through technology, innovation, and collaboration.
HR and technology professionals came under one roof to share their ideas and experiences to advance the workplace globally through technology. SHRM22 had the presence of a diverse group of attendees, from HR professionals to HR managers and C-suite leaders.
Harbinger was stationed at SHRM22 Booth #2570. We were represented by our HRTech experts Shrikant Pattathil, President; Prashant Khambekar, Senior Vice President; Seema Chaudhary, Chief Alliance Officer; Ajay Todkar, Director – HRTech BizDev; and Ward Christman, Senior Consultant. We had the opportunity to converse with industry experts on product development, AI, and various other subjects.
The event had a great lineup of digital HRTech sessions, exhibitions, and demos, and we made the most of it. With value-adding conversations and making new acquaintances in the HR space, it gives us immense pleasure to say that SHRM22 was a great success for us.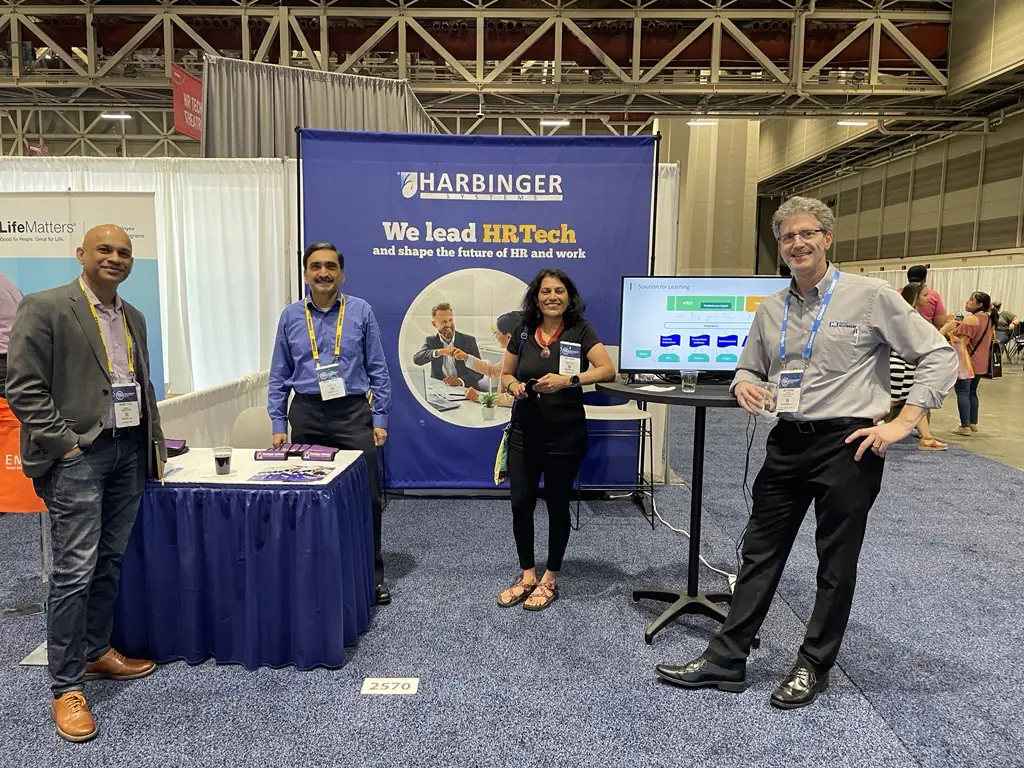 We had a chance to gather interesting insights from Prashant and Shrikant's first-hand experience exhibiting at SHRM22. Let's hear it from our HRTech experts.
Were there any trends related to HR technology or offerings that you spotted at SHRM22?
SHRM22 primarily focused on the future of work.
A conference like SHRM offers everyone a unique experience as they participate in different sessions, visit booths, and engage in exciting conversations around HR. We conversed about the future of HR and work with HR professionals from various organizations.
Human capital management (HCM) is changing dramatically around the world. Organizations are adopting employee-first thinking, focusing on innovative employee engagement, and making data-driven people decisions. We got a chance to talk about how Harbinger has helped several organizations embrace digital transformation and achieve successful business outcomes by developing solutions to engineer robust, scalable HCM and other HR products.
The following topics captivated the interest of attendees at SHRM22 in particular:
Analytics and, to some extent, AI to improve employee experience
Streamlining HR processes and making them more tech-focused
Redesigning the hiring process with HRTech
Enhancement of employee engagement with HRTech
Future of work and increasing talent retention
Community empowerment via advanced HRTech
What was your overall experience and key takeaways from SHRM22? What did you learn from the conference? HRTech trends, latest developments, or upcoming innovations?
We were happy to see various big giants from the HR and technology industries as well as innovative startups attending SHRM22. They discussed automation, integration, and ways to improve workflows, reduce operational costs, enhance employee engagement with policies, and skilling, thereby stemming the Great Resignation Wave.
Furthermore, industry leaders emphasized more on talent retention, corporate learning, and recruiting people from around the world.
SHRM22 took place in New Orleans, which is considered a fun destination by many people. It was great to see company mascots and spirited people emphasizing the fun. Coupling work and fun is a good thing to do!
What kind of people, professionals, or companies did you meet at SHRM22? What did you discuss with them? What were your talking points? What did they share with you?
All professions need to network, regardless of their job role or position. And we had a similar experience at SHRM22. We were happy to see an associate and senior HR professionals visiting our booth to meet us.
It was a wonderful experience to interact with people of different age groups. Our discussion was mainly based on how to build better HR systems or ways to implement-related topics. HR leaders also discussed how they could make the life of employees better.
One satisfactory point was to see the booths of several Harbinger customers. Some part of the discussion was around the enthusiasm of local SHRM chapters. Some part of the discussion was around partnerships of HR product companies.
A lot of people visited our booth at SHRM22 and discussed:
Vendors: Integration and product engineering challenges
HR professionals: Need for employee engagement and continuous performance management
Partners: Co-marketing and co-branding
What was different about SHRM22? How did it add value to you as an HRTech professional? Did you observe anything unique or special at the conference?
Well, in terms of uniqueness, there was nothing in particular.
While not all conferences allow you to meet your business idols, at events like SHRM, your chances are significantly increased when you're under the same roof.
Taking a selfie with someone who has influenced you, sharing a business idea with someone you admire, or making a connection that can lead to finding your next mentor are all examples of how you can get involved.
SHRM is one such event that attracts a multitude of HR professionals. In addition, it's a good platform if you are launching a new product or service.
What were visitors looking for at our booth?
At SHRM22, thousands of attendees gathered to discuss recent innovations in HRTech. Hundreds of vendors showcased their ideas for reimagining the future of work and innovation. Some of the visitors showed significant interest in AI-enabled HR solutions.
HR professionals who visited our booth had meaningful conversations with us, and they seemed to be looking for niche products. We also had a conversation about collaboration on sales and technology fronts.
We had a good mix of visitors, including technology experts and other supporting profiles. Some were looking for integration as part of the process, but more emphasis was put on building excellent HR systems.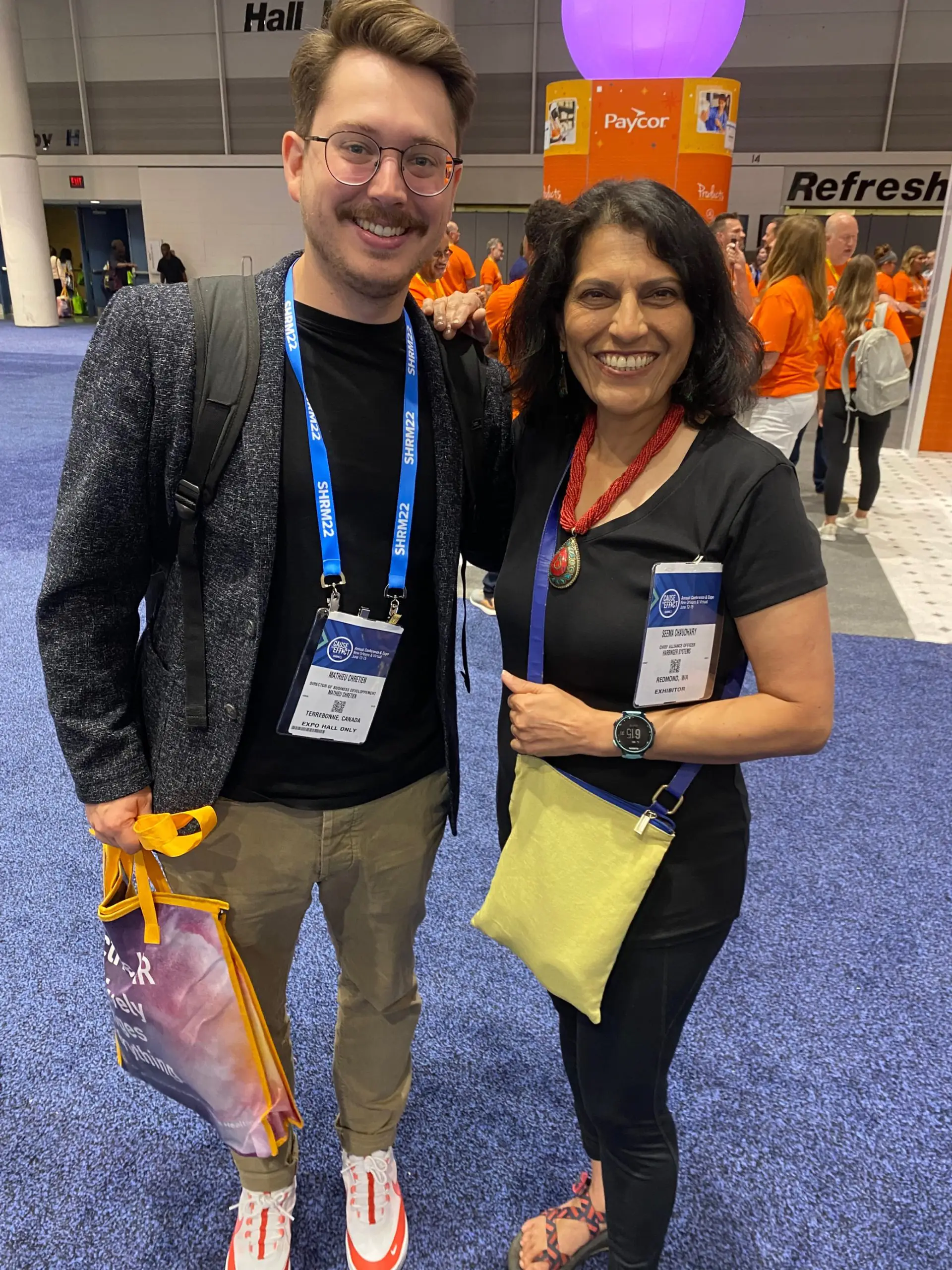 Were the visitors at our booth relevant to whom we targeted? What were their profiles?
Well, there was a good mix of people visiting our booth, and most of them had a good position in the HR space.
Furthermore, most businesses want to expand their customer base to bring in business or generate leads. So, you will always find sales and marketing reps at almost every booth in conferences like SHRM.
We met several sales folks at the event. Apart from them, senior HR professionals and domain leaders like VPs, CTOs, and product owners visited our booth. They all visited us to discuss different subjects such as the latest trends to accelerate employee engagement and how to stop the Great Resignation Wave.
What were the attendees expecting from SHRM22? Can you list the top things you noticed?
From what we know, SHRM22's primary focuses were the new horizon of the world of work and to actively seek to influence the landscape of business. Several sessions covered topics related to HR and niche segments such as employee engagement, easy onboarding and offboarding, employee retention, and so on.
From what we observed, the participants were excepting the following things from SHRM22:
Learn by attending various HRTech sessions on hot topics
Associate-level HR professionals came to build their strengths and work toward completing their HR certifications
Know about innovative HRTech products and services
Gather knowledge about the latest innovations in the HR ecosystem
Understand different HRTech products and offerings based on the size of their organization
Are there any other insights about SHRM22 you would like to share? Any significant observations?
The last two years have been tough for the HR industry. HR had been asked to do more in that period.
As we examine the future of work, we can see the potential impact HR can have in setting the tone for future business. HR leadership has the ability to reshape the workplace for the benefit of both employees and companies. SHRM has accumulated the insights, information, strategies, and expertise needed to help businesses thrive.
Exhibitors and attendees at SHRM22 discussed ways to make the life of HR professionals easier and less challenging. Various startups at the conference were talking about the latest innovations in HRTech. They were determined to improve the functionality of HR professionals with next-gen technology solutions.
There is certainly a surge in the globalization of companies. Organizations have started to increase their R&D and innovation efforts and their footprint across countries to expand their business. Globalization has made it easier for new organizations to compete with established ones.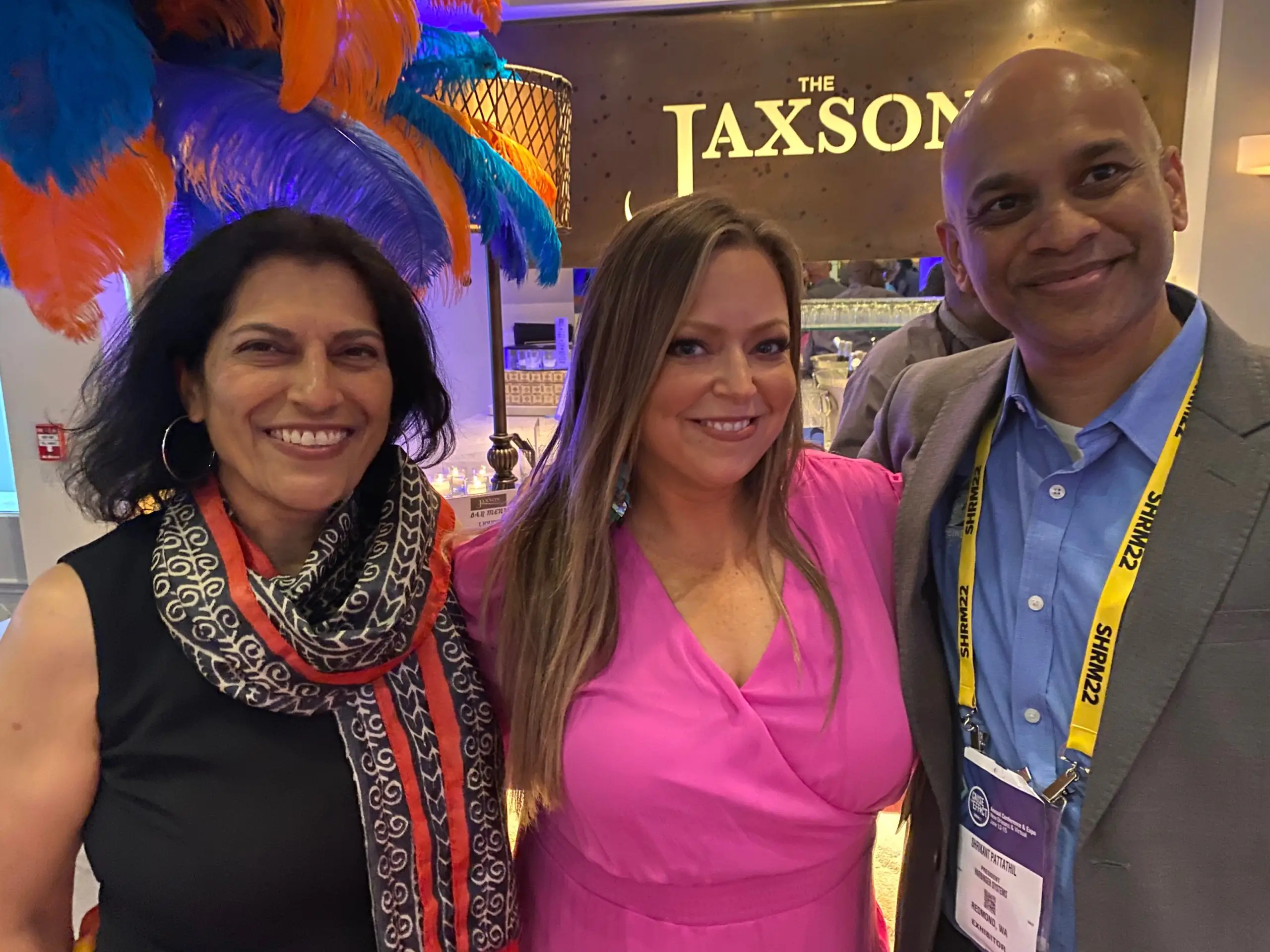 What are your final thoughts on SHRM22? What would you say to the organizers of the conference, the attendees, and the exhibitors?
SHRM is one of the most prominent HR events of the year, connecting global HR professionals through education and innovation. Top HR leaders and exhibitors attended SHRM22 and highlighted the industry's most significant insights and perspectives.
It was a great opportunity for us to connect with experts and innovators from both large and small organizations. They discussed multiple concepts and ideas arising in HRTech. Events like SHRM help HR professionals stay up to date with the latest developments and grow their network instantly.
Moreover, SHRM presents an opportunity for HRTech companies to better understand the needs of the target audience they cater to. This helps HRTech companies develop effective solutions that meet those needs.
So yes, SHRM is an event worth attending for everyone in the HR and technology industries.
It's a Wrap!
HRTech is rapidly changing and can be hard to keep up with. When trying to make sense of it all, there's no better place to start than at one of the biggest HR events – SHRM. We want to thank the SHRM team for arranging the event and enabling HR and technology professionals to connect with each other.
We look forward to seeing you at the next SHRM conference or similar HR events. As for SHRM22, it's officially a wrap for us. If we missed connecting with you at SHRM22, we would love to talk to you. Feel free to drop us a message at contact@harbingergroup.com.