Author: Shilpi Negi
Posted On Apr 08, 2022 | 9 Mins Read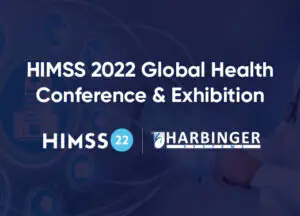 Over the years, Harbinger Systems has attended and exhibited in quite a few global healthcare technology conferences and exhibitions. Events like the Healthcare Information and Management Systems Society (HIMSS) and alike are the kind of events our team loves to be a part of.
The HIMSS Global Health Conference & Exhibition is one of the most awaited health IT events of the year. In 2022, the in-person HIMSS22 event took place on March 14-18 at the Orange County Convention Center in Orlando, Florida. It attracted various professionals from the global health ecosystem and focused on reimagining health and wellness through education, innovation, and collaboration.
Healthcare and technology professionals came under one roof to share their ideas and experiences to advance the global health ecosystem through the power of information and technology. HIMSS22 had the presence of a diverse group of attendees, including payers, providers, chief information officers, government officials, healthcare innovators, and health IT providers.
Harbinger was stationed at the HIMSS22 booth #1213 and represented by our healthcare technology experts Prashant Khambekar, SVP at Harbinger Systems and Ganesh Gore, AGM – Business Development at Harbinger Systems. We had the opportunity to converse with industry experts on topics such as "accelerating digital healthcare" via technology innovation and disruption.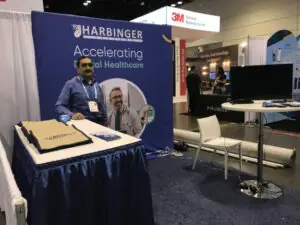 The five-day exciting event had a great lineup of digital healthcare sessions, exhibitions, and demos, and we made the most of it. With value-adding conversations and making new acquaintances in the healthcare technology space, it gives us immense pleasure to say that HIMSS22 was a great success for us.
We had a chance to gather interesting insights from Ganesh's first-hand experience attending and exhibiting at HIMSS22. Let's hear it from our healthcare technology expert.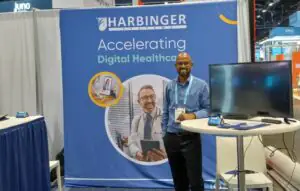 Were there any trends related to healthcare technology or offerings that you spotted at HIMSS22?
Ganesh: HIMSS22 largely focused on technology for healthcare.
A conference of the size of HIMSS offers everyone a unique experience as they participate in different sessions, visit booths, and engage in interesting conversations about healthcare technology.
We had several intriguing conversations around data engineering and new engagement technologies in healthcare.
A massive amount of heterogeneous medical data has become available in various healthcare organizations (payers, providers, pharmaceuticals). This data is scattered across several electronic medical records (EMR) systems, hospitals, medical research centers, and institutions. In addition to this, a tremendous amount of data is being collected via wearables.
Such data opens new opportunities for better and more informed healthcare by:
Using wearables data to monitor and mitigate severe health issues
Improving care delivery and waste reduction
Improving diagnostic accuracy and efficiency
Turning patient care into precision medicine
Optimizing hospitals' performance through actionable insights
Reducing hospital readmissions to cut healthcare costs
Harbinger has a strong data team comprising healthcare business analysts, data scientists, and people with vast experience in artificial intelligence (AI) and machine learning (ML).
We bring meaningful insights from raw data. We also help our customers improve patient care, reduce Centers for Medicare & Medicaid Services (CMS) penalties, make better projections to plan healthcare finances and operations, and make their overall system more intelligent and future ready.
The following themes also captivated the interest of attendees at HIMSS22:
AI to improve patient experience
Streamlining the provider's process and making it more tech-focused
Reimagining the digital front door in healthcare
The state of cybersecurity in healthcare
The future of digital health: Ensuring access to car
Community empowerment via digital healthcare solutions
What were visitors looking for at our booth? List the top four things the participants were interested in?
Ganesh: At HIMSS22, thousands of attendees gathered to discuss recent innovations in healthcare technology. Hundreds of vendors showcased their ideas for reimagining the future of healthcare and innovation.
Healthcare and technology professionals who visited our booth had meaningful, insightful conversations with us, mainly about interoperability in healthcare, telehealth, connected health, and remote patient monitoring.
We had a good mix of visitors from the technology and provider sides – innovators, technology experts, doctors, nurses, and other supporting profiles. Some of them were looking for people who can help them with healthcare technology, but many of them were in search of domain expertise.
Prashant and I dived into the nitty-gritty of AI-enabled healthcare solutions such as survival analysis and readmission prediction, remote care monitoring, patient education for therapeutic behavioral changes, and patient engagement when exhibiting at HIMSS22
We also showcased our medical notes summary generation framework, which offers the following significant features for healthcare product companies and the entire healthcare ecosystem, shown in the diagram below.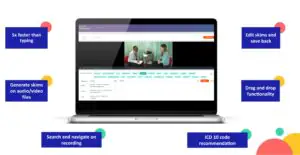 We were delighted to see people who stopped by our booth showing a great deal of interest in our:
Innovative healthcare technology solutions to cater to their unique needs
Domain expertise in multiple healthcare areas such as interoperability (FHIR, HL7, and integration with various technologies)
Next-gen technology offerings such as data security
Interface development solutions
Were the visitors at our booth relevant to whom we targeted? What were their profiles?
Ganesh: As I mentioned already, there was a good mix of people visiting our booth, and most of them were our competitors, having a good position in the healthcare technology space.
I am not exaggerating, but when you meet around 30,000 people in three days, you tend to meet everybody. And with mostly your competitors visiting your booth, the meeting usually ends with messages like "stay in touch."
Well, talking about the profiles of the visitors who stopped by our booth, to be very frank, approximately half of them were sales (but from the healthcare or technology industry). Since most companies want to increase their customer base, you will always find sales and marketing people at almost every booth, so they can bring in the business or generate leads.
I met various sales folks at the event. However, apart from them, there were healthcare technology leaders and domain leaders like doctors, physicians, innovators, and universities visiting our booth. They all came to discuss and add to their knowledge about different subjects such as the latest trends to accelerate digital healthcare.
What were the attendees expecting from HIMSS22? Can you list the top things you noticed?
Ganesh: From what I know, the primary focus of HIMSS22 was to educate, innovate, and collaborate with the healthcare community. There were several sessions covering topics related to the broad healthcare industry as well as niche segments, such as healthcare technology, telehealth, value-based care, health information exchange, user experience, and so on.
From what I observed, the participants were excepting the following things from HIMSS22:
Learn by attending various healthcare sessions on hot topics
Connect with other prominent healthcare leaders and technology experts
Gather information about innovative healthcare products and services and healthcare technology solutions
Understand the latest developments in the health IT ecosystem
Are there any other insights about HIMSS22 you would like to share? Any significant observations?
Ganesh: The last two years have been tough for healthcare. The industry experienced a lot of burnouts, with increased patient count and busier everyday activities during the COVID-19 pandemic. The workload of healthcare professionals grew with the daily 3X increase in the number of COVID patients, especially in the US. Of course, the workload has decreased to some extent, but still there are a few grey areas remaining.
Exhibitors and attendees at HIMSS22 discussed ways to make the life of healthcare professionals (precisely doctors) easier and less challenging. Various startups at HIMSS22 were talking about novel innovations in the healthcare industry. They were determined to support and improve the functionality of doctors and nurses with next-gen technology solutions.
One such interesting innovation that caught my attention was an eye scanning device that scans the body temperature, detects symptoms related to COVID, and captures vital signs. It also populates remediation strategies and generates the report then and there. Based on the generated report, it guides you to the next steps.
Based on your experience, do you recommend attending HIMSS next year?
Ganesh: Yes, definitely!
HIMSS is one of the most prominent health IT events of the year, connecting global health professionals through education, innovation, and collaboration. Top healthcare leaders attended HIMSS22 and highlighted the industry's most significant innovations, insights, and perspectives.
This year, Michael Phelps, a former competitive swimmer and 23-time gold medalist, concluded HIMSS22. Michael discussed the significance of advancing mental health initiatives to transform well-being and health. He also spoke about his struggles with anxiety and depression both in and out of the pool.
I was happy to see various innovation startups participating and attending HIMSS22. They discussed and showcased multiple novel concepts and ideas arising in healthcare. Events like HIMSS help healthcare and technology professionals to stay up to date with the latest developments, meet new people, and grow their network instantly.
So yes, HIMSS is an event worth attending for anyone in the healthcare industry.
Here are our favorite moments from HIMSS22 that inspired and energized us to accelerate digital healthcare.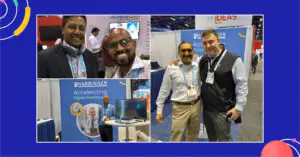 And it's a wrap! Thanks to all who met Harbinger at HIMSS2
Healthcare is rapidly changing, and it can be hard to keep up with. When you're trying to make sense of it all, there's no better place to start than at one of the world's largest healthcare events – HIMSS. We would like to express our gratitude to the HIMSS team for arranging the event and enabling healthcare and technology professionals to connect with each other.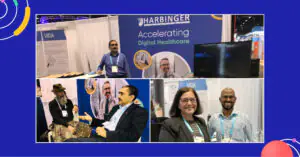 Harbinger had a fantastic time meeting and interacting with everyone who stopped by our booth while we showcased our innovative healthcare technology solutions. We learned about different experiences and unique ideas for reimagining the future of healthcare. It was great to engage in some insightful and worthwhile conversations on topics such as top healthcare technology trends for 2022.
We look forward to seeing you at the next HIMSS conference and exhibition or similar healthcare events. As for HIMSS22 Orlando, it's officially a wrap for us. If we missed connecting with you at HIMSS22, we would love to talk to you. Even if you have already met us at the event, we would want to continue our relationship with you. Reach out to us at contact@harbingergroup.com.