Five signs that indicate the need for a modernization initiative
Rahul Singh
Posted On Sep 06, 2018 | 5 Mins Read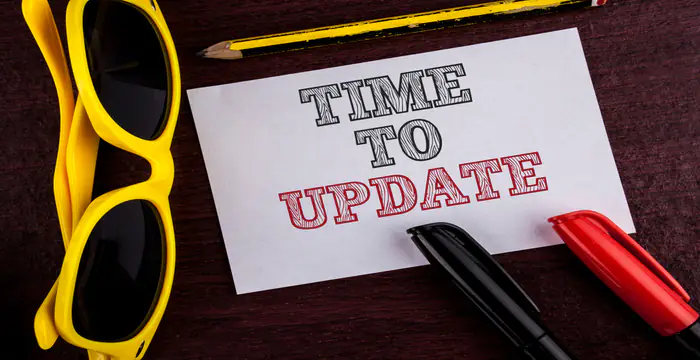 Five Signs That Indicate 'It is Time to Consider Modernization'
The modern day corporate worker's profile is changing. Not just millennial, Gen Z seems to be getting into the workforce as well. These segments of the target audience have a very positive outlook on the value of eLearning but the way they want to consume content is very different from how it happened in the past.
If you too are sensing this profile shift, then probably it is time to take a stock of the situation and look for some additional signs listed ahead.
Need for Standardized Content
Your content is the most valuable asset your company has. If you have a large volume of legacy content sitting idle, or if your employees or customers are facing issues in courses because of the content being stuck in old formats, then it definitely indicates the need for change. Furthermore, if you can't make important edits to your courses because the content is in legacy format or created using different tools, then you know modernization is the right way to proceed. It will help you to upgrade your content in accordance with the latest tools and technologies. Modernization can also help you convert your content to one standardized format which is widely accessible and future-ready – for instance, a format like HTML5, which standardizes everything and in-turn brings efficiencies for future.
New Tool Adoption
An organization, when it uses a tool for a long period of time, develops a significant level of comfort with it, and it becomes difficult to get out of that zone. But with the rapid advancements in technology, many new tools evolve into the market. These tools generally possess better capabilities than the one(s) already being used. For example, there are several tools in the market that allow creation of content in interactive video format instead of tools using simple text and images. When you use such a tool, the learning experience can change for good.
So if you, as the content owner, come across many such new technologies and tools but cannot take the plunge due to comfort issues, it is time to consider modernization. Modernization can smoothly facilitate new tool adoption process.
Learning in Employee Preferred Formats
An infographic by 'Bersin by Delloite' states that 67% of the modern day workers learn on mobile devices, only 42% learn at their office desk, rest access learning at their convenience, interestingly 27% of people learn on the way to and from work. Apart from the statistics and preferences listed above, each of these learners has different learning styles. Meeting these expectations through different learning formats is quite difficult as that would imply much more content production. Then how do we handle this situation? Modernization practice can help put together a solution which can use artificial intelligence, natural language processing and voice-enabled technologies to make the same content available in various formats.
Complying with Regulations and Industry Standards
With the recent enforcement of new regulations that demand support for accessibility and standards-compliance, accessible content is now a must-have. If you are looking at re-using any of your non WCAG 2.0 compliant legacy courses, you need to modernize them. But just taking an old course and trying to make it compliant is not sufficient. It may technically get some of the compliance checkboxes ticked, but it doesn't ensure 100% accessibility. For instance, your compliance checklist might not take care of font readability and color choices. Unless you are confident that someone with special abilities can fully make use of your content, it is just a battle half won.
To ensure that differently-abled learners find value in your courses, it is important to redesign them. A well thought out modernization approach that aims at making your legacy content fully accessible by making use of automation, is your best bet here.
Accelerated Time-to-Market with New Product Offerings and Upgrades
If you are looking to do something new for your customers with a faster time-to-market, there are two things you could consider – launch newer products or take old products and refurbish them with newer design and experience. At the speed with which technology is changing, it is critical that your product (course) design is resilient yet flexible. A well-defined modernization approach helps you achieve the same. And when coupled with automation, it can help you roll out newer courses or newer versions of old courses out in the market rapidly. This helps strengthen your course catalog portfolio.
If you are reading any of the above signs, then the time is just right to contemplate a modernization initiative to cater to your organization's and customers' evolving learning needs. In case you would like to have a discussion on this, or if you are looking for an experienced and reliable partner who can help design your modernization roadmap, write to us at info@harbingerlearning.com.