Five Best Practices to Exercise Diversity, Equity, and Inclusivity in Hiring
Author: Manasi Mehendale
Posted On Feb 08, 2021 | 6 Mins Read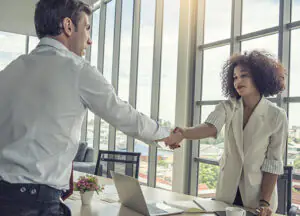 Diversity, Equity, and Inclusion (DEI) is one of the most critical prerogatives for HR and will continue to remain a priority for organizations in the coming years. Multiple surveys and research suggest that diverse teams drive better business outcomes and offer a competitive advantage. According to a study by McKinsey, there remains a strong business case for gender, ethnic, and cultural diversity in corporate leadership.
Companies in the top quartile of gender diversity on executive teams were 25% more likely to experience above-average profitability than peer companies in the fourth quartile.
Source: McKinsey
'The most diverse companies are now more likely than ever to outperform less diverse peers on profitability,' the report says.
Unprecedented changes to the work culture and the shift to a technology-enabled remote working environment has presented an opportunity for companies to accelerate building inclusive and agile cultures. And to create a diverse workforce, companies need to develop and implement DEI initiatives while recruiting new employees.
Leaders today are addressing the fact that recruiting a diverse workforce is a responsibility not just for HR but the entire company. But what can organizations do differently in their recruitment processes to address the challenge of hiring a diverse and more inclusive workforce?
Listed below are five best practices to exercise DEI while hiring:
Leveraging Technology
Technology plays a critical role in the recruitment process of every organization today. It can enable companies to measure the 'diversity quotient' of their hiring process and remove implicit biases. Many organizations leverage Artificial Intelligence (AI) and Machine Learning (ML) technologies in their recruitment tech to automate and simplify their hiring process. Similarly, companies can use ML and Natural Language Processing (NLP) technologies to address diversity and inclusion (D&I) in hiring. Trained ML models can help recruiters spot bias patterns in recruitment data, while NLP can help address biases in job descriptions, marketing copies, and assessment questions. Organizations that use an Applicant Tracking System (ATS) can get it modified to use AI and ML to analyze adherence to DEI in addition to compliance with local laws and regulations.
Recruiters and interviewers are humans too and can have biases when it comes to recruiting. Artificial Intelligence can play a critical role in addressing this challenge. For example, a resume parser, in combination with AI, can help employers to shortlist candidates without the element of unconscious bias. Natural Language Processing can ensure that only the text relevant to a job role is used for shortlisting candidates and content that can foster prejudice is left out of the process. Organizations can also implement a D&I training module to increase awareness amongst the employees and cultivate an inclusive workplace culture.
Also read: Technology for Diversity and Inclusion
Hiring D&I Specialists
Implementing a DEI initiative and making sure the organization complies with it throughout the employee lifecycle can be a challenge. Hence, many organizations hire D&I specialists who ensure that all the processes and functions adhere to the initiative and keep improving to create a safe and bias-free organization. Candidates are also tracking and evaluating their potential suitors' DEI initiatives. In fact, 76% of employment seekers say that a diverse workforce is an important factor when considering companies and jobs, according to a survey by Glassdoor. As many as 32% of the respondents say they would not apply to a company that doesn't have a diverse workforce. All such global trends demonstrate the importance of having D&I specialists within an organization who can ensure ongoing adherence.
Broadening Job Descriptions
One of the most effective ways of hiring a diverse workforce is to broaden the job requirements to include candidates from all backgrounds and skills. For example, tech giants Apple and Google no longer require their candidates to have a four-year educational degree. Many organizations are looking to hire candidates that possess the skills, personality traits, and abilities to learn and grow progressively in their job roles. Such practices on a global scale can improve the level of DEI compliant workplaces. Also, organizations need to consciously use images and pictures that are diverse and inclusive while posting advertisements for job requirements.
Focusing on Talent Acquisition
The D&I technology market has seen a surge in recent years. Many leaders are opting to use a D&I software/system to attract a diverse pool of candidates. Such systems understand the job requirements and provide equal opportunity to underrepresented candidates and do not allow employers to search using specific attributes such as race, gender, ethnicity, and more. Many systems also exercise 'blind interviews.' They remove the candidate's name, gender, and picture from a resume to avoid conscious bias while performing assessments and background checks.
Addressing the Wage Gap
To practice equity, organizations must make a conscious effort to close gender and racial wage gaps. Technology can play a critical role in finding disparities in wages and help to eliminate them. While recruiting, organizations can use intelligent automation to get insights from multiple sources to offer fair compensation and benefits to prospective candidates. Automating such processes can also relieve HR of burdensome tasks and help boost productivity while ensuring equality. Many organizations are already taking positive steps towards eliminating gender bias. One result of such efforts is that the number of women holding a job in the US workforce is now more than men, according to a recent US Bureau of Labor Statistics survey.
Suggested: How women are making a positive impact on HRTech
Implementing positive DEI initiatives in the hiring process is the key differentiating factor in creating a diverse workplace and a diverse and inclusive culture. While technology can simplify many aspects of DEI hiring, taking steps to implement, maintain, and evolve those initiatives over time is just as crucial as buying the technology. Consciously cultivating a diverse and inclusive culture and mindset will prove vital for organizations in the coming years and contribute positively to employee engagement and employee experience.
References:
https://www.mckinsey.com/featured-insights/diversity-and-inclusion/diversity-wins-how-inclusion-matters
https://www.glassdoor.com/research/app/uploads/sites/2/2020/11/Workplace_Trends_2021_Glassdoor_Final.pdf
https://www.forbes.com/sites/jackkelly/2020/01/13/women-now-hold-more-jobs-than-men/?sh=36171f828f8a