Engage for Success: Improve Workforce Engagement with Open Communication and Continuous Feedback
Author: Marketing Desk
Posted On Sep 17, 2016 | 2 min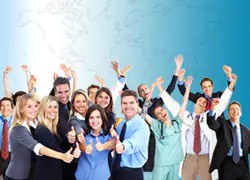 Harbinger Systems, a technology partner to leading product companies, in its zeal to foster a work environment where employees feel engaged and motivated, has been utilizing various innovative methods to promote continuous dialog with employees and provide continuous feedback. The results are striking! These efforts improved productivity on business deliverables, increased customer satisfaction enabling multi-year engagements and minimized employee turnover.
Maintaining employee engagement has been ranked as one of the top priorities of organizations for years. It has been clearly established that when employees are given regular feedback (be it positive or adjusting), they feel cared for. Such employees who feel valued are often the most engaged employees.
The real challenge lies in the effective implementation of continuous feedback approach. Due to the increasing demands of their role, managers/leaders find it arduous to engage with their employees on a regular basis.
Technology can really play a pivotal role in simplifying and facilitating open dialog and continuous feedback in organizations, by building on ideas of One-on-One's and Pulse meetings. Technology can also aid in generating and bringing out meaningful, actionable insights by analyzing data gathered from the various feedback channels.
Harbinger Systems hosted an insightful webinar "Engage for Success: Improve Workforce Engagement with Open Communication and Continuous Feedback" on Wednesday, September 27, 2016, to learn more about employee engagement, role of continuous feedback, and how Harbinger improved employee engagement through open communication. We also conducted a demo of system to manage and track such communication.
Key Takeaways
Disengagement can be costly! Understand the importance and need for employee engagement in every organization
Gain perspective on effective communication and use of continuous feedback for improving employee engagement
How technology solutions can be used to overcome some of the toughest challenges in HR, such as employee engagement
Applying analytics to bring out deeper insights into employee's alignment with the organization
You can view the presentation and the webinar video here.