Author: Hemant Nimbekar
Posted On Jun 20, 2016 | 3 min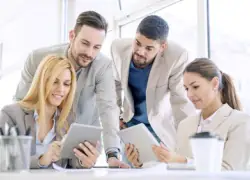 This is the era of mobile and everything is going mobile these days. Mobile applications are gradually accepted as standard and are now replacing the desktop applications. As with many enterprise sectors, Human Capital Management is also embracing mobile. Slowly but surely.
With mobile, Human Resource (HR as also known as Human Capital) is redefining the ways to connect with people ( workforce) and changing the way they organize and get their work done. It provides the convenience of accessing the information at any point of time from anywhere in the world.
Let's go through some of the key benefits in more details.
Benefits of HR mobilization
Convenience – It's about providing employees access to the information at any point of time from anywhere in the world.
Speed – Offers instant information and updates for employees that can be ranged from office closure due to bad weather or even employee birthday reminders. Simpler workflows such as applying for a leave can be executed with just a click.
Productivity – Due to the convenience a mobile app provides, employees spend less time completing different activities at HR systems. HR professionals spend less time answering employee queries via phone or email. This helps everyone in focusing more on the work and increases the productivity.
Engagement – Major shift in HCM application space is about considering people at center than just HR needs. One of the primary objectives is to bring people together and connect them with each other. Converting existing HR solutions into mobile will be a key step in achieving it.
What can go mobile?
Even though converting existing HR systems into a mobile application is need of an hour, this should not lead to literal conversion. These decisions need to be based on the complexity of each workflow as well as overall usage patterns by end users.
Some of the HR functions which need immediate actions can go mobile. Leave management where the employee can apply and approve leaves can be one of the first features and will benefit the employees to a great extent. Similarly accessing pay slips or other policy documents can also be a good feature to add. Learning or training on mobile devices can be another great feature that can benefit employees by providing flexibility to complete the training anytime and from anywhere. Some of the complex functions such as performance review will need to be used in its current form.
A right Mobile app can change the way HR functions in your company by providing flexibility to work and in turn saving time and increase in the productivity. In this world of mobilization where everything is going mobile, HR to embrace mobile is the need of an hour. In this blog, I have covered just a couple of functions and would request you to share your views and experience in similar work.
Harbinger Systems is attending the annual Society for Human Resource and Management conference and expo 2016. Experience how we transform your people solutions from 'Hire-To-Retire', Interested to meet us at the event, book you appointment.